OnePlus has had a wonderful history, the company is well known for its enthusiast grade smartphones at a palatable price point. The OnePlus 3 and its incremental update the OnePlus 3T were remarkable phones and did a lot to bring the company into the mainstream focus. But OnePlus is not going to rest on its laurels and we were fairly certain they would be launching a successor flagship killer sooner if not later. That device, the OnePlus 5 has been confirmed today by China's Radio Regulation Authority bearing the model number A5000.
With this revelation, it can be safely assumed that the upcoming device will be called the OnePlus 5 and not the OnePlus 4 as the Chinese character for the number 4 resembles the logogram for death and thus the numeral is considered inauspicious. Apart from confirming the name and model the certification also shows the various wireless bands supported by the new device and its EIRP. No details regarding what hardware is packed inside the hardware has been detailed but it should be forthcoming soon post this release.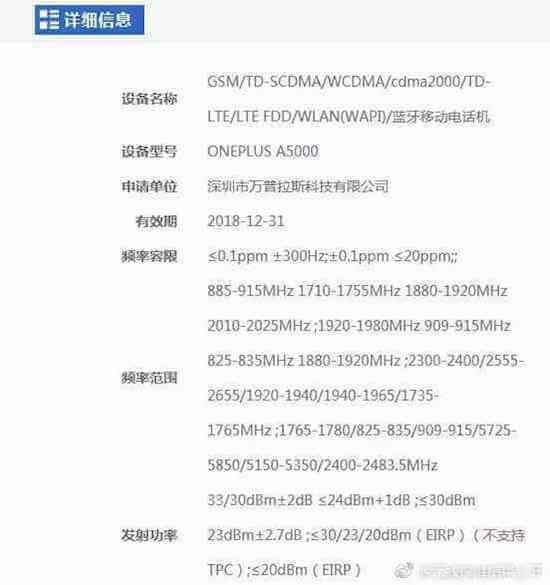 Apart from the leak of this information, OnePlus recently pushed out the Oxygen OS 4.1.3 update on Monday to its current generation devices, the OnePlus 3 and 3T. The change notes of the patch closely mirror the changelog for the last major 4.1.0 update but with some notable additions and improvements. A wider OTA rollout of the update is expected sometime post Thursday.
Improvements and fixes included in the patch are,
fix for hardware buttons malfunctioning
increased system stability
an Instagram swiping bug
Improved picture taking of moving objects with blur reduction
Improved video stability when recording
Improved WiFI connectivity
Improved bluetooth connectivity
And general bug fixes
This is the fourth major OTA update for the OnePlus 3 and 3T once the devices were updated to Android v.7.0, Nougat with patch 4.0 in January. Then a major patch was issued last month (OS v.4.0.3) which fixed two major vulnerabilities of older OxygenOS versions associated with the bootloader on the smartphones. This was followed by patch 4.1.0 which brought the devices up-to Android v.7.1.1, Nougat.
Follow us on our social media to keep up-to date with the latest in the world of Android.