We have been getting a lot of leaks and details regarding the OnePlus 5 of late with a lot of speculations of what the final device might be, what hardware it packs and how much it might end up costing. But over the past few hours in a flurry of tweets and posts on social media sites like Twitter and Weibo, information regarding the yet unreleased NEVER SETTLE device is coming out in the open.
Recently, OnePlus co-founder Carl Pei got on twitter to answer queries posted by the brand's followers, one of whom asked about where the headphone jack went. This was most likely prompted by the various leaks of the OnePlus 5 (of which there are many) do not show the audio jack at the bottom of the device, which was where it was present in the OnePlus 3 and 3T. This obviously has been a point of contention since a lot of recent flagships are seen dropping the old analogue standard in favour of wireless audio. When queried, Carl tweet the following,
Why did the headphone jack cross the road? https://t.co/8sSXI8zB8y

— Carl Pei (@getpeid) May 19, 2017
Followed by this tweet,
Why did the headphone jack cross the road? https://t.co/8sSXI8zB8y

— Carl Pei (@getpeid) May 19, 2017
A few bright folks theorised that instead of removing the audio jack, it simply must have been moved to a different location on the OnePlus's frame. Although the latter tweet does not confirm or deny anything, it does make it plausible that the company has simply moved the analogue audio interface to a different location rather than outright eliminate it.
In other news, OnePlus founder Liu Zuotu confirmed that the OnePlus would come with a fingerprint scanner at the front of the device. This was again in response to a fan's comment on Weibo. Although it was well established that OnePlus intended to keep the fingerprint scanner, this just confirms the fact that the OnePlus 5 will indeed feature the same exactly where it has been for the past two generations.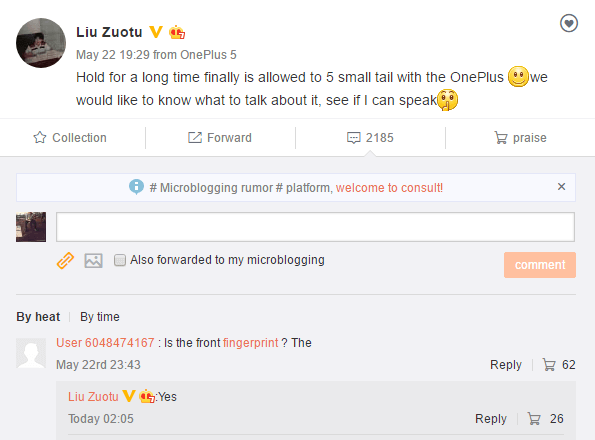 The OnePlus 5 is the company's sixth major handset launch and true to its legacy it will carry potent hardware in the form of a Qualcomm Snapdragon SoC coupled with at least 6 GB of RAM. Apart from this, the phone is expected to have a 5.5-inch display, a dual camera set up at the rear and promise flagship like performance in hopefully the non-flagship price range.
Follow us on our social media to keep up to date with the latest in the world of Android.