We have been getting a lot of leaks regarding the NOKIA 9 as of late, detailing its internals and performance. Leaks have also confirmed important details like the presence of dual-camera setup at the back and the amount of RAM and internal storage onboard. Suffice to say that the flagship for HMD Global's NOKIA branded is no secret.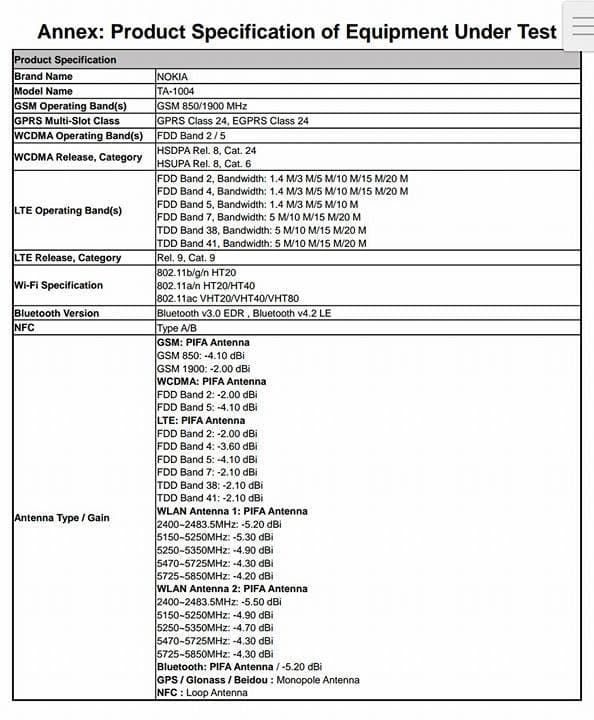 Today, it seems that the NOKIA 9 surfaced on the Federal Communications Commissionunder the device number TA-1004. The documents do not shed light on any of already known details about the NOKIA 9 rather letting us know that the smartphone comes with an NFC module and Bluetooth v.4.2. The documentation also reveals that the handset will come with GSM and CDMA support which is an important piece of information considering that HMD plans to push the device in the premium segment of most Western markets compared to the earlier launched NOKIA 3, 5 and 6 which were more oriented towards emerging markets like China and India. This is doubly important if the company plans to launch the device in the West since the US is the largest buyer of premium smartphones.
Apart from this thanks to the documentation, we can add a few more details to our information about what we already knew about the NOKIA 9; The handset is powered by the Qualcomm Snapdragon 835 chipset, coupled with 4 GB or 8 GB of RAM depending on which source you look at and 64 GB of internal storage. A 5.3-inch QHD (1440 x2560) display is present on the front of the device and for the rear camera as mentioned earlier HMD Global has provisioned the handset with a twin 13-megapixel sensor based dual camera setup. The NOKIA 9 is expected to ship with Android v.7.1.1, Nougat onboard.
Read More: HMD Global to launch NOKIA 3, 5 and 6 in India on June 13
Now that the TA-1004 has gotten its FCC certification, we expect the device to be announced in about a month or two's time which will fall in line with HMD Global's earlier announcement about releasing three more NOKIA smartphones in the latter half of 2017.
Follow us on our social media to keep up to date with the latest in the world of Android.