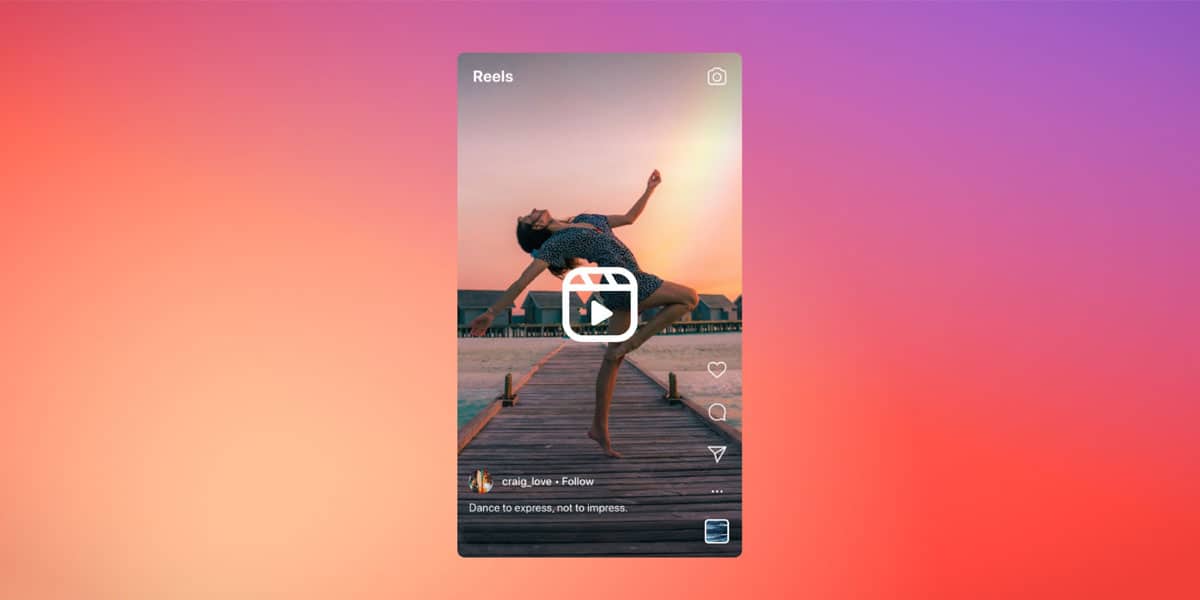 Imagine falling back on the bed after a long day of work, firing up Instagram, and there is no sound on Instagram reels. Every day thousands complain about Instagram reel music not working or getting no sound on Instagram stories. If sound not working on Instagram is an issue that has been bugging you too, here's the good news: you can fix that yourself!
You might be facing the audio bug for numerous reasons, so there is no one universal solution. You will have to tinker with different methods to figure out how to get the sound back on. But you know what they say: where there is a will, there is a way.
Ways to Fix Instagram Reels Sound Not Working 
With Instagram reaching the helm of popularity in recent years, any issue ailing the user base becomes glaring. The good thing is, you can fix most of the issues at home by following a few easy steps. If you want an immediate fix, trial and error is the best way to go about it.
The issue of sound not working on Instagram is quite common. Let's see how we can fix it:
1. Original Audio Might Have Been Removed by the Creator
This is usually the most common culprit behind Instagram sound not working. There are instances where content creators intentionally mute the music in their reels or stories, be it for artistic efficacy or otherwise. If you happened to stumble upon one such intentionally mute reels or stories, fear not, it is not your phone, nothing is wrong with your account – it's just that specific reel. Swipe up, and you'll hear the audio of the very next one in the queue.
That's right, sometimes no sound on Instagram reels is just the characteristic of that one specific reel. It's up to the content creator's discretion to insert an audio for the reels they post, so if they decide against audio in the background, it could look awfully similar to an audio bug.
So, here's the takeaway: always scroll up and down a few times to see if other reels have audio before you discount the occurrence as a bug.
2. Close down the App and Open it Again 
Remember the age-old trick of taking off the batteries of your TV remote and putting it back on again to get it back to work? You can follow the same principle if you get no sound on Instagram stories. It works in the same way in both Android and iOS. The fix is exactly what it sounds like: close the app, clear its history from the recently opened tabs, and reopen it again with a proper internet connection. At times, when you least expect it, this fix works wonders!
3. Update the Instagram App
Sometimes, we forget to update our apps to the latest versions, which causes crashes and bugs that can be fixed just by clicking a button. Updates are essential to the proper functioning of any app, and if you want a smooth, hassle-free user experience, do not forget to check if you are using the latest version of the app.
Check for pending updates and try updating the app, if any available, to fix Instagram reels sound not working. To update the app, follow these steps:
For Android: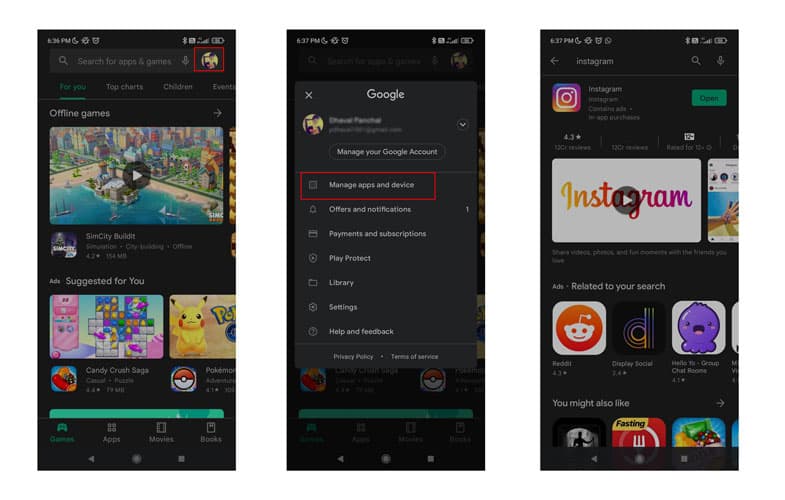 Open Play Store.
Go to "Manage Apps And Device" by clicking on your display picture shown on the top right of your screen.
Select the 'Updates available' option.
Select 'Instagram' from the list.
Click on 'Update' to get the latest version.
For iOS: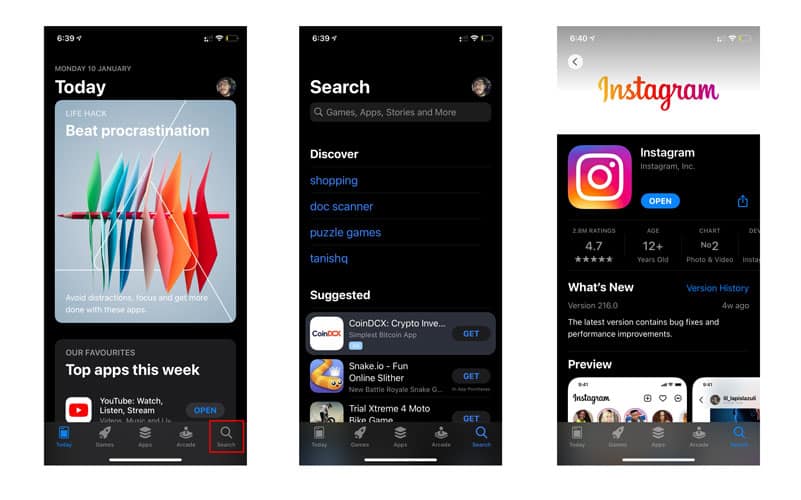 Open the App Store app.
Go to the 'Search' menu.
Search for 'Instagram' in the search field.
Tap on 'Update' to the right of the app listing.
If this does not work, there is yet another old trick that might just work.
4. Restart your Device 
This is essentially a step further than restarting your Instagram app. If you still get no sound on Instagram stories, try restarting your phone. Once it is back on, try launching the app with proper internet connectivity. Many times, something as simple as this proves to be effective.
5. Clear App Data and Cache 
If you are an Android user, clearing app data and cache could sometimes immediately fix the issue of Instagram reels audio not working. If you are getting no sound on Instagram reels, try these steps:
For Android: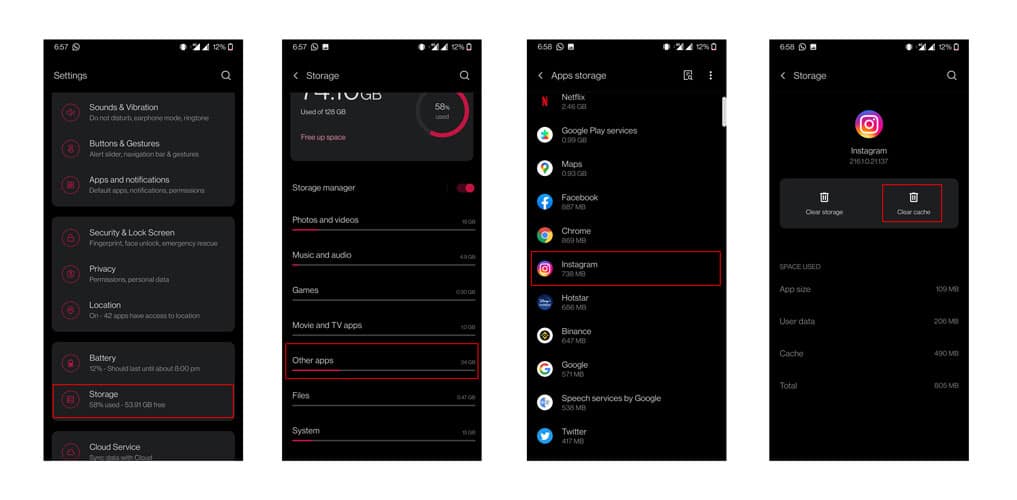 Open Settings and tap on 'Storage.'
Select 'Other Apps' and locate 'Instagram' in the list of apps.
Click on it and tap the 'Clear Cache' option. The option will soon turn gray, and the cache space will drop to 0B.
Note: As for iOS users, unfortunately, there is no way to clear cache in iPhones. Short of removing the app and reinstalling it, there is no other way around.
6. Reinstall the Application 
Sometimes the only way out is to delete and reinstall the app. If the issue of Instagram sound not working persists, try deleting the app altogether and reinstalling it from Play Store or the App Store. Here's how to go about it:
For Android:
Press and hold the Instagram app icon, click on the 'Uninstall' option that pops up either at the top or by the side of the icon.
Go to Play Store, search 'Instagram,' and download the first app on the search result page.
For iOS: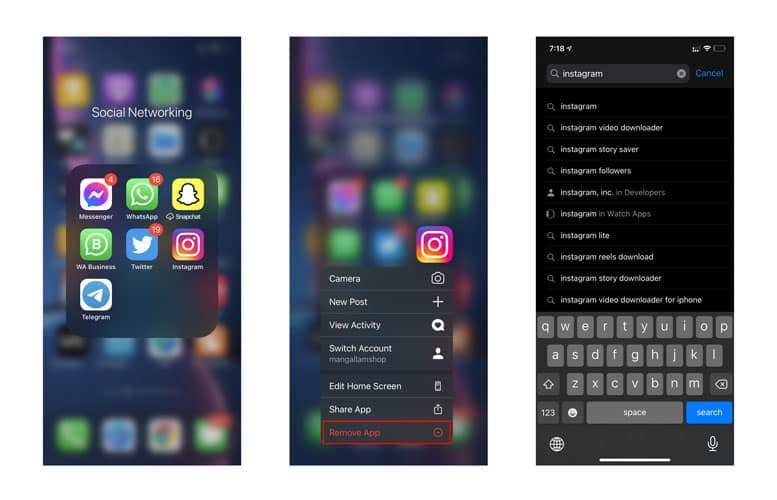 Locate the Instagram app on your Home Screen or App Library.
Tap and hold your fingertip on the Instagram icon until the apps start to jiggle or a menu appears.
Tap on 'Remove App' or the (-) minus.
Confirm that you wish to delete the app.
Open the App Store and click on the search menu.
Type 'Instagram' in the search field.
Once the app appears at the top of the list, tap on the 'Get' button, and authorize the download and installation procedure through either facial identification, touch identification, or Apple ID password.
7. Enable App Permissions
It could be the case that your phone has been denied audio permissions for Instagram. In
such cases, there would be no sound on Instagram reels. To fix this, follow these steps:
For Android: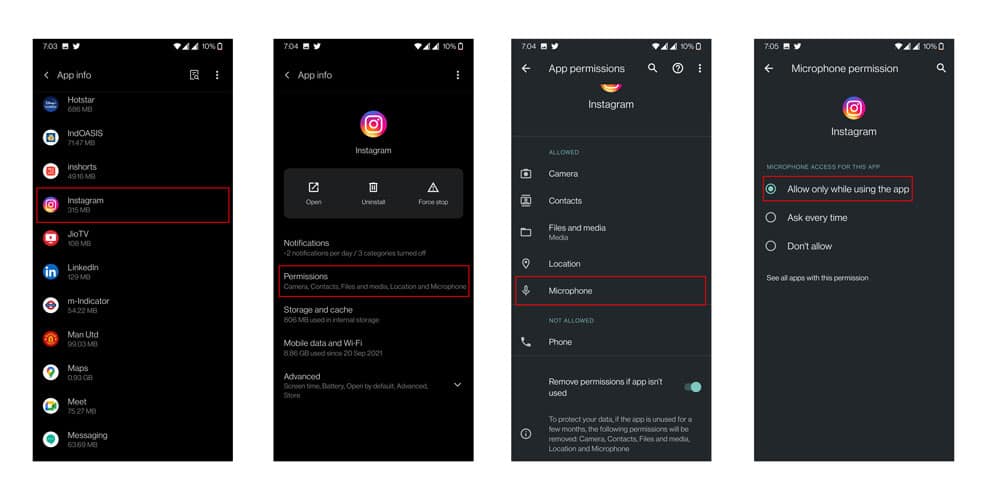 Go to Settings and navigate to 'Apps.'
Select 'Instagram' and go to 'Permissions.'
Click on 'microphone' and choose 'Allow only while using the app.'
For iOS: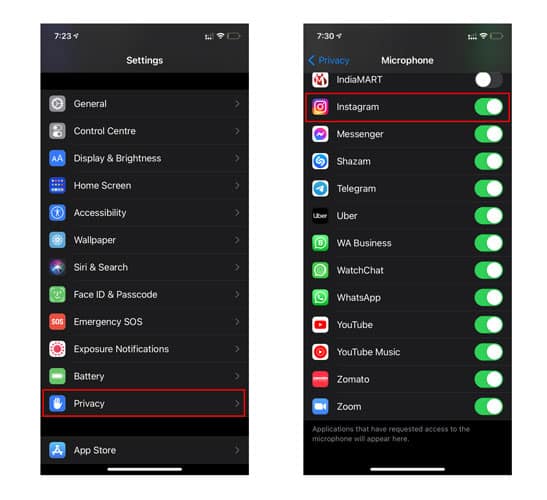 Tap on 'Privacy' in the Settings app to view all the permission settings.
Tap on 'Microphone' and manually provide access to Instagram.
8. Force Stop the Application 
If there is no sound on Instagram reels, you can force stop the application manually. This option is Android-exclusive since iOS will not allow you to Force Stop any app. To Force Stop the app on Android, follow these steps:
Go to Settings and click on 'Apps and notifications.'
Locate Instagram and click on it.
Select 'Force Stop' and click on 'OK.'
9. Logout and Login Again
Yet another quick but effective fix could be to just log out and then log back into your account. The process is the same for both Android and iOS, and it is, more often than not, quite effective in fixing minor bugs or unresponsive content. The issue of no sound on Instagram reels could often fix itself after logging out of the app once.
10. Switch to Professional/Creator Account
Alternatively, you can consider switching to a Professional/Creator's account on Instagram. This has also been known to fix the issue of no sound on Instagram reels.
Here's how to do that: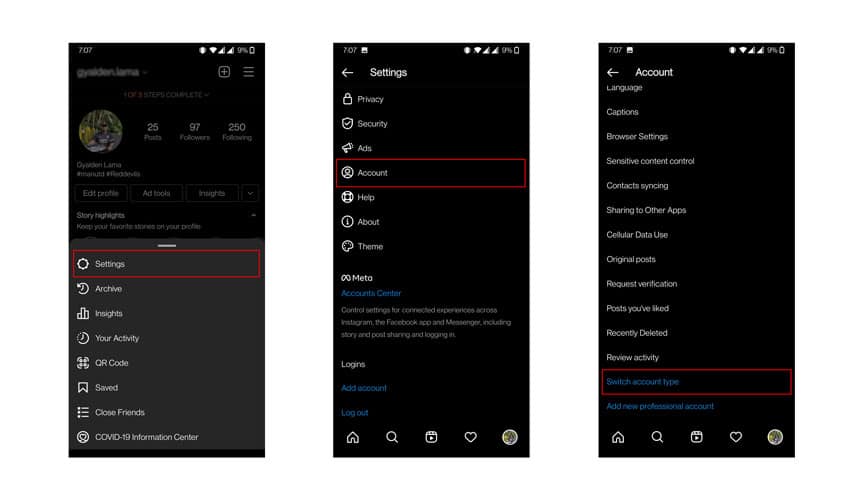 Open Instagram, go to Settings, and select Account.
Select 'Switch to Professional Account' at the bottom if you currently have a personal account. Similarly, click on 'Switch to Creator Account' at the bottom if you have a business account.
Verdict: Can You Fix Instagram Reels No Sound?
The short answer is yes! You can definitely fix the Instagram reels no sound issue. In fact, with the help of the list of fixes, you can fix it by yourself. You do not need to approach the nearest phone dealer or repair shop to overcome the audio bug- if it is a bug at all, that is.
The secret is to first scroll up and down to see if the issue is specific to one reel, and if the problem persists, go through the fixes listed above by trial and error until one works out. You should be able to overcome the issue of Instagram reel music not working or no sound on Instagram stories. Just keep at it, and do not forget to check your internet connectivity at all times!