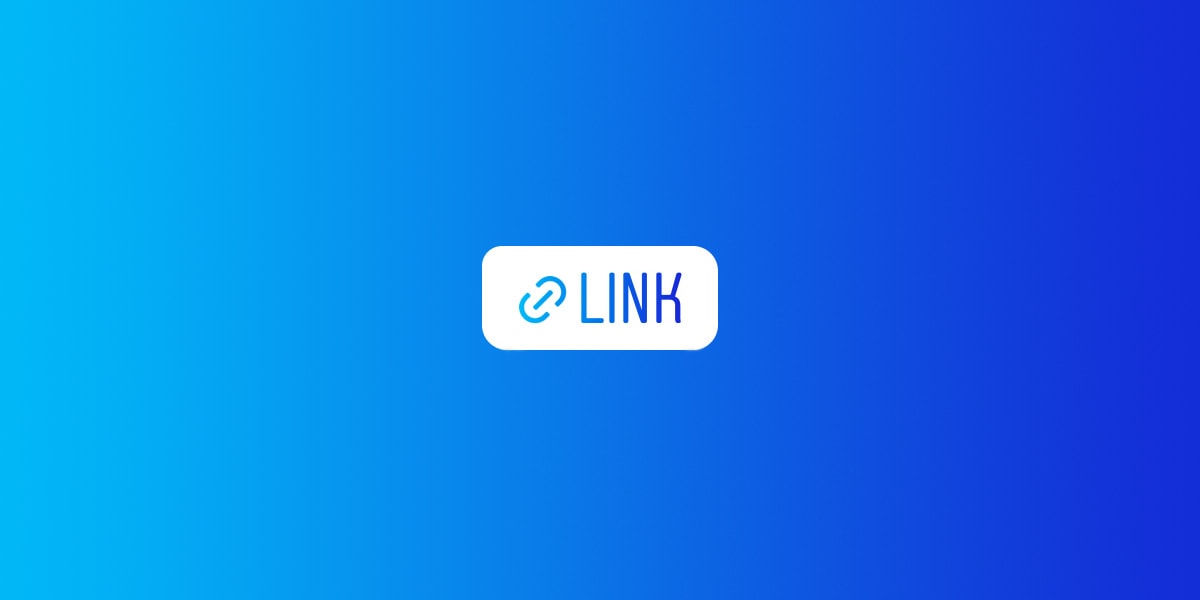 After being at it for days straight, you have finally completed the draft of the blog you were meaning to publish all these days. You go through your article once and ensure everything in order. Once everything is taken care of, you publish the article. The next steps is of course promoting your article on different social media platforms and increasing the reach. You post the relevant link on every social media platform you are active on.
However, you realise that you cannot insert the link on your Instagram account. This is probably because you don't have the required amount of followers to post the link. Given the immense amount of influence Instagram has on people, it can be frustrating to miss out promoting your content on such a platform. But just like every other problem, this too has a solution
If you are someone who is hoping to navigate your way through this issue, then we have you covered. In this article, we will walk you through how to add link in instagram story without 10k followers.
What was Instagram Swipe Up Feature?
Often when browsing through your Instagram stories, you tend to come across an advertisement story that has a option called "Swipe Up To Know More." When you do the needful, you are automatically redirected to the advertiser's website. This is precisely the Swipe Up feature on Instagram that has helped countless brands and influencers over the years. With the Swipe Up feature, brands and influencers tend to get more followers by adding the relevant link in their Instagram stories. Simply by Swiping Up on a story, users can check out everything the story has to offer.
Now that Instagram has retired these feature, one might wonder how to link a website on instagram story? The latest update allows you to include a link sticker to your story for the same.
What is the Instagram Link Sticker?
Stickers, emojis, and GIFs are an integral part of every social media application. Over the past few months, many users have come across a link sticker when browsing through their Instagram stories. For those who are wondering what a link sticker is, it is a replacement for the Swipe Up feature. These link stickers let you add an external link to your Instagram story. This is a good way to drive traffic and enhance your reach to external content and products on Instagram.
If you are wondering on how to link a website on Instagram story, simply use the link stickers. This allows viewers to engage in a story and gives you greater control as compared to the previous Swipe Up feature. These link stickers are perfect for those who use them for music, polls, locations, etc.
How to Add Link to Instagram Story Without 10K Followers
Everyone knows that our Instagram stories only stay up for 24 hours. If you want to boost your reach and engagement within these 24 hours, you must be aware of how to link a website on Instagram story. With the link stickers, you needn't worry about the number of followers you have in order to post a link. Below are few steps on how to add link to Instagram Story without 10K followers.
Here, is how to add link to Instagram without 10k followers.
Launch Instagram
Tap on the Plus (+) sign
Select Story
Create any story using any of the different media (photo/video) you have on your phone
Next, tap on the Sticker icon on the top row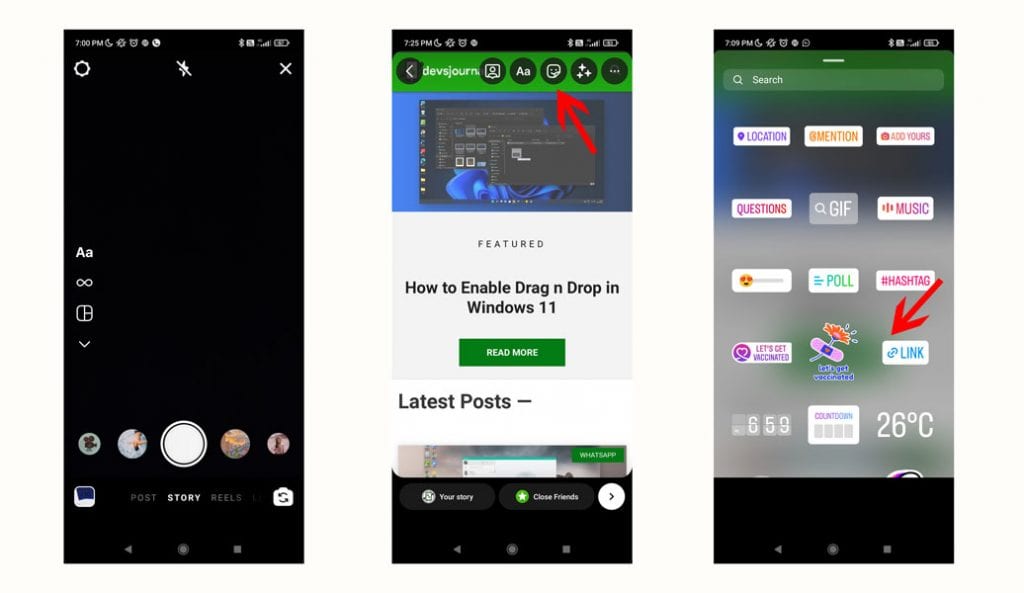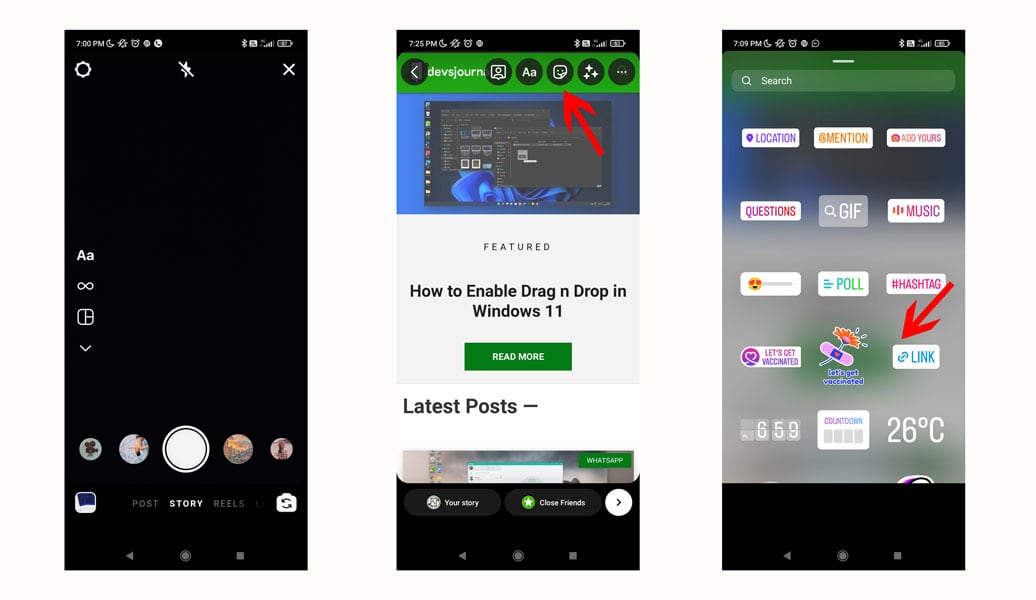 Next, insert the URL
Type in the stickers call-to-action (CTA) (eg: tap to read)
Place the sticker anywhere on your story
Pinch to resize it
Just tap on the screen to shuffle through the different colour schemes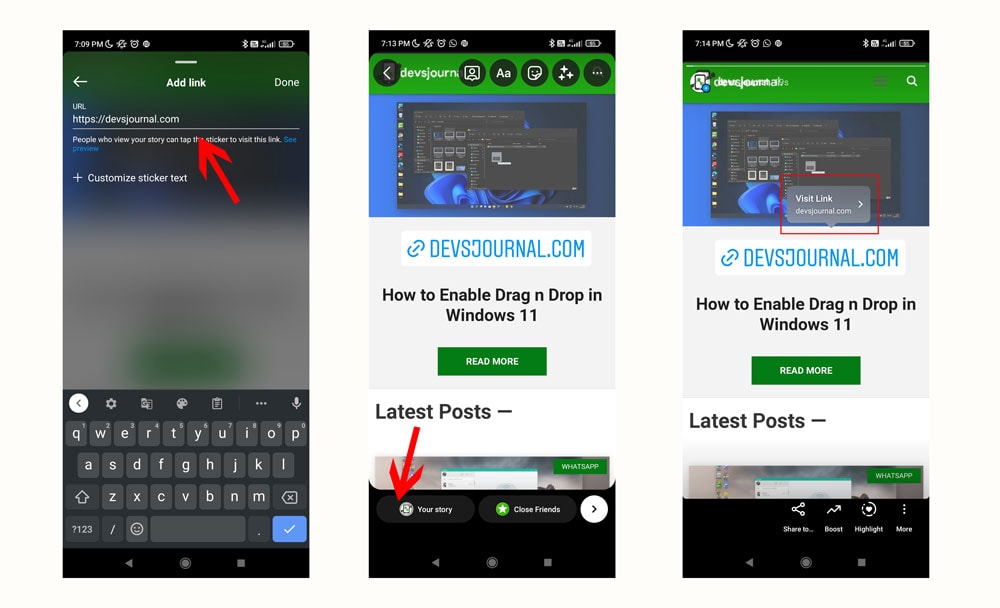 Send to your story
How to Customise the Instagram Link Sticker?
While getting in a link on your story is important, paying attention to the overall appearance is equally important. Just like Instagram offers dozens of customisation options, it offers the same when it comes to customising items on your story just like the Instagram link sticker. Every influencer of brand personnel knows the importance of aesthetics when it comes to social media promotion
If you think your Instagram sticker isn't living up to your brand's aesthetics, you can customise it to accordingly using a few steps
Create an Instagram story with a link sticker
Save the story as a draft
Now, open any design application or you can select any gif from instagram search option of your choice
Here, make sure you design a sticker that matches your brand's CTA (call to action)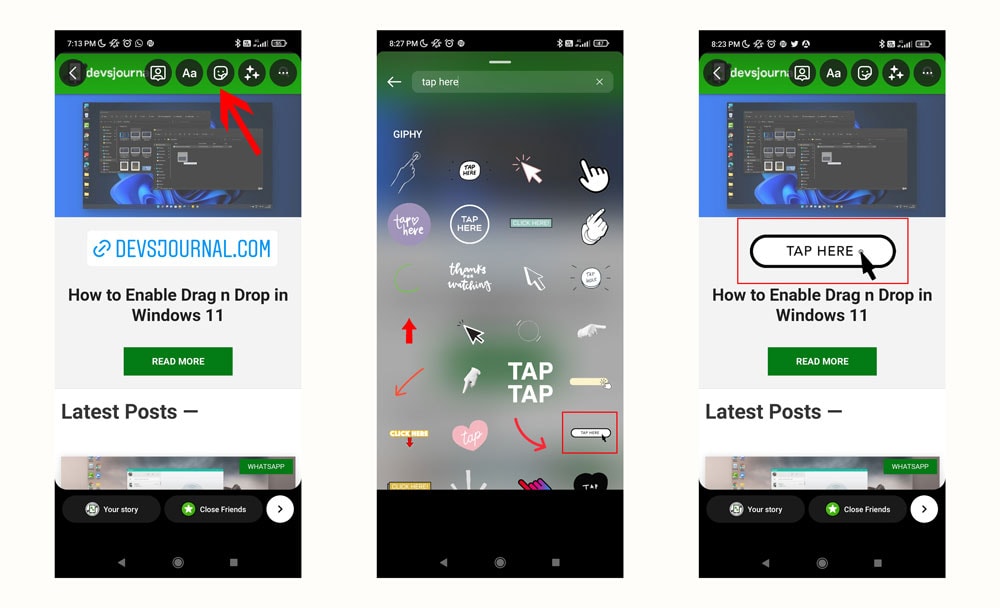 Eg: Read more here, Tap to know more
Export the design to your phone as a PNG file with a transparent background
Return the Instagram draft story
Now, add the customised sticker design from your phone onto your Instagram story
Place this customised story directly over your link story
To know more about customising your Instagram sticker, refer to the link given below
The Bottom Line
If you are an influencer or a person from the branding community, you understand the importance of having the right reach on Instagram. And in order to enhance the same, one must know how to add link in Instagram story without 10k followers. Our article will guide you through everything required for the same. In addition to posting a link on your Instagram story, we have also included the different steps using which you can customise your Instagram links.