Instagram is an amazing social media platform. It has millions of users and provides them with various features for engagement. Reels are one of the most popularly used feature of Instagram. Reels was soon launched by Instagram after the ban of another social media called TikTok in India.
The concept of Reels is similar to TikTok. Users are allowed to create a short video using different effects, music, transitions, and more. To keep up with the creators on Instagram, the app has to provide various feature advancements and upgrades. Due to all these advancements and since reels are new on Instagram, they have some issues. Due to this, the Instagram reels do not work properly. If your Instagram reels are not working properly, this article will help you fix them.
Why Instagram Reels are not Working
There are various reasons why your reels is not working. There are always new updates for reels which create a few bugs and issues. These bugs and issues are caused due to technical errors in the backend of Instagram. The Instagram server issue is an example of a backend technical error. The various problems faced by Instagram reel users are:
Instagram Reels does not appear while using the app.
"Something Went Wrong" error occurs and you can't watch Instagram reels.
You aren't able to upload or post an Instagram reel.
The Instagram reels are freezing or buffering.
Posted Instagram reels do not appear in the feed.
Audio in Instagram Reels doesn't function or play when you create Reels.
Audio in Instagram Reels does not work or play when you see Reels.
Other Common Instagram Errors:
10 Ways to Fix Reels Not Working on Instagram
If you are facing any of the problems mentioned above while using Instagram reels and want to know how to fix them. Here are ten ways you can fix these bugs and glitches in reels. 
1. Access Instagram Reels at Other Places
Before taking any step to fix the issue, you need to verify the problem first. You need to crosscheck whether you are genuinely facing the issue or not. You can access reels from various places in the Instagram app. If you are not able to open or access reels from one place, try to open them from another to crosscheck. 
There are six places on your Instagram app from where you can access the reels feature.
Reels Tab on the Navigation bar
On the navigation bar at the bottom of your screen, the reel feature is in the center.
Click on it to access the reels.
New Post Screen
On your home screen, in the left top corner, there is a "+" sign. This sign allows you to create a new post which can be a reel, a story, or a post.
Click the "+" sign and select the reel options that appear on the bottom.
Instagram Explore Page
On the navigation bar at the bottom of the screen, the search option is second to the right.
Once you click on the search option, the explore page opens. On the explore page there are images, posts, reels, and videos.
From here, try to access reels.
Instagram Stories
Open your stories, there you will find a "+" sign.
Click on the "+" sign and select the reels option from there.
Reels from other User Profiles
Open any user's profile.
In their profile, select the reel section which is next to the IGTV section.
Instagram Camera
From the Instagram homepage, swipe left to right to open the Instagram camera.
From there, select the reel option from the bottom tab.
After cross-checking and confirming the issue, follow the steps given below to fix the problem.
2. Update Instagram App
One of the reasons why you aren't able to access the Instagram reel is that you are not using the up-to-date version of the Instagram app. This is the most common problem as users do not keep checking for updates now and then. Also, to save space on their device, many users turn off the auto-update feature of the Play Store or App Store. Just update your Instagram app.
Go to the Playstore for Android or the App Store for iOS.
Search for "Instagram" in your search bar.
Now click on the Update option.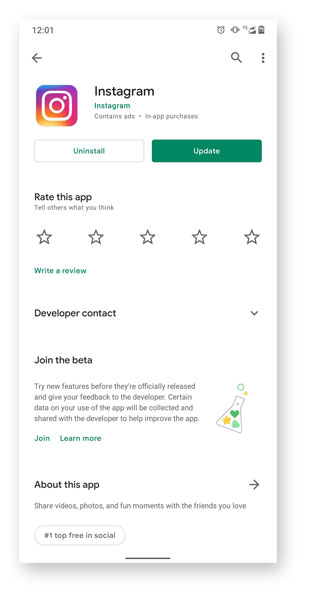 3. Clear App Cache
The more you use an app, the more it stores data in the form of a cache. The more cache you accumulate, the less memory you have in your device. This can cause bugs in the application. Maybe because of these bugs, your Instagram reel is not working. Therefore, it is better to clear these cache files. There are three ways in which you can clear the Instagram app cache.
From Settings
Open the Settings
Tap Apps & Notifications.
Next, from the app list, select Instagram.
Tap Storage & cache after that.
Finally, press Clear Cache and you can then select Clear Storage.
Using a Third-party app
Download any cleaner application from the PlayStore.
After that, click on the "Clean App Caches".
Your Instagram cache will be cleaned.
Reinstalling the Instagram app
Once you uninstall the existing Instagram app, all the data, including cache, will be deleted.
Then reinstall the app from the PlayStore.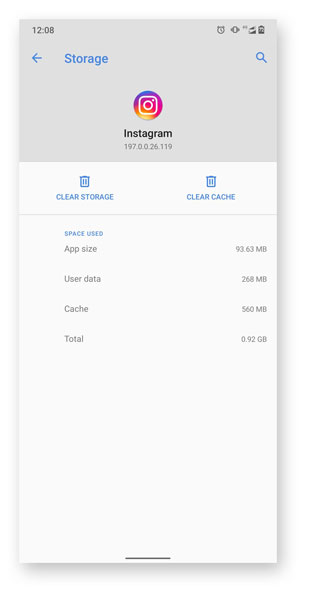 4. Switch from Private to Public or Vice Versa
If you are not getting enough views on reels even after a lot of hard work, then you should consider switching your profile from Private to Public or Vice Versa. All your reels are available and accessible to everyone from any Reels tab if your account is set as a public account. It is not only possible to find your reels in public reels, but they may also be used by anybody else.
But assume you are running a private account. In that event, your reels are not visible, even if they are shared, only to your followers. The Explore Page or the Featured Reels section does not include it. Furthermore, it can not be reused by others if you have used the original audio. 
Some users claim that switching from private to public or vice versa has fixed their Instagram reels not working Issue.
In the bottom right corner of your screen, click on your profile picture.
Then tap on the upper right corner menu option.
Now click on the Settings option.
Then select Privacy settings.
Now to make your account public, disable the Private Account setting.
Refresh the app once to apply the changes.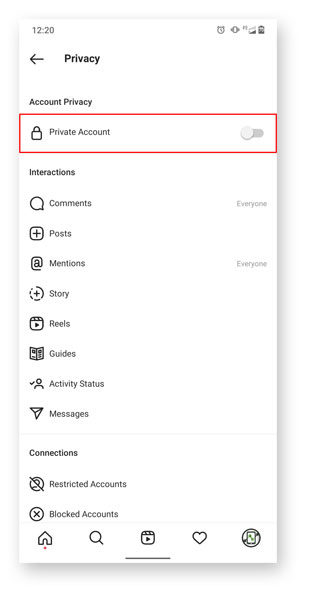 5. Re-login to your Instagram Account
If you are using the latest version of the Instagram app and still cannot access reels then you should log out of your profile, and then log in again. Switch between the accounts if you use multiple Instagram accounts on the same device.
6. Re-install your Instagram App
If you cannot access reels even after doing all the methods given above, you should try reinstalling the Instagram app. Uninstall the existing app and download and install it again from the Playstore. By doing this, your problem should be solved.
7. Update your Device
Sometimes the problem is with your device and not your Instagram app. Try updating your device and try using reels again. Follow the steps given below to update your device:
Go to Settings.
In Settings, select System > Advanced.
Now click on "Check for Updates" or "System update". An update button will appear if any update is available. Click on the update button.
Install the updates and reboot your device.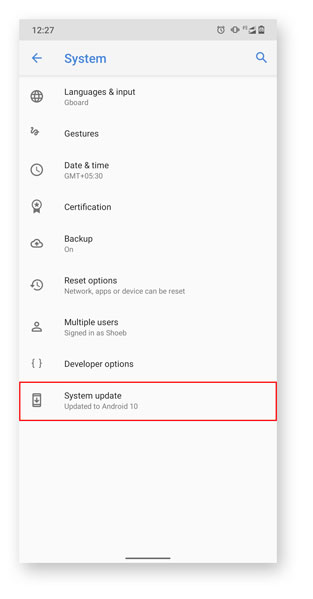 8. Try using a Different Device
Even after updating your device, if the reel function isn't accessible, then you should try using a different device. This will let you know clearly where the problem lies. Is it your device or the Instagram app or your Instagram account?
9. Join Instagram Beta
If you are still unable to see Instagram reel, here's another approach to remedy the problem. You can enroll in the Instagram beta test program. For this, follow the steps given below:
Open Google Play Store.
In the search bar, search for Instagram and open it.
To join the beta button scroll down and click on the join button.
Once confirmation shows, click on Join again.
After this, your account will be added to the beta test program. This can take a couple of minutes.
Now click on update.
You should be able to use the Instagram Reels option after some time, as a beta tester.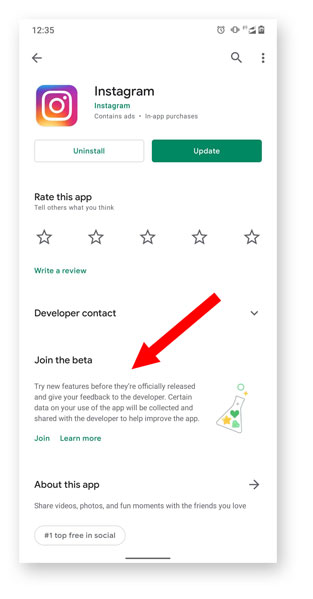 10. Report a Problem
Even after following every method, if your reel problem is not fixed, then you can report the problem to Instagram. To report the problem, follow the steps given below:
In the bottom right corner, click on your profile picture to open your profile.
Click on the menu option in the top right corner and then select "Settings".
Tap "Help" and select "Report a Problem" under Settings.
After that, again select "Report a Problem" for this scenario.
Next, describe briefly the difficulty you are facing with Instagram reels.
Last but not least, in the upper right corner, hit the Send button.
While reporting a problem, try to be very specific. This will make things easier for you.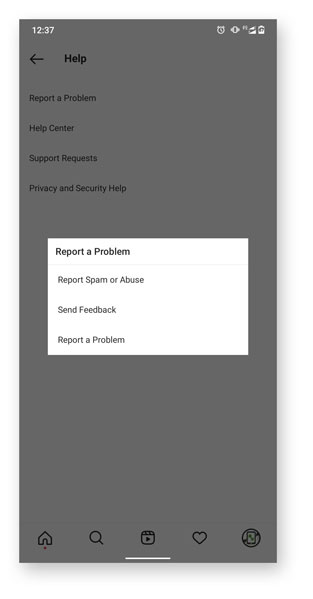 Conclusion
There are various reasons why your Instagram reel is not working or you cannot access it. There are various solutions for each problem you are facing. Just follow the steps given in the article. If nothing works for you, you can report the problem to the Instagram center.