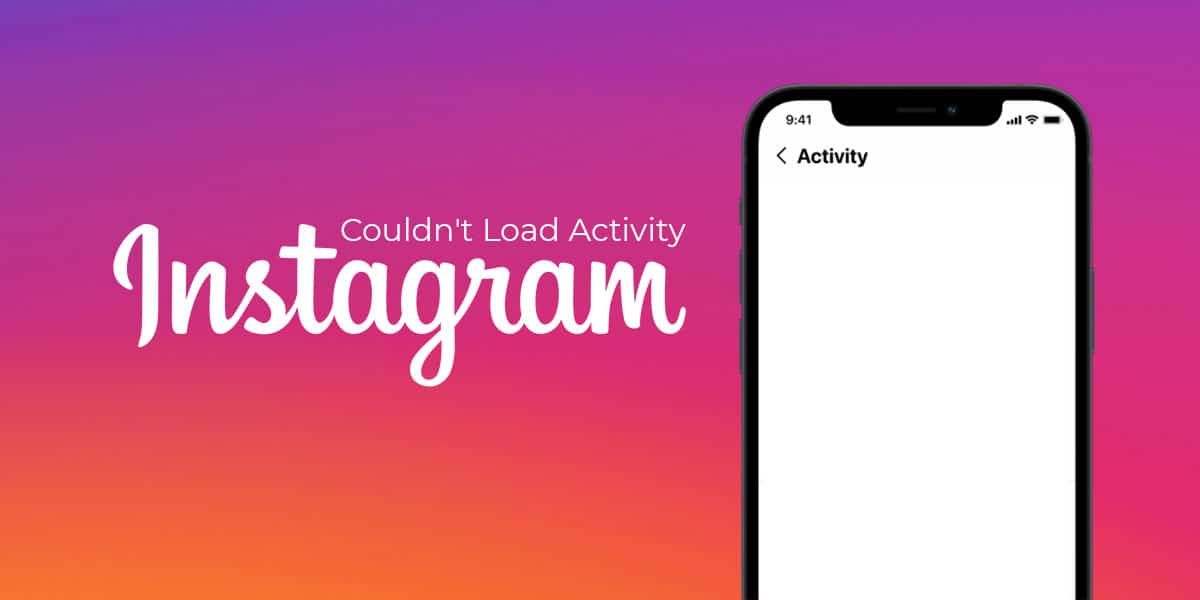 Many Instagram users have recently been facing the issue of their Instagram activity feed not loading. If you are a regular Instagram user, chances are, you have come across times when your Instagram activity feed was gone, and you were greeted by the error message stating, "Couldn't load activity."
Admittedly, it can be pretty frustrating when you keep trying to refresh and reload your Instagram activity feed, but to no avail.
The most common culprit in such situations is usually your internet connection, but that doesn't discount the fact that it is often your phone or the app's temporary issue. The good thing is, you can fix this quite easily. But first, let's get down to basics.
What is Instagram Activity Feed?
For those who regularly use the app, the Instagram activity feed is synonymous with the very essence of the social media platform. Essentially, the addition of this section is meant to inform you of the followers, likes, or comments you have gained, alongside the posts or videos liked by those in your friend list.
In short, the activity feed's job is to keep you in the loop and save you the hassle of manually finding out about your new followers, likes, or comments. So, it is only understandable why people get frustrated when their Instagram activity feed is not loading. Let's see how you can fix it.
Ways to Fix Instagram Can't Load Activity
Much like any issue of this nature that involves content not loading, disappearing, or getting stuck, the solution usually and rightfully so involves going through trial and error. It's no different in this case.
If you have been trying rigorously, yet Instagram couldn't load activity, worry not, for here are some simple steps that can get your activity feedback. Let's go through them one by one:
1. Check your Internet Connection
As we discussed earlier, usually in these situations, the culprit is your unstable internet connection. Instagram can't load activity even after multiple trials if your internet connection fluctuates.
Try connecting to a different network that is faring better than your current one, and chances are, you will get your Instagram activity feedback. However, if this does not work, there are many other alternatives to consider.
2. Restart the Instagram App
This is akin to the age-old solution of taking the batteries off your TV remote and reinserting them to get it to work. Hey, sometimes it does work!
If your Instagram is crashing, a simple restart can fix the issue of the Instagram activity feed not loading quite easily. This is fairly simple, and chances are, you instinctively close the app, remove recently closed tabs, and reopen the app at times like these. Well, you are on the right track. 
3. Update the Instagram Application
If recently your Instagram couldn't load activity, it could be a classic case of an outdated app version. It goes without saying, you need to keep the latest version of all apps for them to function smoothly.
Check for pending updates, and if there are any, chances are, you have found the fix! You can update the app when Instagram can't load activity. To update, follow the below steps:
For Android: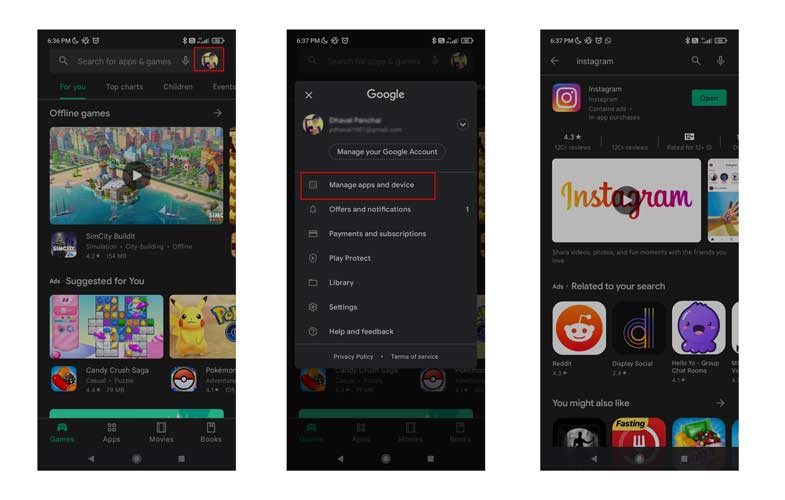 Open Play Store.
Go to "Manage Apps And Device" by clicking on your display picture shown on the top right of your screen.
Select the 'Updates available' option.
Select 'Instagram' from the list.
Click on 'Update' to get the latest version.
For iOS: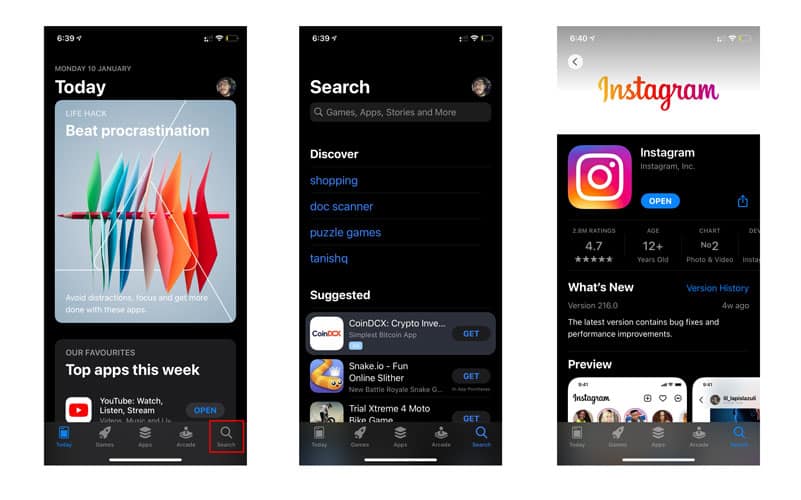 Open the App Store app.
Go to the 'Search' menu.
Search for 'Instagram' in the search field.
Tap on 'Update' to the right of the app listing.
4. Uninstall any Third Party App Connected to Instagram
If your Instagram couldn't load activity, check for third-party apps connected to Instagram, and try uninstalling it. Most often than not, this third-party app is one that you use to track your followers and just your popularity on the app in general.
Sometimes these third party apps cause crashes and glitches with the main app, in turn affecting your Instagram activity feed. Uninstalling them, even if for the time being, could fix the issue proactively.
5. Restart Your Device 
If you have already given restarting the app a try, but your Instagram activity feed is still not loading, you can go ahead to the very next step: restarting your device. Once again, an old trick in the book, but it often works just as well! Whether you are an iOS or an Android user, restarting your device could be an easy yet effective fix for your issue.
6. Clear App Data And Cache 
If you are an Android user, clearing app data and cache could sometimes immediately fix the issue of the Instagram activity feed not loading. Sometimes, clearing the app cache and data helps immediately. You can try these steps:
For Android: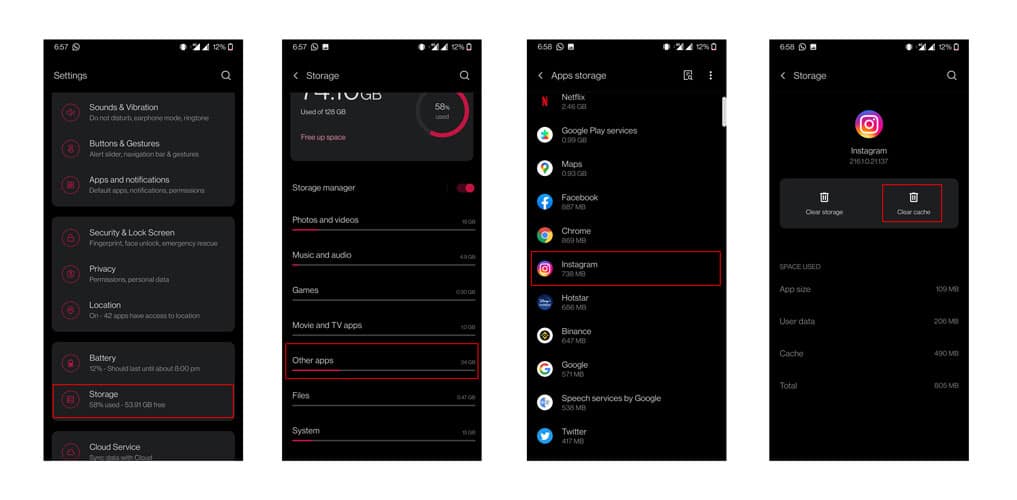 Open Settings and tap on 'Storage'
Select 'Other Apps' and locate 'Instagram' in the list of apps.
Click on it and tap the 'Clear Cache' option. The option will soon turn gray, and the cache space will drop to 0B.
Note: As for iOS users, unfortunately, there is no way to clear cache in iPhones. Short of removing the app and reinstalling it, there is no other way around.
If your Instagram activity feed still does not load, there are a few more ways you can try to fix it.
7. Reinstall the Application
Sometimes the only way out is to delete and reinstall the app. If the issue of the Instagram activity feed not loading persists, try deleting the app altogether and reinstalling it from Play Store or the App Store. Here's how to go about it:
For Android:
Press and hold the Instagram app icon, click on the 'Uninstall' option that pops up either at the top or by the side of the icon.
Go to Play Store, search 'Instagram,' and download the first app on the search result page.
For iOS: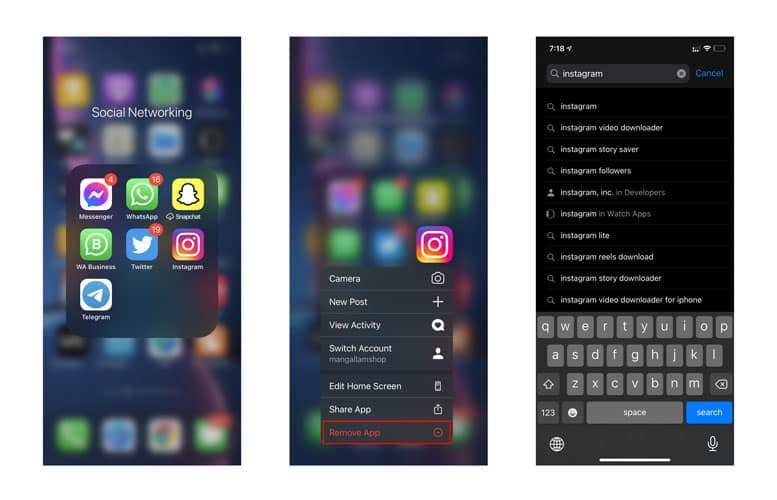 Locate the Instagram app on your Home Screen or App Library.
Tap and hold your fingertip on the Instagram icon until the apps start to jiggle or a menu appears.
Tap on 'Remove App' or the (-) minus.
Confirm that you wish to delete the app.
Open the App Store and click on the search menu.
Type 'Instagram' in the search field.
Once the app appears at the top of the list, tap on the 'Get' button, and authorize the download and installation procedure through either facial identification, touch identification, or Apple ID password.
Usually, this works wonders, but if your app is still acting out, you are not out of ways to get your Instagram activity feedback on the track.
8. Logout and Login Again
Yet another quick but effective fix could be to just simply log out and then log back into your account. The process is the same for both Android and iOS, and it is, more often than not, quite effective in fixing minor bugs or unresponsive content. The issue of your Instagram activity feed not working could often fix itself after logging out of the app once.
9. Switch to a Different Account
This is an interesting yet often effective way out of your Instagram activity feed not loading. Here, you would need to either log in to a different account or create a new account, like a post from your original account.
Try logging back into your original account following that, and your Instagram activity feed issue might just fix itself! It might sound like a hoax, but this method often does a pretty decent job overcoming the glitch.
10. Switch To Professional Account
Alternatively, you can consider switching to a Professional/Creator's account on Instagram. This has also been known to fix the Instagram activity feed glitch. Here's how to do that: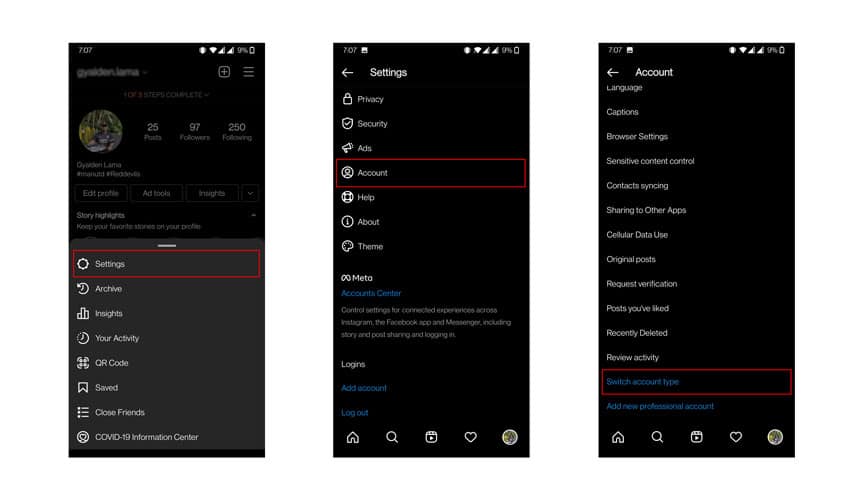 Open Instagram, go to Settings, and select Account.
Select 'Switch to Professional Account' at the bottom if you currently have a personal account. Similarly, click on 'Switch to Creator Account' at the bottom if you have a business account.
Final Thoughts | Couldn't Load Activity on Instagram?
At this point, it is safe to say there is a way out of almost any issue you face on social media platforms, and that includes Instagram, too. The Instagram activity feed not loading glitch is quite common, and the best part is, the fix could mostly be fairly simple.
The trial and error method is the best course of action when you encounter issues of this nature. The trick is to be patient and move from one fix to another till you find the one that works. You wouldn't have to go through the whole list most of the time to get your Instagram activity feed to work!