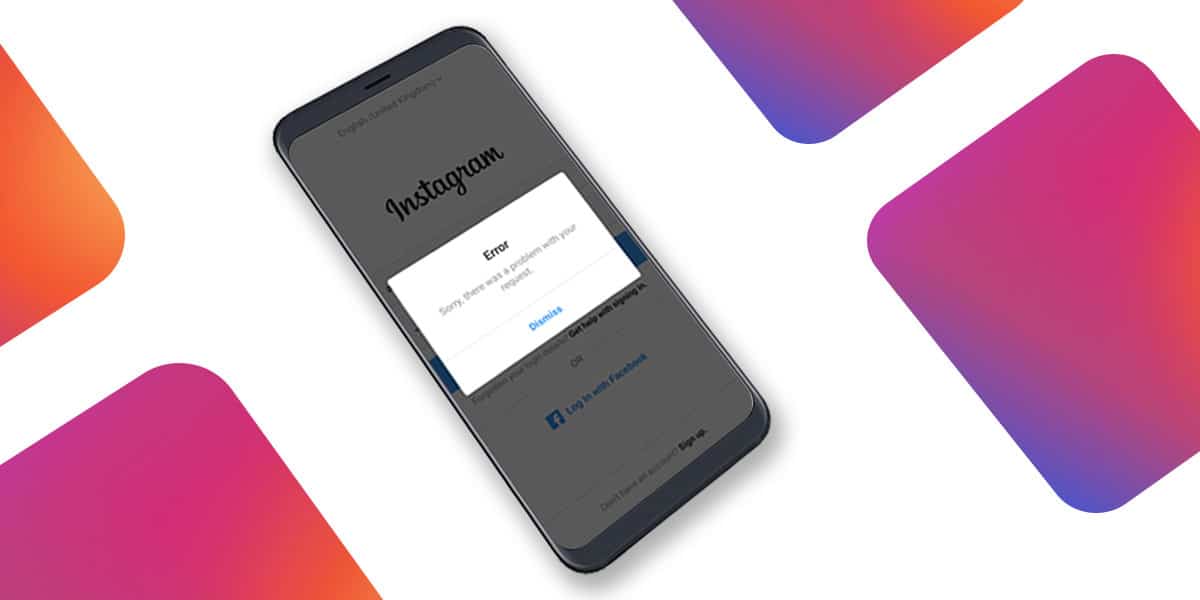 Instagram has quickly become an instrumental platform of today's social life, and it is practically impossible for youth to imagine life without it. If you find yourself locked out of Instagram, you aren't the only one. You open your Instagram, but instead of getting right to the feed, the app demands that you sign in to proceed. However, after inserting your login credentials, you get a pop-up that reads.
"Error. Something Went Wrong."
"An Unknown Network Error Occured,"
"Request Timed Out,"
"Can't Sign to your account,"
"Instagram Username not found,"
Despite all these errors, you continue to try to login into your account. But even after multiple attempts, you still remain on the login page, completely unable to access your account. Getting stranded on the login page is one of the genuine concerns about Instagram people have voiced over the past few months.
Facing these issues can be tedious and downright frustrating as it is practically impossible to contact the Instagram help desk. However, these issues are often self-inflicted and require little to no efforts to have fixed.
All these errors have been reported in parts of the USA, Brazil, India, Ukraine, along with 20 other countries. Over a million reports have been filed against the same in the past months. If you are also amongst those who couldn't log in, then we got you covered.
Why Won't Instagram let me Log in?
People started reporting all these errors after an update released from Instagram. Though the company is yet to determine the cause of this problem, tech experts feel that the latest update might be the reason why Instagram won't let you log in. Toggling between multiple accounts may also be one of the reasons you are unable to access your account.
Social media moguls have flooded Twitter with reports that Instagram isn't letting them login to their respective accounts. Despite multiple attempts, the page continues to read, "An unknown error has occurred." We have listed some of the critical causes that could be responsible for issues, such as:
Wrong Username/Password
The account may be locked or deleted
Toggling between multiple accounts
Phone's time and date not synchronised
Hardware Issues With Your Phone
Incompatible device software
The communication gap between the device and Instagram servers
These are some of the common causes that have you locked out of Instagram. To solve this issue, we have compiled a list of possible fixes that may help you get the problem fixed. Note that these fixes have been arranged in chronological order and need to implemented accordingly.
10 Ways to Fix "Can't log in to Instagram" Issue
These errors generally occur post updating your app to the latest version. At times, the updated version may not be compatible with your device's software, ultimately failing to give you access to your account. At times, these errors occur only in the Instagram app on your phone, and you may not face this error if you sign-in to your account via the Instagram website.
To counter this, we have put together a list of 10 ways to fix the "Can't Login To Instagram" issue.
1. Check Your Internet Connection
A poor internet connection is often the cause you find yourself locked out of Instagram. A lot of these slow-downs and errors could be the result of poor Internet connectivity. Therefore, if such an error occurs, the first thing you should do is check your Internet connection. The easiest way is to turn off your Wi-Fi router, wait for 10 minutes, and then turn it on.
Also, you can try shifting from Wi-Fi to your mobile data or vice-versa and try logging in again.
2. Check Date And Time Settings
As we mentioned above, you can't log in to your Instagram account if your device's date and time aren't synchronised. If the date and time aren't set correctly, then you will receive the error which reads "an unknown error has occurred" on your application.
To correct the date and time settings on your phone, follow the steps given.
Go To "Settings"
Select the "Date And Time" section. You can find it under the "System" section
Set the correct date and time
Set the "Date And Time" option to Automatic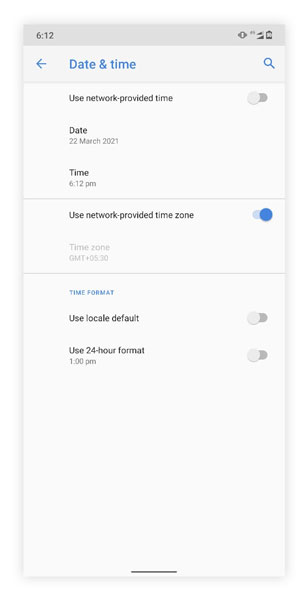 3. Check Your Login Credentials (Username/Password)
Before trying out any other solutions, always start with the basics. Check to see if you're putting in the correct username and password while logging into Instagram. The majority of the errors occur because of typos in your login credentials. Do not insert @ while logging as the Instagram usernames already have the @ symbol. Clear all fields and then enter your username and password again. However, if the problem continues to persist despite entering the right username and password, you will need to reset your password.
4. Reset Your Instagram Account Password
If you're absolutely sure that you are putting in the correct credentials while logging in and still find yourself locked out, then you have no choice but to reset your password. Doing a quick password reset can help tackle the problem quickly and efficiently. For Android and iOS users, you can click on the "reset" link, and the new password reset sequence will be sent directly to your affiliated email.
Follow the given steps to reset your Instagram password
Open Instagram
Select "Reset Password" or "Login help"
It will ask for your Username or Email. Enter correct details.
Now, select "Send an Email" or "Send an SMS Message"
The reset link sequence will be sent to your Email or Phone number.
Click on the Link sent by Instagram
Insert a new password
Note: If you haven't received the password reset link on your Email, then there is a high probability that your account has been hacked.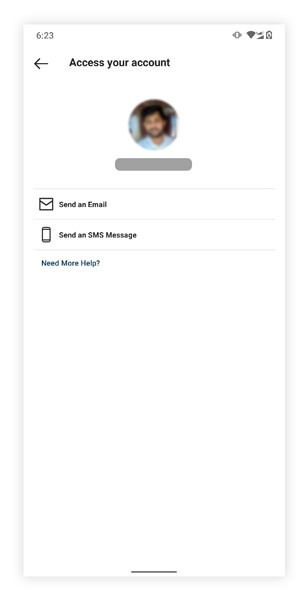 5. Try To Log In From A Different Device
Often these login errors are caused because of device inadequacies. If your phone is old and outdated, the chances are high that it may not be compatible with the latest upgrades. In such cases, try logging into your account from a different device. If you're unable to access your account via the app, then you can try to log in through your desktop. However, if the problem still persists, then it means that your phone IP has been blocked.
6. Update The App
At times, these problems arise when you are still using an outdated version of the application. Updating the app is one of the quickest fixes that can help sort the issue. The newer version is far more effective, and you should update your app to the latest version the minute the company rolls out an update. To update your app, visit Play Store or App Store, type "Instagram," and then select the option which reads "Update."
Once the update is complete, open the app and then try logging into your account.
7. Reinstall the App
If you have little luck with the other solutions, uninstalling and re-installing the app can work out well for you at times. Uninstall your app and then download it again from Google Play Store or App Store. Reinstalling the app can help fix the problem.
8. Clear Cache Data
If you are freeing up your internal memory, it is necessary to clear the cache data as well. Though the cache data isn't a lot, the accumulated data could be one of the reasons you're locked out of Instagram.
To clear your cache data, follow the given steps.
Go To "Settings"
Select "Apps & notifications"
Search and Click on "Instagram"
Click on "Storage & cache"
Select the option marked "Clear Cache"
Select "Clear Data"
Open Instagram
Log In To Your Account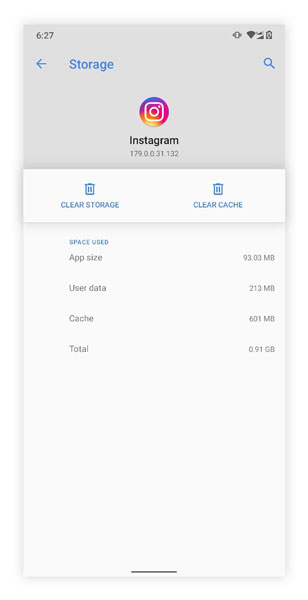 9. Update Your Device
If your device is running on an outdated piece of software, then updating to the latest one could help get rid of the problem you're having with Instagram.
Follow the given steps to update your system software:
Go to Settings
Select System Update
Click on "Update"
Tap "Yes."
Upon completion, restart your phone and then login to Instagram to check whether the problem is fixed
10. Reset Your Device
Note that this step is to be implemented in case all the above mentioned fixes fail. Resetting your phone will revert all the changes and every single piece of data from your phone. Before you proceed with this step, ensure that you backup all your important data (contacts, files, images, videos, etc).
Follow the given steps to factory reset your phone
Go To "Settings"
Select The Option Which Reads "Backup And Reset". It might be located in System > Advanced > Reset Options
Tap On "Factory Data Reset"
Click On "Reset Device"
Tap On "Erase Everything"
This will erase every piece of data present on your phone. Upon completion, your device will restart automatically and you will have to set-up everything once again. Though this process is a proven solution to fixing the "an unknown error has occured" pop-up, the process is tiring, time consuming, and should be only be implemented incase all other remedies fail.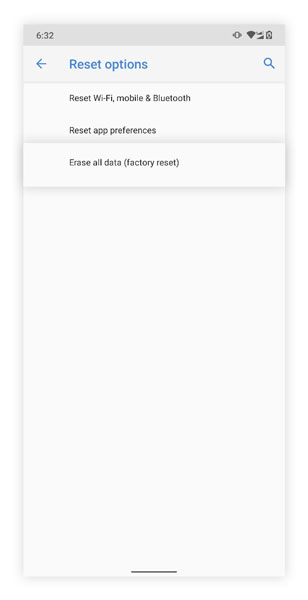 Conclusion
We hope some of our above mentioned fixes was able to resolve the problem and get you back online. However, if the issue continues to persist despite several attempts, then you may have a hardware or memory issue with the phone that requires clearing space or visiting your service provider to diagnose the issue. Often the Instagram servers might be temporarily unavailable which is why you are not able to access your account. The best way to confirm is through the live outage map or by asking any one of your friends if they are facing the same problem.