For those of you who want to live on the bleeding edge of technology and want to get the latest updates to your phones as soon as possible, you will be happy to know that Google has released a beta update for Nexus 6p which upgrades its software version to 7.1.2
This update brings some somestability, battery, and performance improvements. For those who cannot wait to try out the update, they will have to flash the factory image to their devices. The link to the factory images is given here but note that the factory images are not live yet for the Nexus 6p.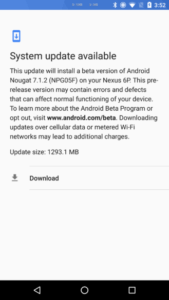 Also worth noting is that the 7.1.2 update on the Nexus 5x brought the fingerprint gestures like the Pixel and the Pixel XL but same is not the case for the Nexus 6p, the fingerprint gestures are not available in this update.
Although if you want to have the ability to swipe down the notification panel by swiping down the fingerprint scanner, you can try the third party apps like "Fingerprint Gestures" from the Play Store.
Nevertheless, fingerprint gestures are a personal choice and I am not a big fan of it. Give your opinion in the comments section below.