A patent has pointed out about the possibility of MagSafe connector in the future iterations of the MacBook. MagSafe has been one of the greatest innovations from Apple and was introduced back in 2006.
Apple World Today claims that a patent has been filed for a magnetic adapter, which uses a MagSafe design. It features an adapter onto which a USB-C connector can be attached.
The Original MagSafe used a magnet to attach itself. This meant that if your MacBook was plugged in and someone tripped over the cable, the connector would detach itself, thus protecting your MacBook. Normal cables would cause your laptop to the ground, and have high probability of breaking the device.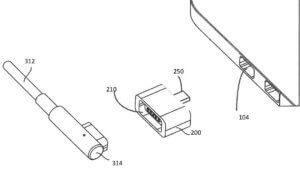 A thinner magSafe 2 was introduced in 2012 and it worked just as good if not better than the Original MagSafe.
The MagSafe connector was dropped from the MacBook Pro line and the MacBook with the introduction of USB Type C. However, it is still present on the MacBook Air.
The patent shows a new product that works essentially in the same way as previous MagSafe connectors.
However, Apple files a huge number of patents and many of them are speculative. Therefore there is a chance that we may not see this product come to life. However it is safe to say that Apple is moving in the right direction considering that the MagSafe connector was loved by many.