We are inching closer to the announcement of the OnePlus 5 which is all set to take place on June 20. We already have a pretty clear picture as to how the OnePlus flagship is going to look like. Yesterday, OnePlus teased the dual camera setup of its upcoming flagship, confirming to previous leaked images. And now we have information as to how much the OnePlus 5 could possibly cost in the Indian Market.
True-Tech has revealed that the price of the OnePlus 5 may go upto $590 in India( Rs.32,000). The leak specifies that more affordable variant with 6GB of RAM and 64 GB of storage will cost Rs. 32,999($515), whereas the maxed out version with 8GB of RAM and 128GB of internal storage will cost Rs.37,999($590). It is worthy to note that this rumour confirms that the OnePlus 5 will have an 8GB RAM variant.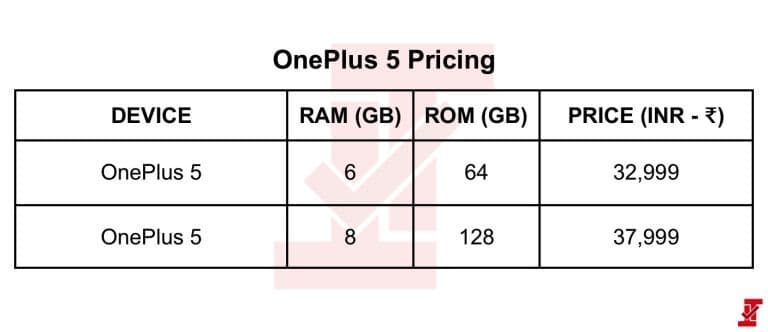 Previous rumours claimed that the OnePlus 5 will be more expensive than last years OnePlus 3/3T models and it seems that indeed is the case. This firmly indicates that OnePlus is slowly moving to the premium flagship territory from being a midrange offering.
Although it remains clear that the OnePlus 5 will be costlier than the OnePlus 3/3T, it is still expected to be cheaper than the Samsung Galaxy S8 and the iPhone 7.
As for specifications, the smartphone will be powered by the Snapdragon 835 SoC. It will come in 6GB RAM/64GB ROM and 8GB RAM/128GB ROM options. The device will have a dual camera setup in the rear consisting of a twin 16-megapixel sensors and an 8-megapixel camera on the front.
The smartphone is set to sport a 5.5-inch Optic AMOLED display with a QHD resolution(2,560×1,440 pixels). The OnePlus 5 will be fuelled by a 3600mAh battery with support for Dash Charge 2.0 rumoured. It will run Android 7.1.1 Nougat out-of-the box.
Do you think that the price of the OnePlus 5 is a bit high? What do you think about the smartphone in general? Let us know in the comments below.