Verizon is rolling out a new firmware update for its Samsung Galaxy S8 and S8+ range of smartphones. Although they do not take the device to Android Oreo, they are larger and bundle previous months changes into this one mega update.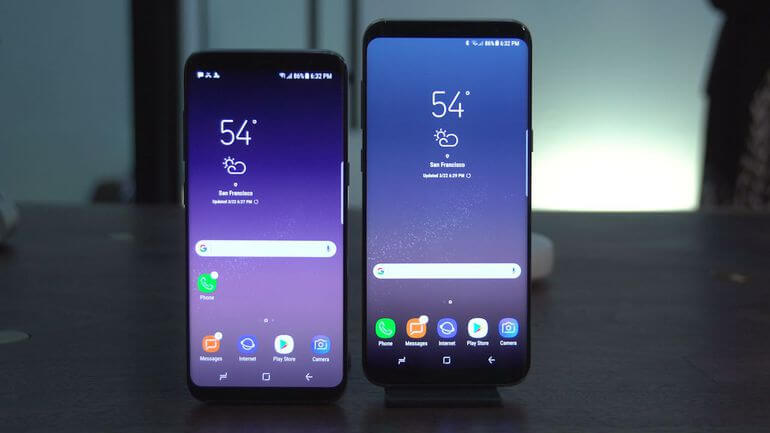 One of the major improvements thanks courtesy these new firmware's is the improved facial recognition speeds. It also adds a "Faster Recognition" option for those who use the facial recognition feature for keeping their handsets secure. The company recommends that users allow their device to take its time and thoroughly scan their face before implementing this option if not using this feature earlier.
Other improvements include,
Navigation bar "Show and hide button" updated to interact with a double tap

A small dot appears to the left of the navigation bar, users can tap it to show, hide or lock the bar in place.

Alarm notifications on the AoD (Always on Display)

Prevents rare instances where alarm related notification do no appear on the AoD when the handset is idling.

Briefing card update notification fix
Car Bluetooth® music browser issue fix

This is mainly for vehicles with an in-built info-tainment system. The fix implements that music playback functionality and current playlist browsing is retained even after receiving a voice call.

Caller Name ID app update

The preloaded Caller Name ID app has been updated to the latest version (6.6.1).

Smart Switch app update

The preloaded Smart Switch app has been updated to the latest version (3.4.06.7).
Read More: Samsung A series handsets might get Infinity Display's in 2018
The firmware(s) bringing these changes to the Galaxy S8 and S8+ are G950USQU1AQGL and G955USQU1AQGL respectively. As the roll out is in phases, Verizon customers with the aforementioned handsets should see an update pop up in the coming days.
Follow us on our social media to keep up to date with the latest in the world of Android.
Get notification about our latest updates, leaks, hacks & exciting offers in realtime!