A lot of speculation about the iPhone 8 are making rounds online. This year is special to Apple as it marks the Tenth-Anniversary of the iPhone. A recent rumour suggests that the iPhone 8 may actually cost about $1000 which is quite steep considering the current price of smartphones. This massive price increase is attributed to the introduction of an OLED display as it costs twice as much as an LCD display. Furthermore, the report also states that the Tenth-Anniversary iPhone may be called the iPhone X.
According to many reports including one from trusted KGI security analyst Ming-Chi Kuo suggests that there will be three models launching this September, the other two being the iPhone 7s and the iPhone 7s Plus. These two models will stick with the IPS-LCD display technology unlike the iPhone 8.
The iPhone 8 is said to sport a 5.8 inch OLED-display which will be bezel-less. It will also have a Home Button integrated into the display and have a much bigger battery.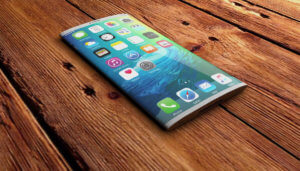 The report further adds that Apple has been working with Lumentum to bring a unique 3D-sensing technology. This technology will bring some sort of facial recognition, better image resolution for the camera app, or some form of augmented reality application. The actual application of this technology is not known.
Also, the report adds that the edges of the iPhone 8 would be made of less-expensive stainless steel with an all glass backing. The side buttons would reportedly be replaced by touch-sensitive inlays in the metal (This seems too futuristic and will probably not happen). Previously the iPhone 8 was rumoured to come with improved 3D-Touch functionality, andadvanced wireless charging.
Interestingly arch rival Samsung has been using OLED display technology for years and has still managed to keep the price of the flagship under $650. Therefore, this factor alone does not justify the price increase for the iPhone 8.
We suggest to take these rumours with a pinch of salt as some of technology tipped to happen appear to be very futuristic.