With Snapchat's burgeoning popularity across all age groups, the number of ever-increasing active users mean that there's a need for record-keeping. Keeping a record of what exactly? Well, every time you chat with someone, send a snap to a friend, or simply add a person, the social media giant keeps a digital record of it. 
Essentially, your activity on Snapchat is duly tracked for future reference, in case you forgot an account you recently looked up, and need a quick reminder. This record is visible on your Snapchat profile, but is it as helpful as the social media platform deems?
For some, clearing their Recents takes more precedence than storing it; this article is for them. In this article, we will discuss what Recents on Snapchat are, and how to delete Recents on Snapchat. But first, let's understand what Snapchat Recents mean in a little more detail.
What Does Recents Mean On Snapchat?
Everytime you add a friend, send a snap to someone, or chat with a person on Snapchat, your activity is recorded in the Recents section.
So, Recents is essentially a feature that helps you keep tabs on the accounts you looked up or interacted with. This might prove to be quite helpful in situations where you just need a quick glance of recently searched accounts, but for many this can either invite trouble or simply seem frustrating. 
Before we go into details about how to clear Recents on Snapchat, here's a secret: if you see a name pop up on your Recents which you did not recently interact with in any form (and that includes simply looking them up), it is a clear hint of them removing you from their Snapchat friend list.
How to affirm this? Click on their profile, and see if you can view the Snap Score. If yes, you are safe and you might have forgotten a recent interaction, but if not, you can rest assured that you have been removed. 
Now that we know what Recents on Snapchat means, let's get straight to how to clear it.
How to Delete Recents On Snapchat for iOS and Android?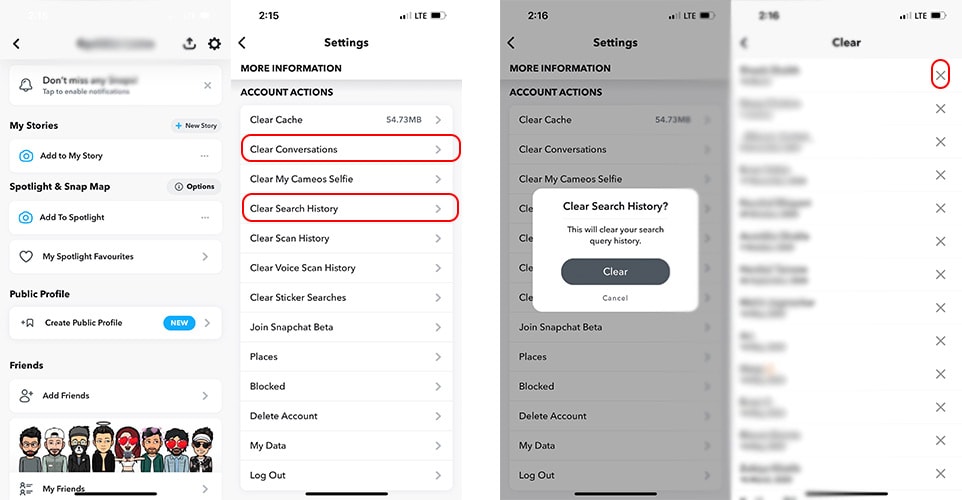 You can clear Recents on Snapchat by following the same method on both iOS and Android, mainly because the app's UI remains unchanged regardless of the OS.
The way to delete Recents on Snapchat is quite simple and straightforward. You can clear the recent list on Snapchat from your profile itself. Follow these steps mentioned below and you should be good to go:
Launch the Snapchat app.
Click on the gear icon to open Settings.
Scroll down to locate the Account Actions section.
Tap on Clear Conversations. Click on the X beside each profile, and delete the conversations on the list manually. If you wish to clear all conversations together, click on Clear All on the top of the screen, and you will be saving yourself a lot of time.
Clearing the past conversations is but one part of Snapchat Recents. The Recents list also includes your search history. As for how to get rid of that, follow these steps:
Launch the Snapchat app.
Click on the gear icon to open Settings.
Scroll down to locate the Account Actions section.
Tap on Clear Search History.
When prompted, confirm the action by tapping on Clear.
This is how you ensure that you have cleared all Recents on Snapchat.
How to Delete A Recent List On Snapchat for Windows And Mac?
If you are using Snapchat on Windows or Mac, clearing the Recents section requires the same steps. However, here's the kicker: Snapchat does not have a version for Windows and Mac; it is an Android and iOS-only app. So, if you want to launch Snapchat on your Windows or Mac for convenience's sake, you have to use an emulator for that purpose.
Be mindful of the fact that when emulators are involved, you might be running into a few issues that won't otherwise exist on iOS or Android devices where it was meant for use. If you can look past them, deleting the Recents section on Windows and Mac requires you to go by the same steps that you have to follow on the phone app.
Simply click on the gear icon from your profile section, scroll down and tap on Account Actions, and select Clear Conversations and Clear Search History– and you are good to go!
How to Delete Best Friends From Snapchat?
Much like Recents on Snapchat, Best Friends is a tag that is assigned to profiles with whom you interact the most and with whom you maintain snap streaks. However, unlike Recents, there's no straightforward way to clear the tags.
The only way to go about it is to simply stop interacting with them or interacting with others more, or block and unblock those contacts to reset the Snap score, or lastly, stop both receiving and sending snaps to each other. Follow any one or all of them, and you are good to go!
Conclusion
That's all about how to clear Recents on Snapchat. With Snapchat's user base increasing with every passing day, it helps to know the features and their workarounds, especially considering they are not hard to follow.
Snapchat has simplified many features like finding mutual friends, locating people near you, using snapchat filters, and process to accommodate people across all age brackets, so anything you wish to do on the social media platform will inevitably be simplistic and take but a few seconds only. 
If you are a regular Snapchat user who interacts with people in frequent intervals, looks up multiple accounts every day, and regularly send as well as receive snaps to and from friends, you might make good use of the Recents section.
However, if you are someone who does not want a record of their Snapchat activity for safekeeping, be it for privacy concerns or otherwise, it is a better idea to clear the Recents on your account.
We hope this article was able to answer the question, "how to clear Recents on Snapchat?" The method listed is the most recent one, updated as per 2023's Snapchat rules, so it will be some time before this feature is replaced by a new one or requires a new set of steps to perform the similar action.