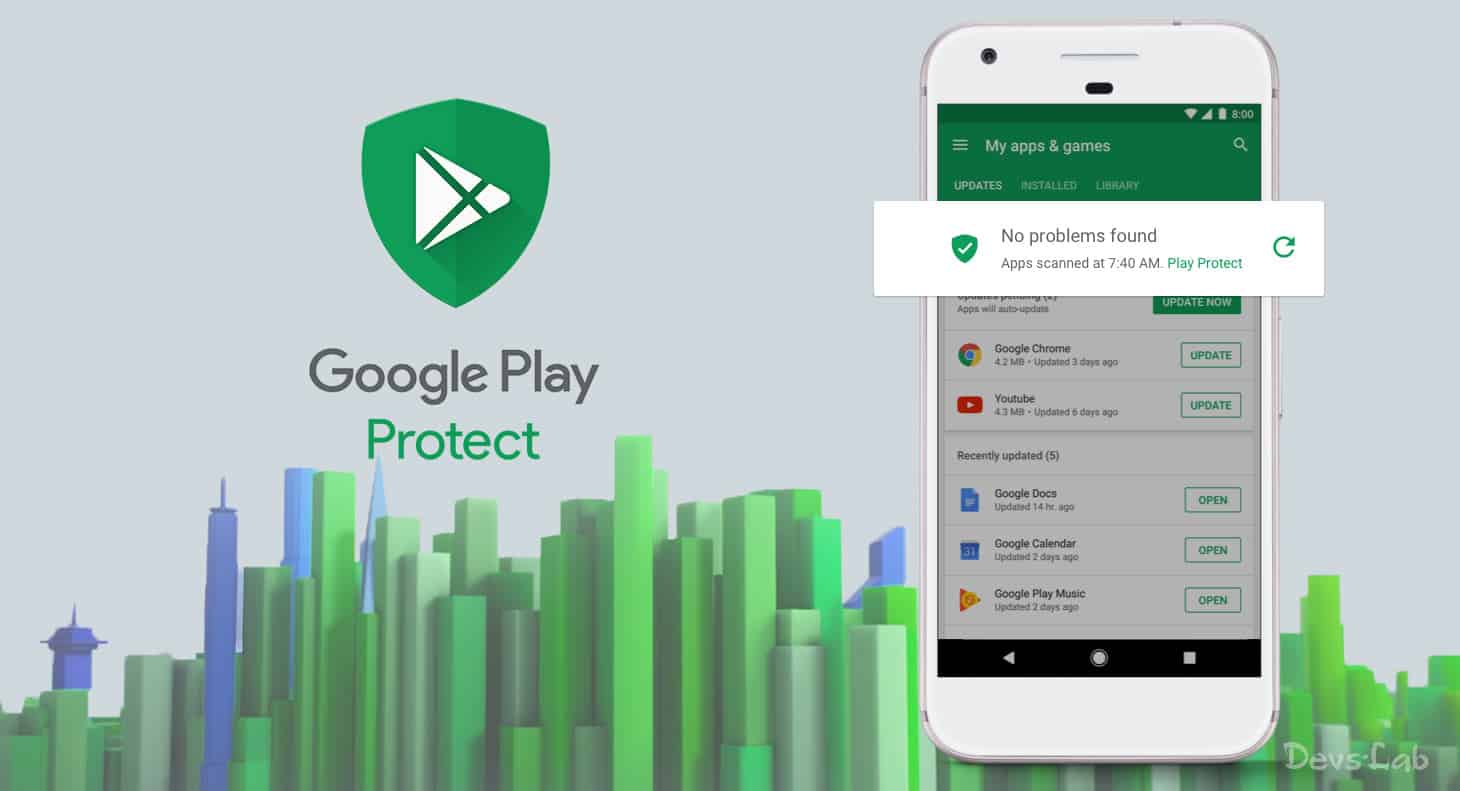 Android is often underestimated for its security flaws, but at the same time, it also has an arguable benefit of being open source ecosystem. However, we should accept the fact that Connected devices always need a robust security system to keep our data safe. So, as a measure to increase safety on the Android, Google recently rolled out a new feature called "Google Play Protect" to Android Devices.
Google has initially announced the Play Protect feature at Google I/O event, back in May. Many common people out there are wondering about this new development and trying hard to know more about it. If you are one of them, here are things, every user needs to know about Google Play Protect:
What is Google Play Protect?
Google Play Protect feature will "Verify the Apps" installed on your device. This feature is recently rolled out for Android devices running Google Play Services 11 or later. Play Protect will be enabled by default, and a real-time malware scanner will scan every installed app on the device. So as long as you did not have a device running without Google Play Services, you should get this Google Play Protect feature.
Why Should You keep Google Play Protect Enabled
Besides the reason mention above Google play Protect has other benefits as well, these benefits should convince you to keep your Google Play Protect enabled.
Phone Locator: This Google Play Protect feature allows you to search for your phone whether it has been misplaced or stolen by someone. To Find the Phone Locator, go to settings >> Google >> Security >> Find My Device. This App also allows you to erase your data on the phone if you are unable to recover your phone for unfortunate reasons.
Web Protect: Play Protect has also been integrated with Google Chrome, So if you enter a website that has malicious codes present in them, this feature will warn you about the malicious codes and take you back to safety.
You can check our article on how to fix google play, if it is not working on your phone.
Will Google Play Protect Prevent the Sideloading of APK's?
Many people are doubting if enabling the Google Play Protect will disable manual side loading of APK's. As of now, it will not create any such restrictions. It is also difficult to speculate if Google has such plans in future, much like what Apple did with its 'walled garden' on IOS. But considering the fact that Android is an Open source Ecosystem, this may not happen shortly.
How to Enable and Disable Google Play Protect
How to Turn On/Enable Google Play Protect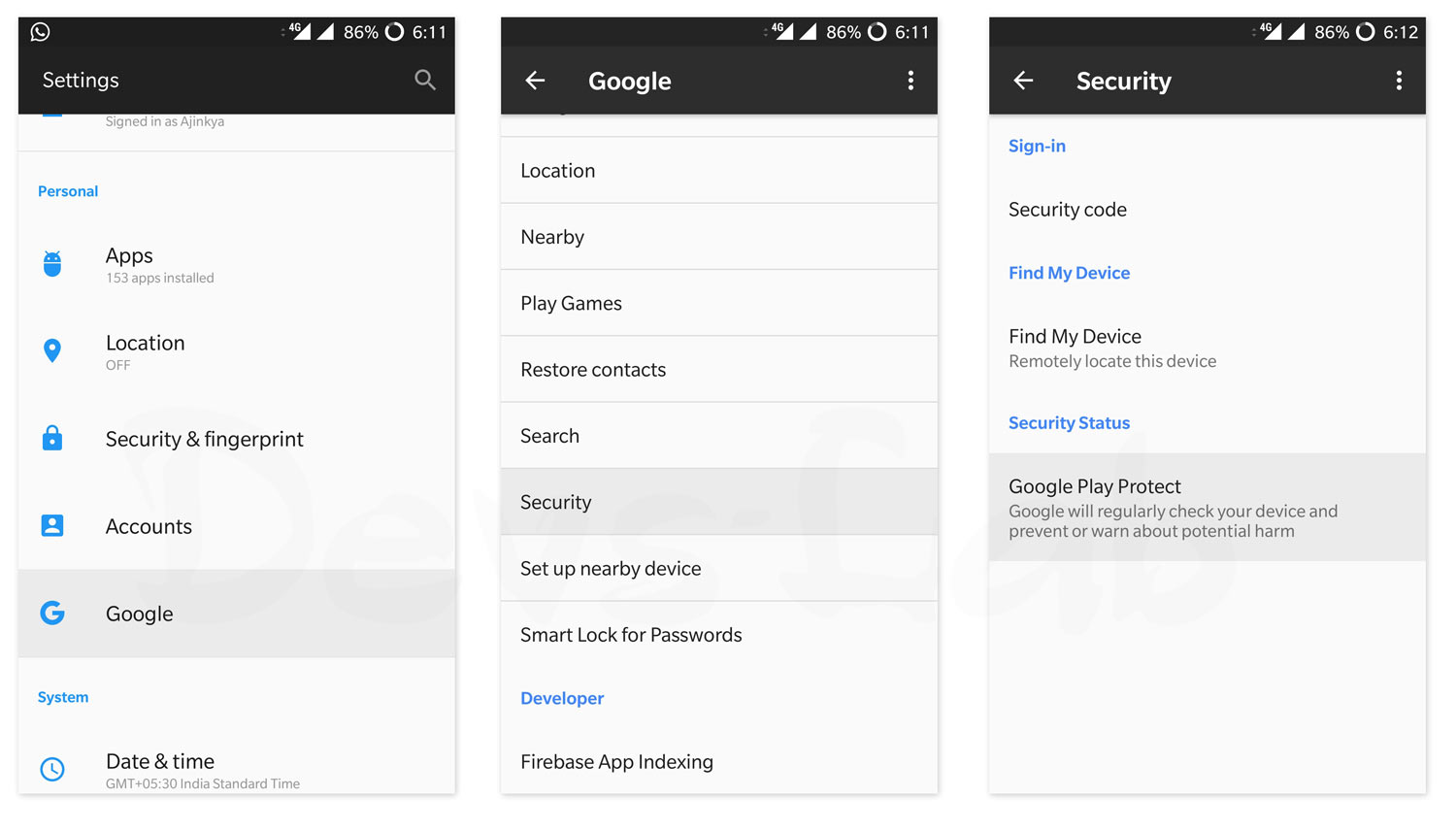 Google Play Protect is by default turned on on your android device. You can use the following steps to check the last scan of Google Play Protect.
Step 1. Go to Settings -> Google -> Security -> Google Play Protect
Step 2. Below the Option, you can see how long ago your apps are scanned and Tap on the Option to see the further details.
Step 3. There is also an another option, "Improve harmful app detection" which can be enabled. By allowing this, Play Protect will also scan the third part and manually installed apps.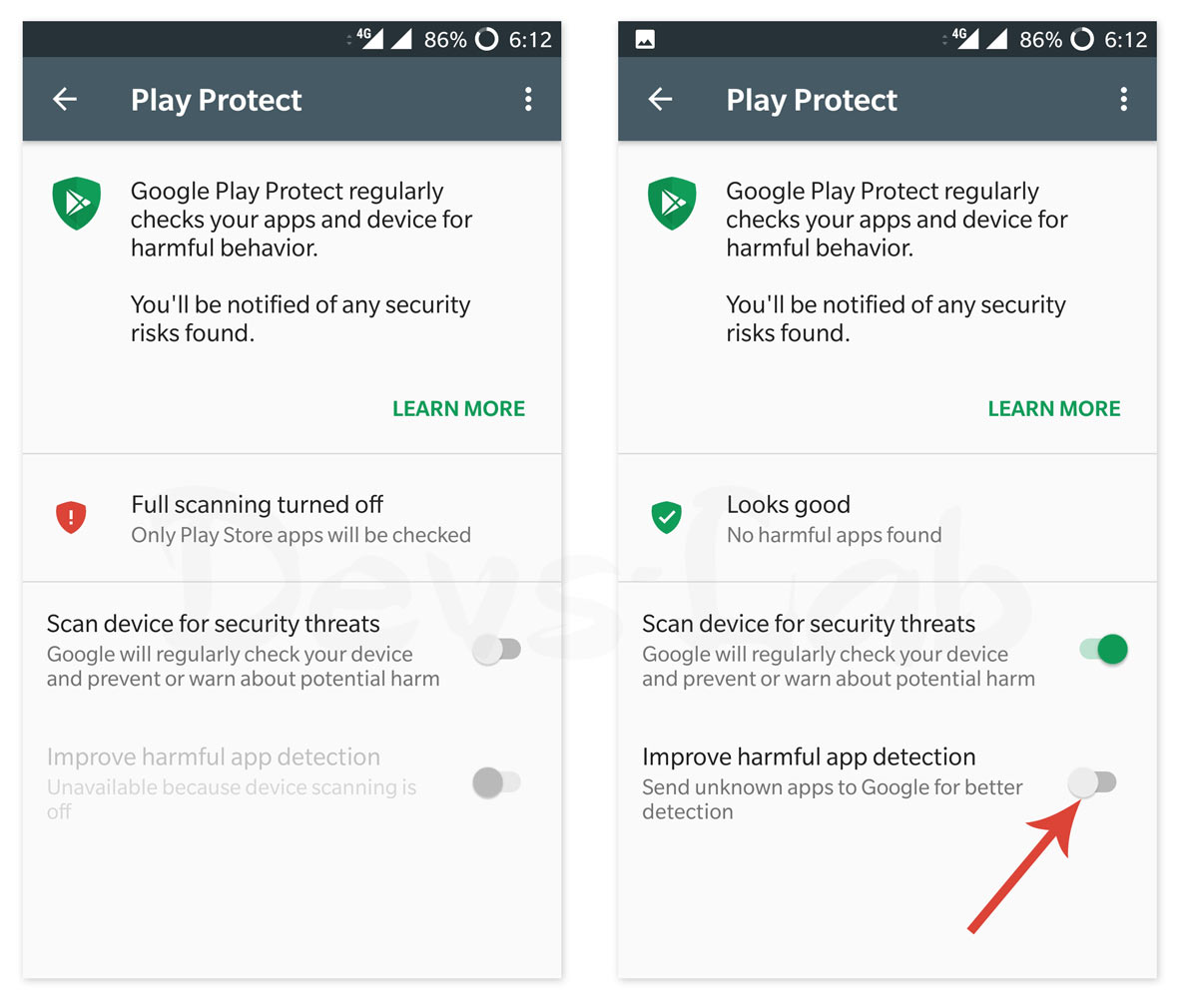 Google Play Protect is primarily designed to scan for malware apps on your device. And remember, It is not an antivirus or firewall which prevents the malware from third-party websites. However, this service will still alert you if you were about to install a dangerous/infected app from a third-party store. For this user should enable the "Improved harmful detection option" by going through settings as described above.
In coming days, After the complete rollout of this future, Users will also be able to see a verification badge on the listing page of the apps on Playstore. Once implemented, this Safety pin comes handy for the users to get an understanding of security level of the app.
How to Turn Off/Disable Google Play Protect?
Play Protect is enabled by default. However, users can disable Google Play Protect or turn it off which is not recommended. If you don't want automatic scanning, want to disable it for a period, Users can do so by going through settings. Go to Settings -> Google -> Security -> Google Play  ->Protect Scan device for security threats ->Turn off the Toggle.
Finally, Google started to take Android security more seriously than ever. So, for many professional users, this is a welcome move in right direction. Also, this move from Google will help to take down the malicious apps on the Play Store. So, what do you think of this Google's effort to stop Android malware? Do feel free to comment your opinions on Google Play Protect.
Conclusion
Google Play is an essential function for users who keep downloading apps from the internet. It is also vital to users who download files from the internet. We would recommend you to turn on Google Play Protect as there are no disadvantages of keeping it enabled. If you do decide to turn off Google Play Protect, make sure you download trusted apps or download files from trusted websites.