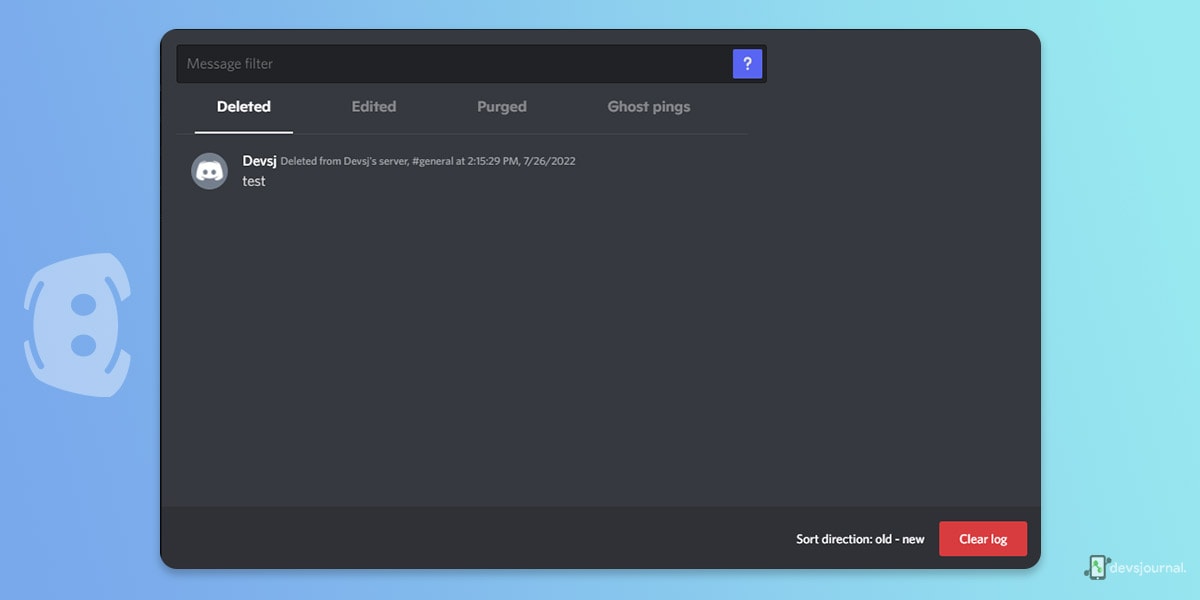 We all sometimes make common typing errors or send a message to the wrong person. Those moments can often become embarrassing if not for a way to take them back immediately and replace them with what we had intended to send initially. But if you are on the flip side of this very scenario, you might be pining to unravel a message your friend might have deleted, and that is no less frustrating a situation either.
In this article, we will discuss whether there is any way to view deleted Discord messages after they have already been done away with. Viewing deleted messages will save many apprehensive situations. As far as our research tells us, there is a way to go about it. But the crucial thing is that you must adhere to the steps to get them right. Let's understand how to see deleted messages on Discord without further ado.
How to See Deleted Discord Messages
First things first, let's get something out of the way- if the person on the other end of Discord messages happens to delete a text after sending it, there is no official way to retrieve it. If you still want to see what your friend has sent, you must go by a less-taken path, making all the difference.
We have outlined a way in which you can view deleted Discord messages without a hitch:
Download Betterdiscord
The first step is to view deleted discord messages. You have to download Betterdiscord. Betterdiscord increases the functionality of Discord through plugins and themes. If after following all the given below steps your better discord doesn't work, check our guide on how to fix better discord.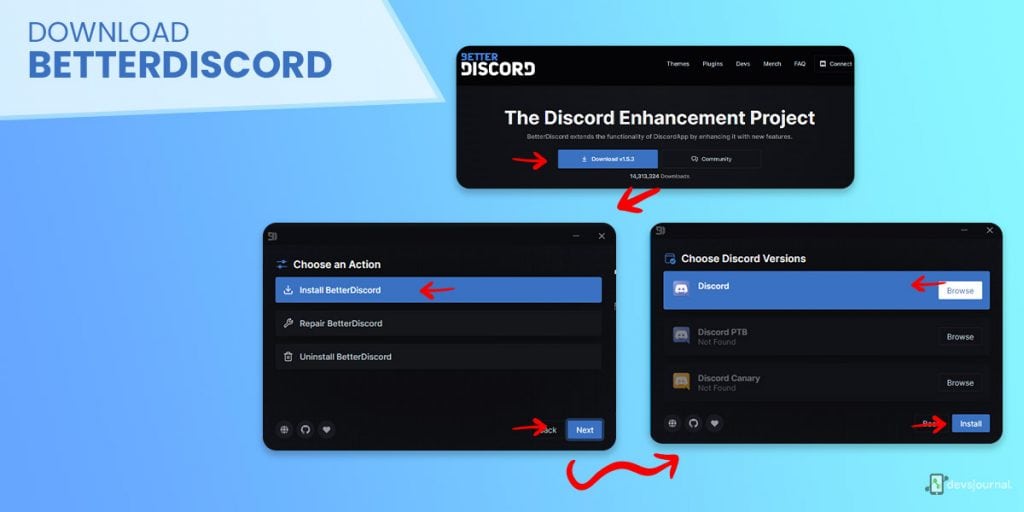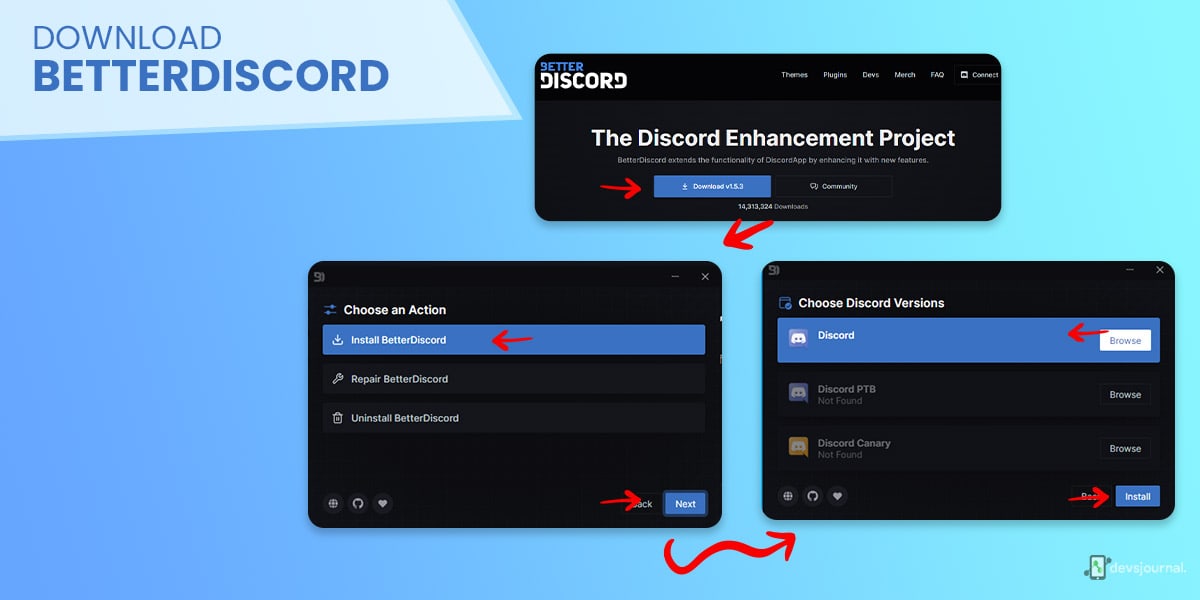 Here's how to go about downloading it:
Visit the BetterDiscord website.
Once on the website, tap on Download to start downloading BetterDiscord.
You can choose three actions: Install BetterDiscord, Repair BetterDiscord, and Uninstall BetterDiscord. Go for Install BetterDiscord.
Tap on Next to go to the next step.
Choose your Discord version. 3 Discord versions: Discord, Discord PTB, and Discord Canary.
If you are using the normal Discord, choose Discord.
Tap on Install to start installing BetterDiscord.
Once installed, Discord will open automatically.
A BetterDiscord will pop up displaying the current version of BetterDiscord.
Now, you have successfully downloaded BetterDiscord.
Tap on the X icon to close this pop-up.
Download Messagelogger v2
Once you have downloaded and installed BetterDiscord, you have to go ahead to download MessageLoggerV2. Messagelogger is essentially a plugin that lets you see deleted and edited messages on Discord.
Here's how to go about it:
Visit this link.
Tap on Download to download MessageLoggerV2.
You might get a warning stating that the file could harm your PC. Don't worry; it is safe, so go ahead and click on Keep to keep it anyway.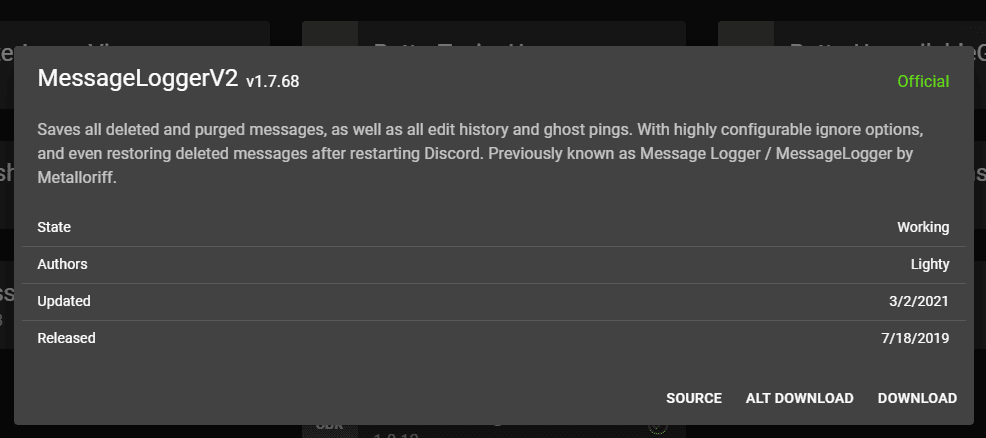 Add Messageloger to Plug In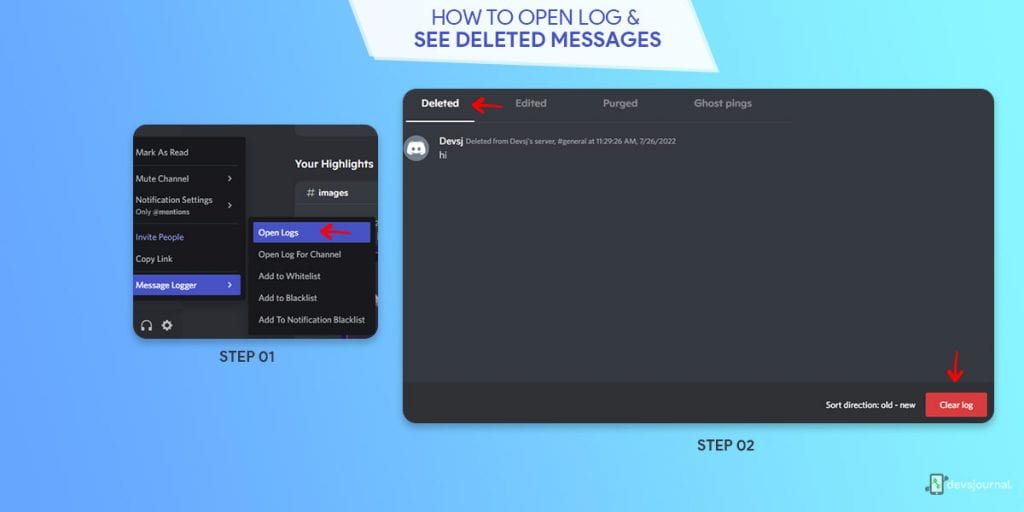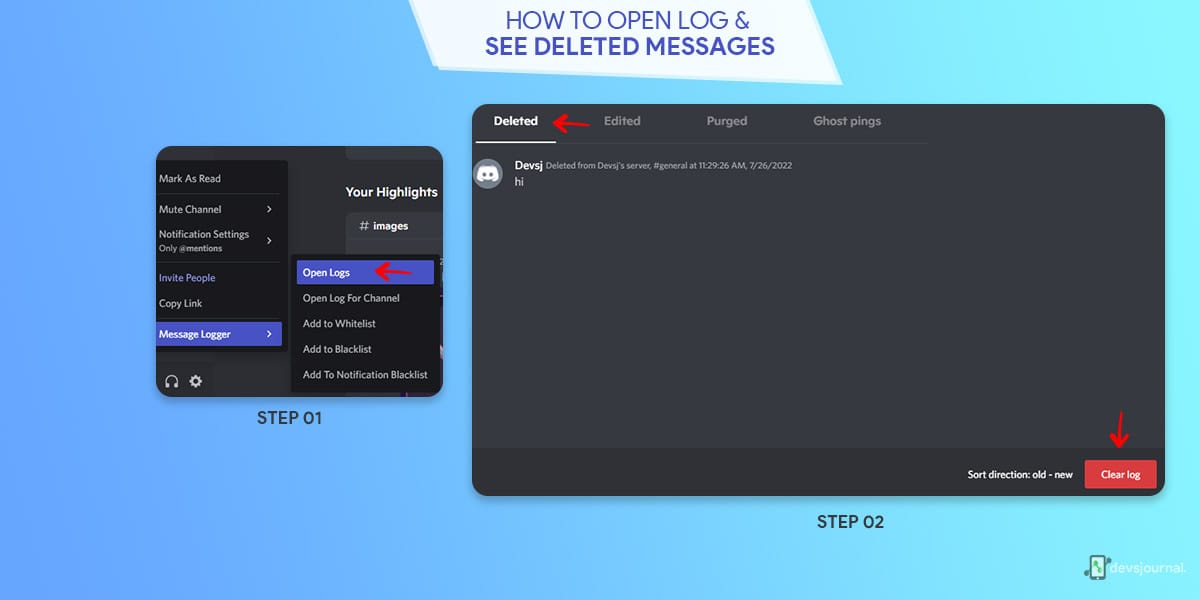 Once you have downloaded MessageLoggerV2, you have to add it to Discord. Here's how to go about it:
Open Discord on your computer.
Tap on the gear icon to go to user settings.
On the left sidebar, there will be multiple options such as "User Profile," "My Account," "Privacy & Safety," and others.
Scroll down to the BetterDiscord header, and click on Plugins. This will prompt the plugin library to open.
On the plugin library, tap on the Open Plugins Folder to go forward.
Now, open the folder in which you have saved MessageLoggerV2.
Drag and drop the downloaded MessageLoggerV2 in the plugins folder to successfully add it to Discord.
Please tap on the switch next to MessageLoggerV2 to successfully enable it.
You will see the "Missing Libraries" pop-up.
Tap on Download Now to download the missing library.
You will see a lot of other pop-ups which you need to close.
Lastly, enable XenoLib as well as ZeresPluginLibrary.
Click on Servers and Open Logs
After enabling MessageLoggerV2, XenoLib, and ZeresPluginLibrary, you can successfully view deleted Discord messages. As for how to get to that, here are the steps:
Go to the Discord server where you wish to see the deleted messages.
Right-click on the server's name. This will prompt a navigation menu with many options.
Tap on Message Logger to open another navigation menu.
Tap on Open Logs to launch the server's log.
The log contains four tabs "Deleted," Edited," " Purged," and "Ghost Pings."
To view Deleted Messages, Click on "Deleted Tab."
Conclusion
That's all there is to know and learn how to see deleted messages on Discord. Make sure you follow the steps thoroughly, and you should be good to go. It might seem more complicated than it is due to the jargon. Trust that the process does not take long and that the results invariably benefit you. We hope this article helped you figure out how to view deleted Discord messages. Good luck!