Google has started to release the Android Security patch updates to Android community every month as part of its efforts to make the Android platform safer to use so that no attacks can be performed while browsing through the android phones. We have seen various vulnerabilities published earlier in Android which led to user's data being stolen and misused. This has made Google increase the security of its OS and ensure that everything is very secure be it browsing internet, paying money or sending classified documents. Earlier there were backdoors to Android which can be used as a way to enter the phone remotely and wipe or steal data, this has now been rectified mostly by Google's efforts every month.
Google has now published its annual Android Security Year In Review report along with a blog-post which reads :
Today, we're sharing the third annual Android Security Year In Review, a comprehensive look at our work to protect more than 1.4 billion Android users and their data. Our goal is simple: keep our users safe. In 2016, we improved our abilities to stop dangerous apps, built new security features into Android 7.0 Nougat, and collaborated with device manufacturers, researchers, and other members of the Android ecosystem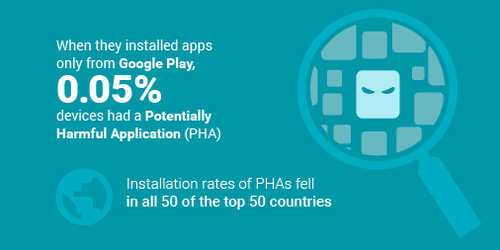 Google has also stated in its blog that they have achieved a significant success rate on the major problem in Android Security, the PHAs (potentially harmful apps). Google also claims that Google Play Store is the safest place for Android users to download their apps. Installs of PHAs from Google Play decreased in nearly every category:
Now 0.016 percent of installs, trojans dropped by 51.5 percent compared to 2015
Now 0.003 percent of installs, hostile downloaders dropped by 54.6 percent compared to 2015
Now 0.003 percent of installs, backdoors dropped by 30.5 percent compared to 2015
Now 0.0018 percent of installs, phishing apps dropped by 73.4 percent compared to 2015
One more thing that Google announced is the devices which are getting regular security updates to their devices. This has to be done by Google as well as the Android partners working with Google. Google has rated the devices on the scale of 60-95 secure on the security patch level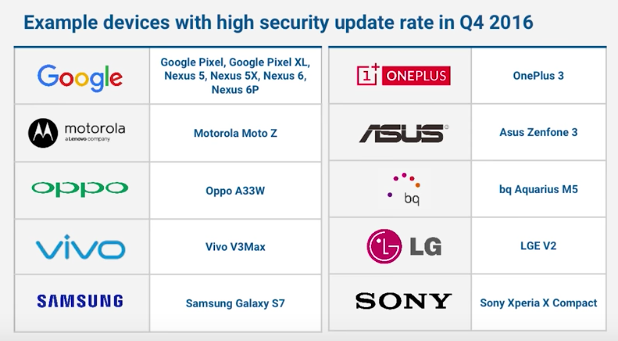 The above list includes the likes of LG, Samsung, Sony and some of the Chinese companies like OnePlus, Vivo and Oppo but the most glaring thing to notice is that companies like HTC and Lenovo have not even managed to have atleast one of their device in the list. Google has said to increase the update process in 2017.