Google has been known to constantly tweak the look and function of its existing applications. Recently it updated the Assistant app with a flurry of third-party actions to make it competitive compared to counterparts like Amazon's Echo and Samsung's upcoming Bixby. Now it seems the search giant is tweaking how the Play Store displays your applications.
Read More: Google updates the Assistant with dozens more actions
These screenshots were taken by @YTSecurity. It showcases a redesigned version of the My Apps section. The current standard is of three tabs, installed appliations, all your apps and apps where you have enrolled for the BETA build. The upcoming change has a new updates tab for all apps which require to be updated, a separate tab for the apps installed on your current device, the all tab has been renamed to library which displays the apps not installed on the device and finally a bespoke tab for your BETA subscriptions. One can currently sort apps within the installed and library tabs by alphabetical order, last updated, last used and their disk size.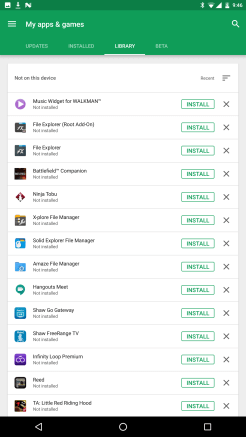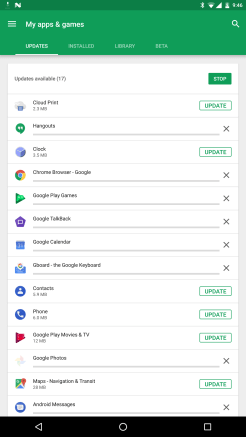 The update is being gradually rolled out from server side. @YTSecurity who provided these screenshots is on a Nexus 6P running the v.7.1.2. BETA branch of Android with the 7.06.08.N-all[0] [PR] 149245622 build of the Play Store. But this is not uniform across all users of on the same Nougat beta build by Google sporting the latest updated Play Store app. Expect the update to be delivered to other devices in the coming days.
With the redesigned UI it should be easier to get data on which applications are installed and how often they are utilised. This would be extremely handy to anyone trying to free up space or those who want to know their usage patterns before discarding any application(s).
For the latest in the world of Android, follow us on our social media.