This year's Google I/O will be held at Shoreline Amphitheatre , Mountain View, California from May 17-19,2017.
We earlier reported that the registrations for this year's Google I/O starts from February 22, 10 am PST and ends at February 27, 05 pm PST . This registrations are based on a random draw where anyone can apply and if luck is on your side, then you can also attend this prestigious event. 
Also Read : Google I/O registrations beginning February 22.
Google doesn't give priority to developers neither do they allow only developers to attend this event but almost anyone can attend this event.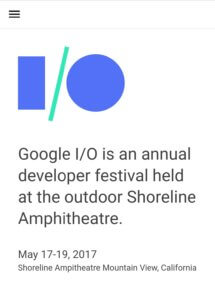 It's February 22 [in U.S] and the I/O registrations for 2017 are live. The site holds all the information that you need if you want to plan your trip for the event.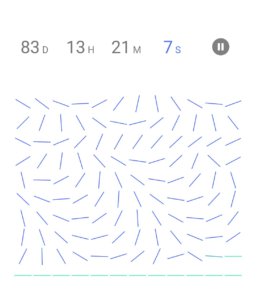 We can see that the website now holds the official countdown to the time left for the Google I/O event to begin. It also strangely has some weird art where we see some lines rotating like clock hands. This also goes in line with the official hashtag design of the Google I/O.
Apply for an #io17 ticket from now until Feb 27, 5PM PST: https://t.co/KLmSxYAsDS. Results will be announced on Feb 28th. pic.twitter.com/6iTAl4ioXa

— Google Developers (@googledevs) February 22, 2017
The Google Developers account today tweeted about the I/O 2017 registrations starting today and ending on February 27. This is a random draw so the winners of the people selected in the draw will be announced Feb 28th.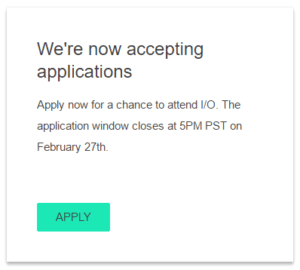 Also something worth noting is that even though at the time of registration, we have to give our payment details, Google doesn't charge the people who are not selected in the draw. The people who are selected in the draw will automatically be enrolled into the event and their payment will be taken from their cards.
Nevertheless, Google I/O 2016 was a huge success and a great event to attend so we hope that this year would be even better. Also, we look forward to the announcements that Google would likely make in the event including Android O(oreo?).Stay tuned as we get more details about the Google I/O 2017.