Since the launch of the Android OS Google has struggled to give its software the hardware it truly deserves. Most proponents of the smartphone industry bemoan the fact that although Android as an operating system has consistently improved, the hardware had let it down. To remedy this the company initially launched the Nexus program, affordable mid-range handsets with the best of Google updated on a regular basis. Last year though Google changed tack and went after the premium market by launching the Pixel series of devices. Unlike the Nexus' before them, these handsets do not carry any other branding on them save Google's.
After the launch of the Pixel and the Pixel XL, multiple reports from users came in flagging a Bluetooth issue. This caused the bluetooth radio to turn off at random, breaking any tethered accessories or devices like speakers and earphones. The issue first came to notice with the release of Android security patch for the month of February and was not resolved by the March security patch. Finally it seems that a Google employee updated that the company has worked out a resolution and would be pushing it out soon. The patch is being issued via a Google Play Services Update.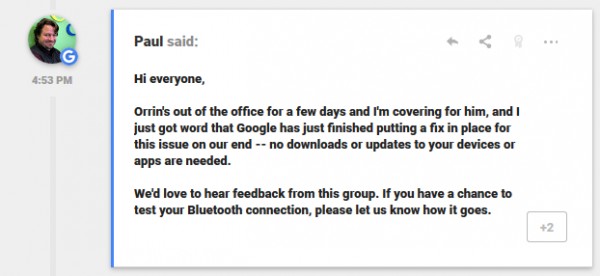 Google is already hard at work on the next generation of their Pixel handsets and it is heartening to see it support its original device owners. This also means that the next generation of Google's hardware should hopefully have fewer issues going forward.
Read More: Expect Google Pixel (and Pixel XL) successor later this year
Follow us on our social media to keep up-to date with the latest in the world of Android.