The Samsung Galaxy S8 was announced last week and it was an amazing phone. It showcased a futuristic design with a high screen to body ratio. Now, a leaked image image supposedly shows us a Galaxy Note 8.
This is an anxious moment for Samsung especially after the Note 7 debacle. It will be interesting to know whether Samsung will rename the "Note" line after the tragic Note 7 explosions.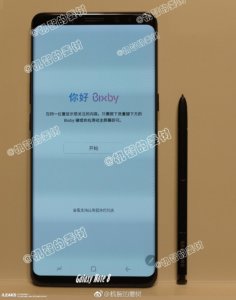 A new leaked photo posted by Slashleaks showcases a smartphone with an S-Pen. It claims that the phone in the photograph is a version of the Galaxy S8.
But honestly, this looks exactly the same as the Samsung Galaxy S8+. Since the bottom of the device is not shown in the image, we cannot confirm a slot for the S-Pen. Therefore, this might just be a Galaxy S8+ along with an S-Pen.
The Note 8 is set to feature a 6.4-inch Super AMOLED display, making it bigger than the S8+, which features a 6.2-inch display. It will be powered by the Snapdragon 835 or Exynos 9000 coupled with 6GB of RAM and will come with 256GB of internal storage built in.
Do you really think that the leaked image is that of the Samsung Galaxy Note 8? Let us now in the comments below.