If you remember recently we had brought news that WhatsApp was redesigning the text status update. After getting displaced by the story update feature, the text status feature seemed to languish for a bit but thanks to a massive outcry it was reinstated albeit in a roundabout manner. Now, it seems the devs have been trying to make it easier to access and make it a central feature once more.
Last time the text status feature had been placed prominently under the STATUS TAB settings options and now with the latest BETA update, it seems to be getting a dedicated pencil icon to indicate if you only want to add a text status. The story status gets a dedicated icon that is very reminiscent of the Instagram logo filled with WhatsApp's green livery.
WhatsApp is trying to make highly personal text statuses as eye-catching as photos with the new test of a colored background option. The feature lets users select a color that appears behind their text status in place of the normally-white background. Several of the color options offer an Instagram logo-style color gradient, which make them more stylish and modern than boring flat colors.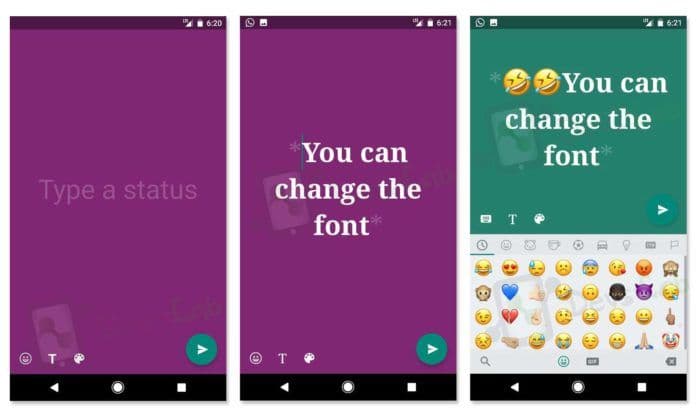 Also Read: WhatsApp will create Album while sending multiple Photos; Digital Payment on its way.
If you are also interested in finding out all these hidden BETA features you can do so by downloading WATweaks here. Before that, you must be enroll yourself in WhatsApp's BETA programme which can be done by clicking on this link, here. Once you have met both these criteria and given WATweaks root access, you can use it to find out all features that have been hidden by the devs in the BETA build of the application.
Follow us on our social media to keep up to date with the latest in the world of Android.