After the recent discovery of the lethal Blueborne security flaw, Samsung has been exceptionally fast to patch up a slew of its premium devices to kill the bug. Most recently, the flagship Galaxy S8/S8+ Indian variants got the new fix via OTA. Before that, the Galaxy Note 8 has also received the update. Sammobile has reported that the Galaxy S7 has also received the update. Now it's turn for the Galaxy S6 users to secure their devices against the bug.
Both the Galaxy S6 and S6 Edge are seeing the fix being pushed to them in Europe. Build numbers for both the devices will be G920FXXU5EQI6 and G925FXXU5EQI6, respectively. As we saw in all other high-end devices, this update too doesn't contain the September security patch.
For some devices like the Galaxy S7, the update was not issued separately but inside the August Security patch. This has happened to devices that have an "I" in the second last position in the build number. For example, the Galaxy S7 has build number G930FXXU1DQIC. The same thing happened with the Galaxy Note 8.
Another device that has just got the Blueborne fix mixed with the August security is the Galaxy J5 (2016). The firmware version of the update is "J510FNXXS2AQI4".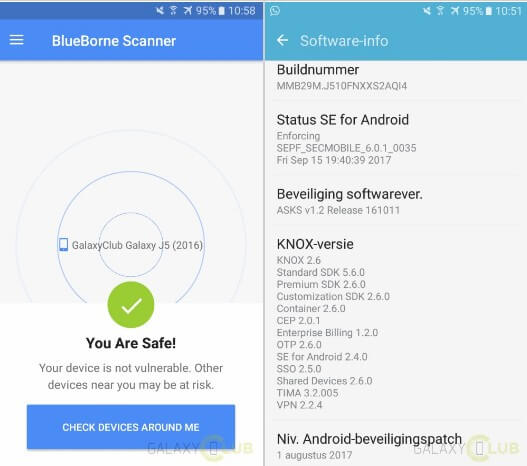 If you do want to check out that your device is indeed secure after the update, you can download this app from the Play Store. We highly recommend you check for the update and install it as soon as it arrives. Since the Blueborne bug is one flaw merely requires a discoverable Bluetooth connection for hackers to take advantage, it is a serious security threat.