Windows 10 has just arrived and there's a new Privacy Policy and Service Agreement from Microsoft coming swiftly in its wake. One of the most annoying thing, included in the new agreement is Data syncing by default.
Sign into Windows with your Microsoft account and the operating system immediately syncs settings and data to the company's servers. That includes your browser history, favorites and the websites you currently have open as well as saved app, website and mobile hotspot passwords and Wi-Fi network names and passwords.
You can deactivate that by hopping into settings, but I'd argue that it should be opt-in rather than on by default. Many users won't get round to turning it off, even though they would probably want to.
Cortana is a sexy spy in your machine:
Turn on Cortana, the virtual assistant, and you're also turning on a whole host of data sharing. Microsoft collects continous data from your computer, to offer more accurate results. However, they do sync your personal stuffs & searches.
So, How to stop this?
Instructions:
1. Download and Open the "Disable Windows 10 Tracking" .
2. Provide Administrator Priviledges.
3. Select at the Privacy Option You want to Disable and click "Get Privacy(DISABLING)".
4. Thats it you are done securing windows.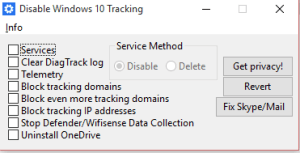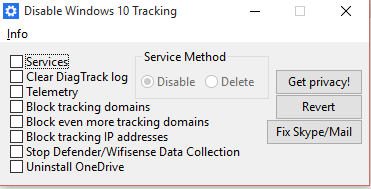 For Reverting Changes
1. Select all privacy options and then select Revert.
2. Thats it You're done.