Windows 10 has just arrived, and there's a new Privacy Policy and Service Agreement from Microsoft coming swiftly in its wake. One of the most annoying thing, included in the new agreement is Data syncing by default which clearly a violation of user Privacy. After you have Signed into Windows with your Microsoft account and the operating system immediately syncs settings and data to the company's servers. That includes your browser history, favorites and the websites you currently have open as well as the saved app, website, and mobile hotspot passwords and Wi-Fi network names and passwords.
Although sometimes it is useful like in the case when you have forgotten your passwords or uninstalled an app by mistake and on reinstalling it, you want the same settings as earlier. In all such cases, data sync can be very handy, but not everyone likes the fact that someone is always spying on them and collecting all of their data quietly.
You can deactivate this auto Data Sync by hopping into settings, but I'd argue that it should be opt-in rather than on by default. Many users won't get round to turning it off, even though they would probably want to. I hope Microsoft took note of this and fixed this in there next update.
But still, If you are eager to know that what can you do to prevent your privacy and how to do it then this piece of content is for you. In this article, we are showing you the different ways, following which you can save your privacy up to an extent.
Fix Windows 10 Privacy issues
1. Cortana is a sexy spy in your machine
Turn on Cortana, the virtual assistant, and you're also turning on a whole host of data sharing. Microsoft collects continuous data from your computer, to offer more accurate results. However, they do sync your personal stuff & searches.
With the new updates released, now you can't completely turn off or uninstall Cortana as Microsoft integrated it with both the desktop search and personal digital assistant. But you can still turn off the voice commands, how? Navigate to Settings > Privacy > Speech, inking, and typing menus; you can click on the "Get to know you" box to turn this off. By turning this off, the system is no longer listening to your voice commands.
Similar to Cortana, Apple has implemented Spotlight on their MacOS. You can watch the entire behind the scenes of this services discussed by SaferTech
2. Turn Off Tracking Location Services
If you are a kind of person who doesn't want to allow the Microsoft to track your locations, then you can turn it off quickly. By default, it is enabled from the moment you installed the latest Windows 10, but if you navigate to Settings > Privacy section, you can disable it. You can also clear location history on your PC.
3. Turn Off Ad Tracking
In Windows 10, there is a new feature called the Ad Tracking which has been marketed as the feature to improve your Ads experience. Microsoft is trying hard to aggregate data from your activities to customize your online experience and deliver ads that are more tailored according to your behavior. But many Windows 10 users are not happy with this; as it's a violation of their privacy rights and mostly look for ways to turn off the tracking.
To Turn On or Off Relevant Ads in Windows 10 for Current User in Settings
Open Settings, and click on the Privacy icon.
Click on Feedback & diagnostics on the left side, and turn on (default) or off >> Let apps use my advertising ID for experiences across apps.
When finished, you can close Settings and you are done.
4. Turn Off Delivery Optimization
Windows 10 Delivery Optimization is a new feature that makes use of the peer-to-peer technology similar to torrents and Akamai to share updates with other computers. If you want to turn off this, then you can do this by following the steps shown below.
Navigate to Settings > Update & Security > Windows Update > Advanced Options > Delivery Optimization. In addition to this, you can even control the amount of bandwidth you share using the Delivery Optimization Advanced Options. But if you are not going to share updates with anyone in your network, better to turn it off.
5. Handle with care – Microsoft Edge Browser
It is not a new thing of various web browsers to collect user data by storing cookies in the user pc, and the default browser in windows t10, i.e., Microsoft Edge browsers does the same. It collects the user data via cookies which include browsing history, cache data, frequently visited and use it for tracking, and providing a better user experience.
Although you can stop these by clicking on the More actions menu in the Edge browser. Select the Settings option. Click on the Choose what to clear option, and you will be provided with a list of options which can be checked. Click the clear button to remove data, and you are good to go. Make sure that you are removing this data from time to time as it will pile up again after some time.
Read: How to fix Windows 10 Sound not working issues?
6. Check Your Microsoft Privacy Dashboard from Time to time
With Microsoft privacy dashboard, you can see all the information that Microsoft is storing. The information you see "represents the most relevant personal data" saved to personalize your experience. You can download or delete your data at any time.
7. Disable all tracking in Windows 10
1. Download and Open the "Disable Windows 10 Tracking" .
2. Provide Administrator Privileges.
3. Select at the Privacy Option You want to Disable and click "Get Privacy(DISABLING)".
4. Thats it you are done securing windows.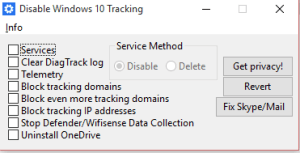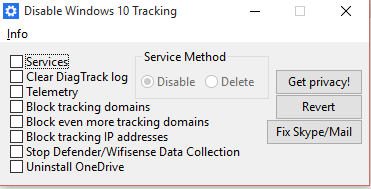 For Reverting Changes
1. Select all privacy options and then select Revert.
2. That's it you're done!
However, in the end, we will conclude that such privacy issues can be found in almost every other operating system and online services, but the important part is how hard the company is trying to make their product more and more secure.
Talking about Microsoft, they are doing very well in securing user data when compared to Facebook. Microsoft has started listening to the users at least to an extent and pushing changes with every update to make a perfect and more secure operating system.