We have been hearing regular rumblings about Qualcomm, MediaTek and other SoC manufacturers working on their next generation SoC offerings for some time now. Today, in an article over at ITHome we got details regarding Qualcomm and Huawei flagship chipsets and what hardware might be packed in them. Qualcomm has been working on the Snapdragon 845 while Huawei is working on its own in-house HiSilicon Kirin SoC which will most likely be called the Kirin 970. Information about Qualcomm's Snapdragon 845 SoC has been in the open for some time but the Huawei chip is relatively fresh news.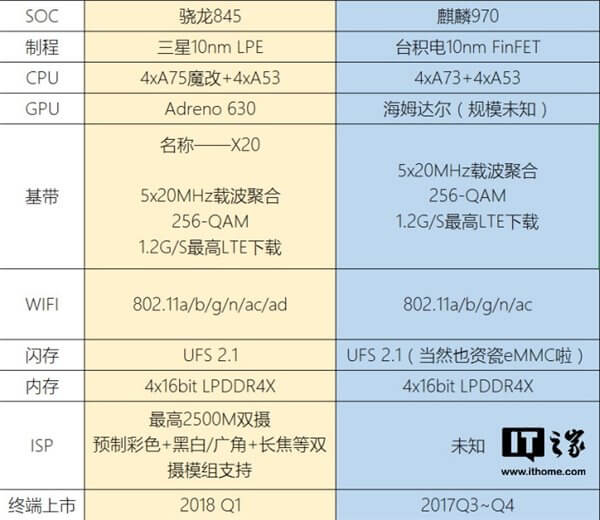 As we can see in the leaked specification sheet above we can see details of both chipsets. The Snapdragon 845 is being manufactured on Samsung's 10nm LPE process and has an octa-core CPU which is composed of two CPU clusters; one quad-core ARM Cortex A-75 cluster and the second quad-core cluster is composed of Cortex ARM-53 cores. It will have an Adreno 630 GPU integrated as well as an X20 baseband and 5x20MHz carrier aggregation. The estimated shipping date of products based on the SoC is given as Q1 of 2018. Please note that this goes against the earlier rumours of the Snapdragon 845 being based on TSMC's latest 7nm fabrication node.
The Huawei HiSilicon Kirin 970 is also an octa-core SoC composed of two CPU clusters one of which is an updated quad-core cluster of ARM's Cortex A-73 in tandem with a quad-core complement of Cortex A-53's. Just like the upcoming Snapdragon flagship the Kirin 970 will have a 5×20 carrier aggregation. The Huawei chip will also be the first SoC to integrate ARM's Heimdallr MP GPU chip. The chip will be fabricated by TSMC on their 10nm FinFET process.
Read More: The Qualcomm Snapdragon 660 shows up on Geekbench
Follow us on our social media to keep up to date with the latest in the world of Android.