Google, the Search Engine giant is known to update their products with new features and offering the better user experience. Among the large product repository, Google's Image search engine allowed users to search the Web for image content, view it and even download it. But in recent update, Google has removed the option to View Image & forcing the users to visit the website where the image was uploaded. If you're to blame Google, like every other Internet user, you're not aware of the background story.
What Happened to View Image in Google Search?
Around 2 years back, Getty Images, an American stock photo agency filed antitrust charges against Google in the EU, taking issue with the company's image scraping techniques to display image search results. The View Image option not only allowed unauthorized redistribution of images but also restricts a publisher's visibility to the visitor. In Early 2018, Google and Getty Images settled for an agreement to remove the "View Image" option from the Google search images results and Getty withdrew its charges against Google. Changes like the removal of direct image links were apparently part of the agreement.

Google announced this new update saying that, "This update will help connect users and useful websites." While some might agree to this, as Google didn't do much to display the copyright status of image & the information regarding who owned the image. So don't you think Google was somewhat involved in Image piracy?
"In addition to removing the "view image" button, Google has also removed the "search by image" button that appeared when you opened up a photo, too. This change isn't quite as big, however. You'll still be able to do a reverse image search by dragging the image to the search bar, and Google will still display related images when you click on a search result. The button may have been used by people to find un-watermarked versions of images they were interested in, which is likely part of why Google pulled it." says The Verge
While the update was found helpful by many creators, the users didn't find it quite helpful as viewing an image would require few more clicks and "How to save images from Google image search" was a question for everyone for which they ahd to website the website and save the image thereby degrading the user experience. What if the website is full on annoying Ads? As soon as the update was announced, it was time for the developers to find the solution. So let's check out how you can get the old "View Image" option back without any hassle.
How to Get the View Image Option in Google Image Search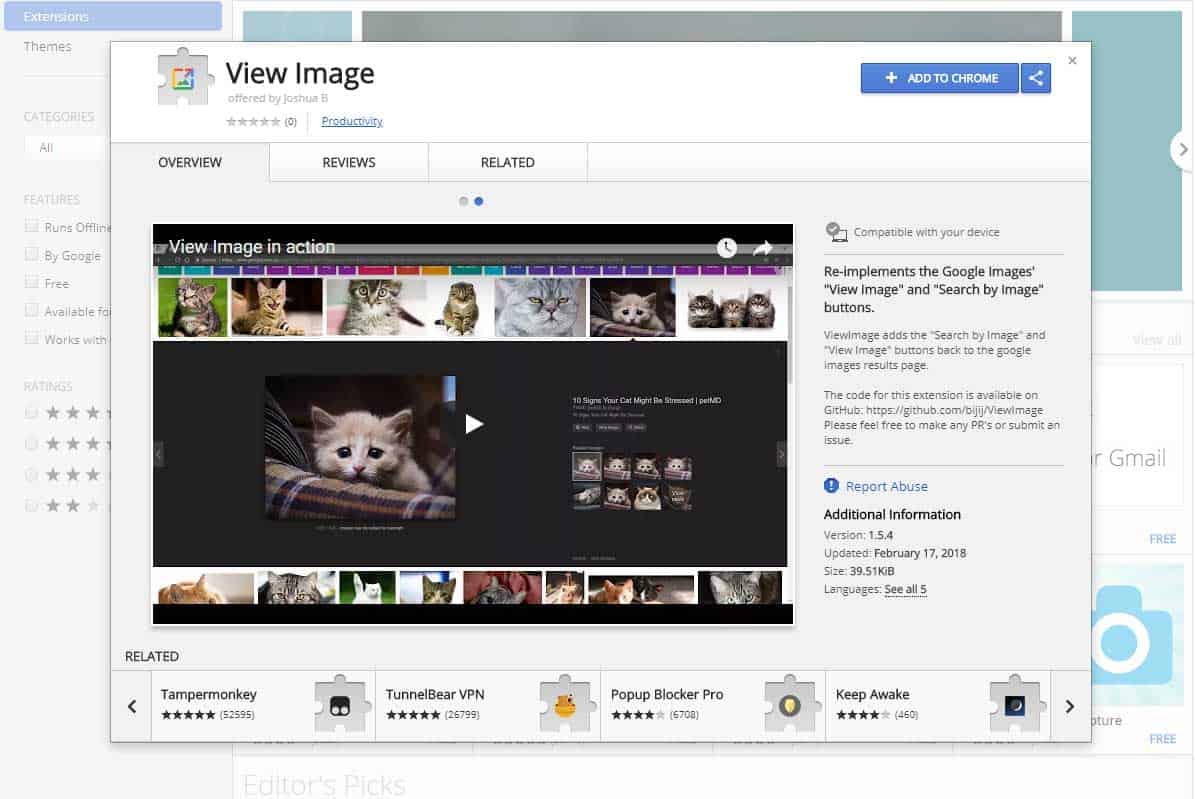 Joshua B, the developer of a browser extension has developed an "View Image" extension which restores the "View Image" and "Search by image" buttons back into Google Picture Search. While we don't recommend installing new browser extension, the developer has also published the source code of this extension making it Open Source. Looking at the codes, we didn't find any traces of sessions tracking or adware.
You can get this extension for Firefox and Chrome:
The installation is pretty easy. Just click on the link depending on your browser and click on "Add to Chrome/Add to Firefox" option and grant the permission to view and change all google.com sites. That's it!
If you want to reverse search an image, you can also check https://smallseotools.com/
View Image Chrome/Firefox Extension

If you're still aren't convinced to install an extension, you can still view the image by right clicking on the Image in Search result and selecting "Open Image in new window". According to me, this is pretty neat and lightweight and does what it advertises. Google itself takes a lot of your space in RAM and this extension being lightweight gives you a good user experience. No gimmicks and spam Ads to ask for donations. Give it a try and let us know if you have some other alternatives.