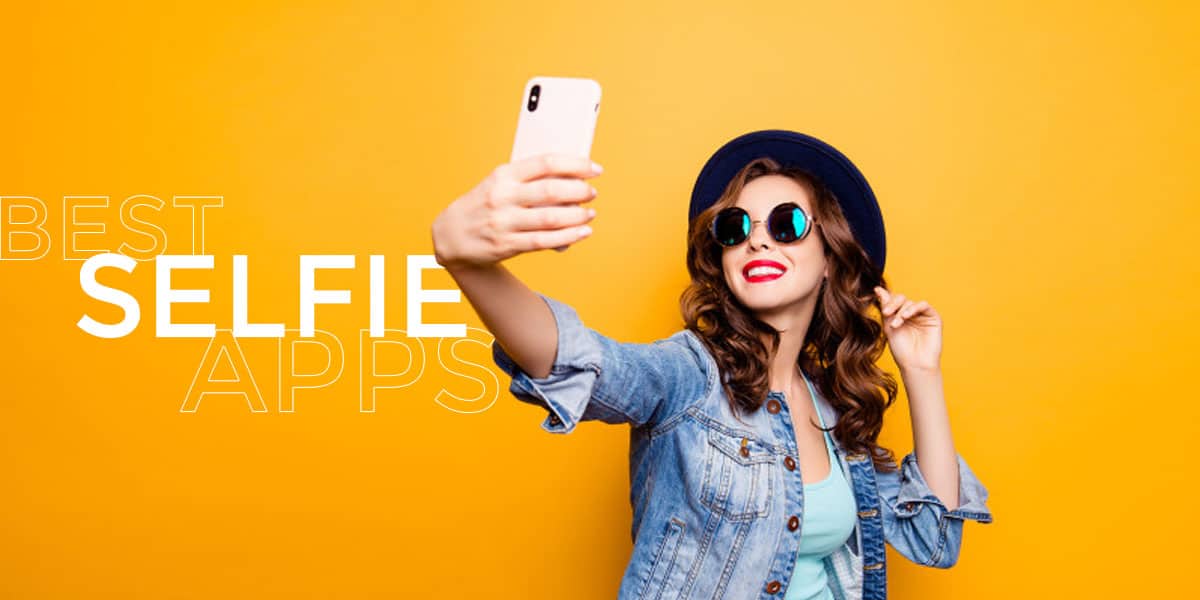 While smartphones these days are used for many things other than calling and texting, taking selfies is one of the more recent trends. The new fad reached its crazy heights in 2015-2016, with youth getting more and more involved in it on social media.
After all, they didn't invent the selfie stick for anything. Some smartphone makers like Oppo even have their primary marketing strategy revolving around selfies. Needless to say, whether you have an Oppo phone or not, selfies are here to stay.
The good news is regardless of the selfie camera your phone has; your beauty selfie apps can also do wonders to highlight your selfies. There are many App developers have taken advantage of the trend, and now there are many selfie apps on all major platforms to help you edit selfies and transform them to your liking.
The great thing is, you can also edit other photos and add all kinds of animations or stickers, or facial features or background effects you like with these 15 Best Selfie Camera Apps for Android.
15 Best Selfie Apps for Android & iOS
All the modern-day smartphones generally with high-end front cameras let you take the best selfies. But if you want to further enhance those selfies by adding them a touch of beauty, then there are plenty of selfie apps for android and iOS.
These selfie apps for android and iOS are loaded with dozens of features that can work wonders and turn a simple selfie into an exquisite one.
Here are the 15 best selfie apps for Android and iOS.
1. Picsart Photo Editor
With a community of almost 150 million worldwide, the Picsart photo editor is one of the best selfie camera apps available for your smartphone. This beauty selfie app allows you to edit photos and videos. Using this, you can design professional-level collages, designs, remove/swap backgrounds, and add stickers to your photos and videos. Meanwhile, it has tonnes of features for a mirror selfie, such as VHS and Y2K filters.
2. B612
The B612 is probably one of the oldest selfie camera apps for Android and iOS. This is an all-in-one photo and video editing app that comes with several tools and offers all the free features required to beautify a selfie.
In addition to the features present, you can create your own filters, which you can also share with your friends. Meanwhile, this beauty selfie app lets you apply real-time filters to the pics you capture during the day. Also, you can adjust the beauty and makeup to suit your selfies better. 
3. Retrica
If you want to add some vintage look to your selfies, then Retrica can help. Apart from the other features which other apps come with, like filters, collage maker, it can also help you create GIFs from videos and collage shots. Retrica also comes with a trademark stamp that users can add to their selfies.
4. Camera 360
This is another one of the most popular selfie apps for android & iOS that have over 100 million downloads. Among its core features are motion stickers, real-time camera filters and effects, and an auto beauty cam. Since the app has a big user base, it also hosts a global community where users can discover, share photos, watch videos and post comments.
5. FaceApp
The FaceApp is of the best selfie camera apps that allow you to perform AI photo and video editing. The app can convert the simplest of selfies you take into a modeling portrait. It comes loaded with dozens of free features without any extra-tapping for your screen.
There is a fantastic set of AI filters, backgrounds, filters, and all the other tools required to create a seamless and realistic edit. Some of the key features of the app include a color lens, compare tool, impression filters, and so on.
6. Instagram
Instagram is practically one of the most trending social media applications ever. Here, you can share, see, like, react, and comment on everything that goes on in your life and in the world. But at the same time, the app is also one of the best selfie camera app that has tones of features you need to take a picture-perfect selfie. In all fairness, Instagram holds the credit for completely revolutionizing the world of selfies. For added features you can download Instagram+.
7. Snapchat
When it comes to some of the best selfie camera apps, Snapchat is right up there along with the likes of Instagram and Picsart. As the name suggests, the app takes you directly to the phone cameras upon start. Here, you can express yourself using lenses, emojis, bitmojis, and several other features.
The Snapchat community creates dozens of new Snapchat lenses for you to use daily. Also, the best part of the app is that you can see who saw your picture and who took a screenshot, thinking that it would go unnoticed. 
8. Candy Selfie Camera
This app also seems to be aimed more at women with its fancy stickers. The developers say it has Romance, elegance, snow, sakura, stylish camera filters effects. Users can remove acne, enlarge eyes, do facelifts with the beautifying function. It also has Emoji stickers. To know more, visit the app's page on the Google Play Store or Apple App store.
9. Cymera
Cymera is one of the free selfie apps for android and iOS. One of the key highlights of this app is the ability to take real-time pictures with great ease. You can drastically up your selfie game by making use of the dozes of free effects and new tools Cymera offers. Some of the exciting features of the app include real-time selfie filters, the DSLR blur effect, collage maker, poster tool, crop tool, a MEME editor, and several more.
10. FaceTune 2
This easy-to-use photo and video editor helps you retouch your selfies, allowing you to give yourself a complete makeover. The FaceTune application comes with dozens of photo, and video editing features, filters, and tools require image correction.
It provides you free filters that give you professional-looking photos with an extremely fashionable look. Some of the key features of this beauty selfie app is that it includes the DSLR blur effect, comparison tool, smooth airbrush, the tan effect, and many other accentuating features. 
11. YouCam Perfect
YouCam is one more popular selfie editing apps on the Play Store & Appstore. It has an editing kit that allows users to add that blur effect to the background. It also has vignette and HDR effects. Another unique thing e object removal tool. With it, users will be able to remove unwanted objects from the background. Of course, staple features found on other selfie apps are also present here.
12. AirBrush
If you want to stay updated with the the finest filter technology and editing standards, then the AirBrush is one of the best selfie camera apps for Android & iOS. This photo and video editing app provide you with plenty of retouching tools and filtering tools required to make a picture-perfect selfie.
From making your teeth appear white to reshaping/slimming a particular area of your photo, the AirBrush does it all. It comes equipped with the real-time editing technology that lets you edit using the real-time editing tools present. 
13. VSCO
This photo and video editor comes with all the tools that are required to enhance your expression in every photo. Using VSCO, you can easily edit your photos anytime, anywhere. The key highlight of this app is that it duplicates every file you create. This means you don't have to worry about losing an image whatsoever. It comes with a paid version that comes with added benefits such as filters, effects, and various editing tools to give you a modeling portrait.
14. Sweet Snap 
This app is for the more simplistic mindset who don't want a clean selfie experience. The app description says that it has basic selfie stickers, as well as beautification features, and that's it. If you don't want to be bothered by too many features and just want clean selfies quickly, Sweet Selfie seems to be a good choice. This selfie camera app for Android lets you add stunning filters, effects, stickers and gives you multiple beautification tools for creating the perfect photo.
15. Perfect 365
The Perfect 365 is your one-stop makeover tool that lets you add dozens of beautification filters and effects to your selfies. This is a highly easy-to-virtual makeup app that comes with a database that is updated every week. This means you will have newer effects to add and filters to apply every week.
The Perfect 365 comprises of almost 20 makeup and beauty tools for your personalization. Also, there are tools that let you add shadows, liners, and lipsticks to any of the photos you desire.
Conclusion
These are some of the best selfie camera apps that you can download for your Android or iOS. In addition, some of these beauty selfie apps lets you add additional features to your selife making your selfies even more desirable. Mentioned above are some of the best selfie camera apps we could gather that is available for both Android and iOS.
One thing worth pointing out. This app roundup is, by no means, comprehensive. There are tons and tons of selfie apps out there. So, this is pretty much a subjective thing. Although, do let us know in the comments if you really prefer a particular one.