Sound, technically speaking, comprises vibrations that are propagated through a medium (usually air) and can be heard when they hit our ears. It is a simple phenomenon that can create powerful auditory experiences and excite strong bio-psychological reactions in us. When properly channeled, it has the propensity to elicit a wide range of interesting responses from us. It is, therefore, inevitable that in today's highly technological world, the power of technology would be brought to bear on this phenomenon – and to great effect. Today, we take a look at 14 best sound apps to relax, concentrate or to help you sleep on Android and iOS
Each one of these apps can help you relax, sleep, concentrate etc. If you've been having a hard time going to sleep lately, one of these apps may pleasantly surprise you. If you're a lover of nature, you may find a gem of an app in one of these. So without wasting any more time, let's jump right to our list of the Best Sound Apps for Android and iOS
Best Android & iOS Apps for Sleep, Relaxing or Anxiety
1. Atmosphere: Relaxing Sounds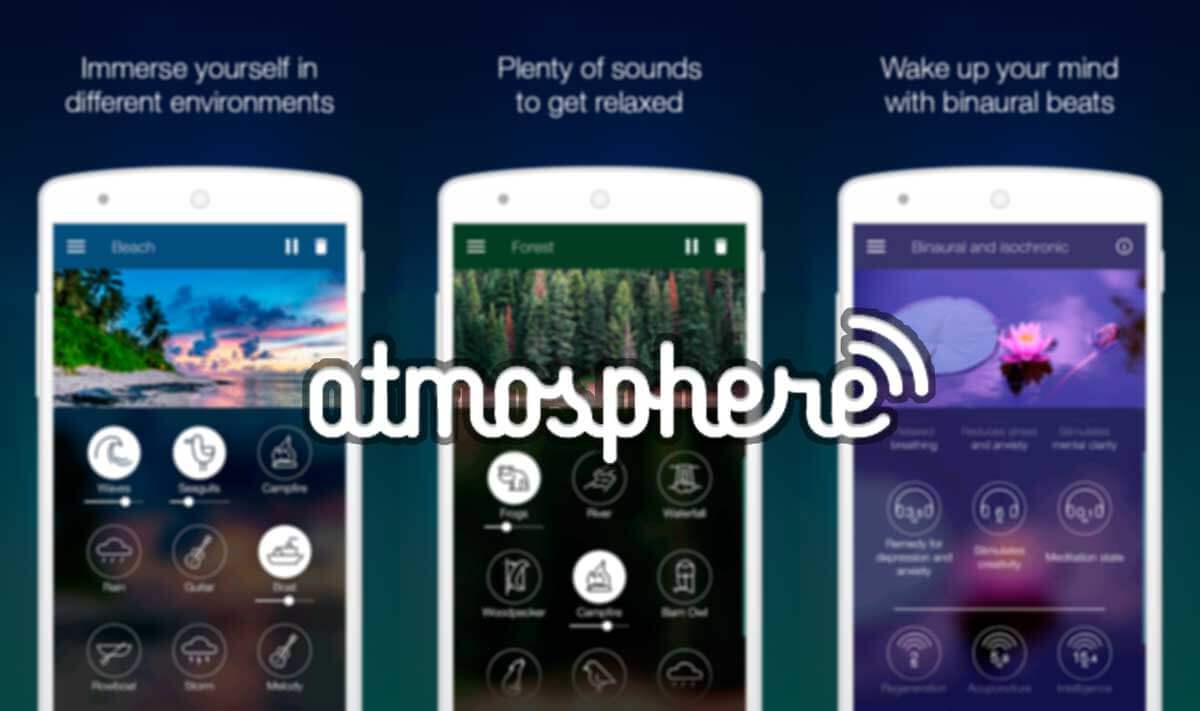 Our top pick for this list is Atmosphere: Relaxing Sounds. Peak Pocket Studios has done a really good job on this app. Atmosphere is the most beautiful and powerful app on this list, period. The app has a gorgeous UI that the developer says is designed to reduce eyestrain. You swipe from side to side to go through the different categories of sounds. There are at least 9 sounds (with individual adjustable volumes) in each category which can be individually switched on or off. You can also mix up to 10 unique sounds from different categories.
The app even makes it possible to import your own sounds and mix them with the default sounds! Included are over 70 unique sounds. Sound categories range from beach and underwater, through forest and mountains to home and city. There are binaural & isochronic tones that can reduce stress and anxiety, stimulate mental clarity, and even soothe a headache. On top of all these are a timer and a mix saving feature. This app is indeed a must-have.
2. Lusity/Relaxing Sounds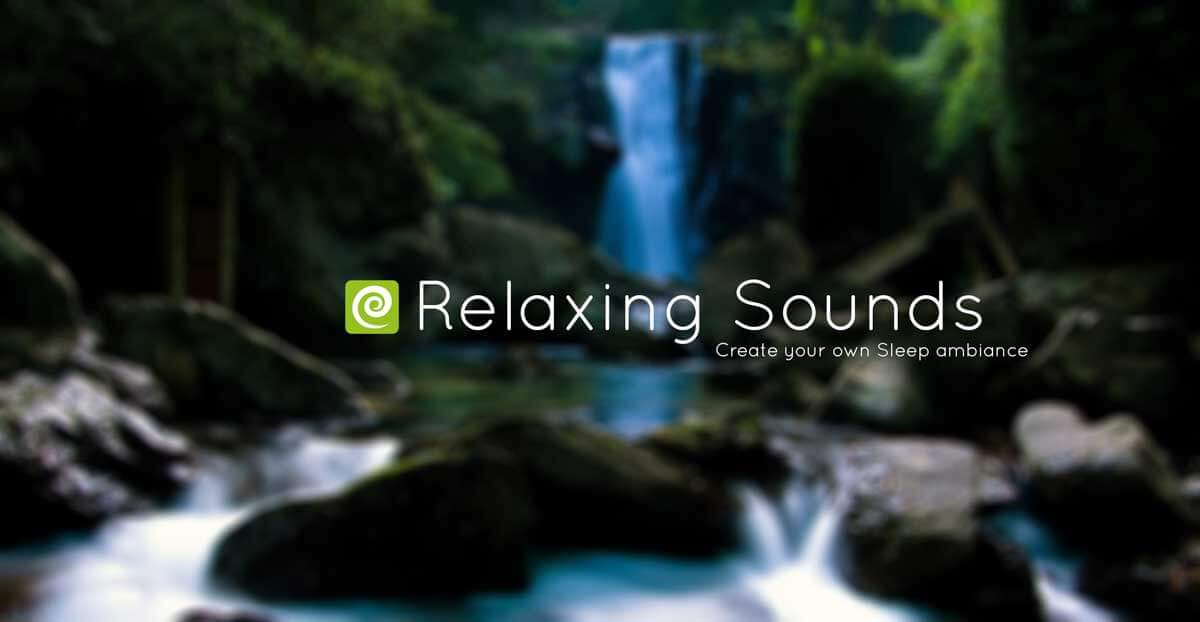 Lusity (it's called Relaxing Sounds on the Play Store) is second on the List. Lusity is a well-executed app that will surely help you sleep or relax. It is based on nature's sounds and white noise. The app can also help you concentrate, boost brain energy, among others. It does this not only through its impressive set of natural sounds but also by the use of isochronic tones. These tones have various frequencies that will affect your brain differently. The app features a beautiful UI that allows you to add different types of auxiliary sounds to your selected tune. The app is not a battery hog, so you can set its auto timer for extended periods of listening. After the time elapses, the app will automatically shut down.
3. Sleep Orbit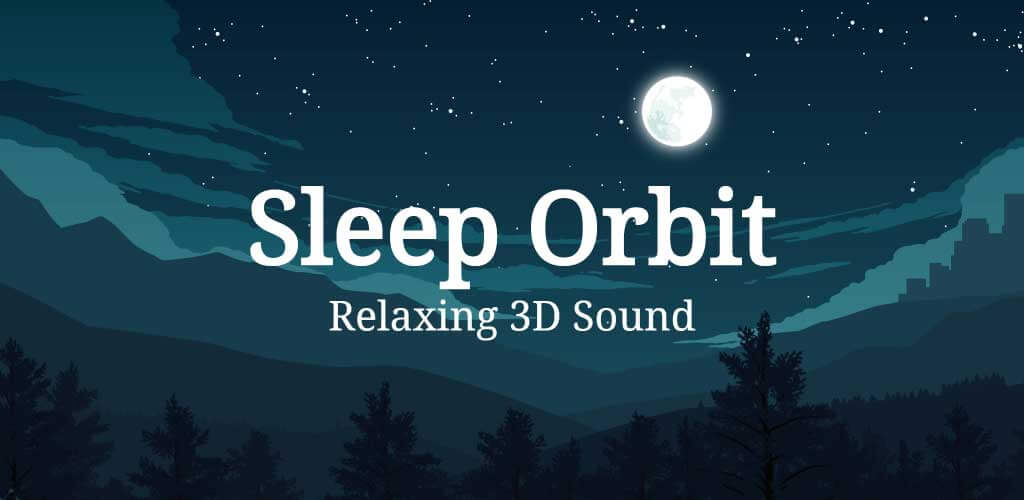 Sleep Orbit is another beautifully-designed app that lets you mix a preset of tones to your taste. It is unique in that, it lets you determine exactly where each of the sounds hits your ears from. This creates a 3D sound experience that is accentuated by the use of Hi-Fi earphones or surround speakers. Due to this, I find myself using this app quite a lot. The app also has a catchy UI that presents your experience as a head figure in the middle of different sound orbs. The diameter of each orb can be adjusted, and doing so tunes the volume. There is a large collection of sounds to choose from, and your mixes can be saved.
4. Rain Sounds – Sleep Ambience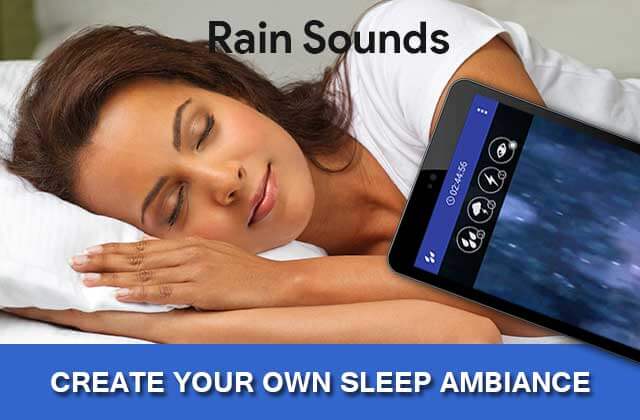 Rain Sounds – Sleep Ambience produces only one type of sound – rain. It is premised on the fact that the sound of rain has a very soothing effect on a large portion of humans. This app, therefore, focuses solely on simple rain. The app has an animated UI that shows falling rain. There are a number of rain intensities to choose from. The app has the ability to use the phone's camera to simulate lightning. In addition to the rain, you can set different intensities of thunder as well. As a result, you also get the feel of rain with this app. A downside to this app is that it tends to drain a battery, especially if you enable the camera-lightening effect.
5. Relax Rain ∼ Rain Sounds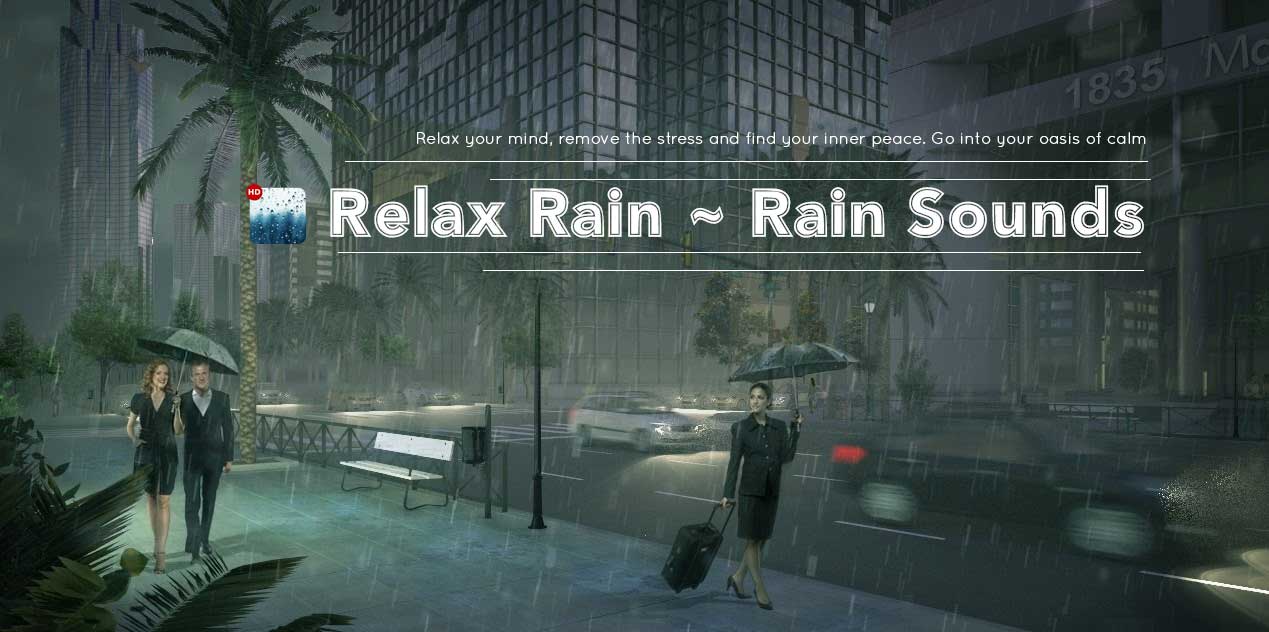 This app by mikdroid boasts over 35 rain sounds which are mixable with thunders and music. It takes the simple concept of rain and expands it into an impressive nuanced experience. You will be surprised by how different rain can sound. The app has a fairly dated UI that is unlikely to particularly impress you. This app is able to run fine in the background like all the others, but it does it using less resources. It pauses the audio when a call comes in. Also, the sounds show no audible looping. There are individual volume adjustments for rain, thunder and music.
6. Study Ambience – ASMR Atmosphere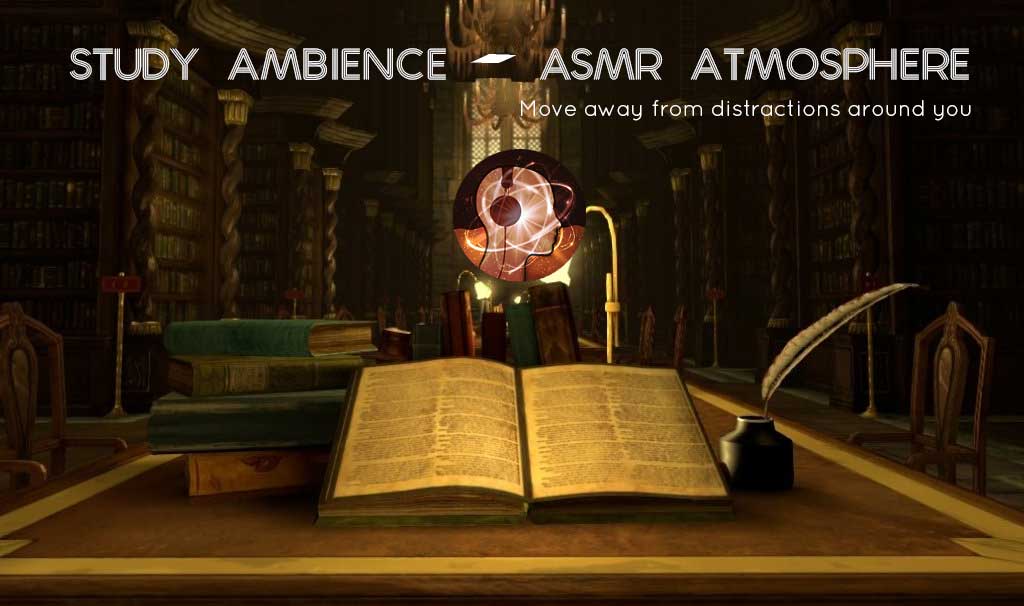 Study Ambience produces realistic atmosphere sounds to aid studying, reading and concentration. The app possesses an assortment of ambiences like a peaceful cafe, an old train compartment, among others. It specializes in mimicking less natural, everyday life sounds. As a result, it excels in replicating familiar ambiences and scenarios for studying or reading. The UI is uninspiring, but it does what it says. There is also the option to add melodies and alpha waves with a simple tap. Study Ambience makes this list because of its unique sounds.
7. Sleepo: Relaxing Sounds, Sleep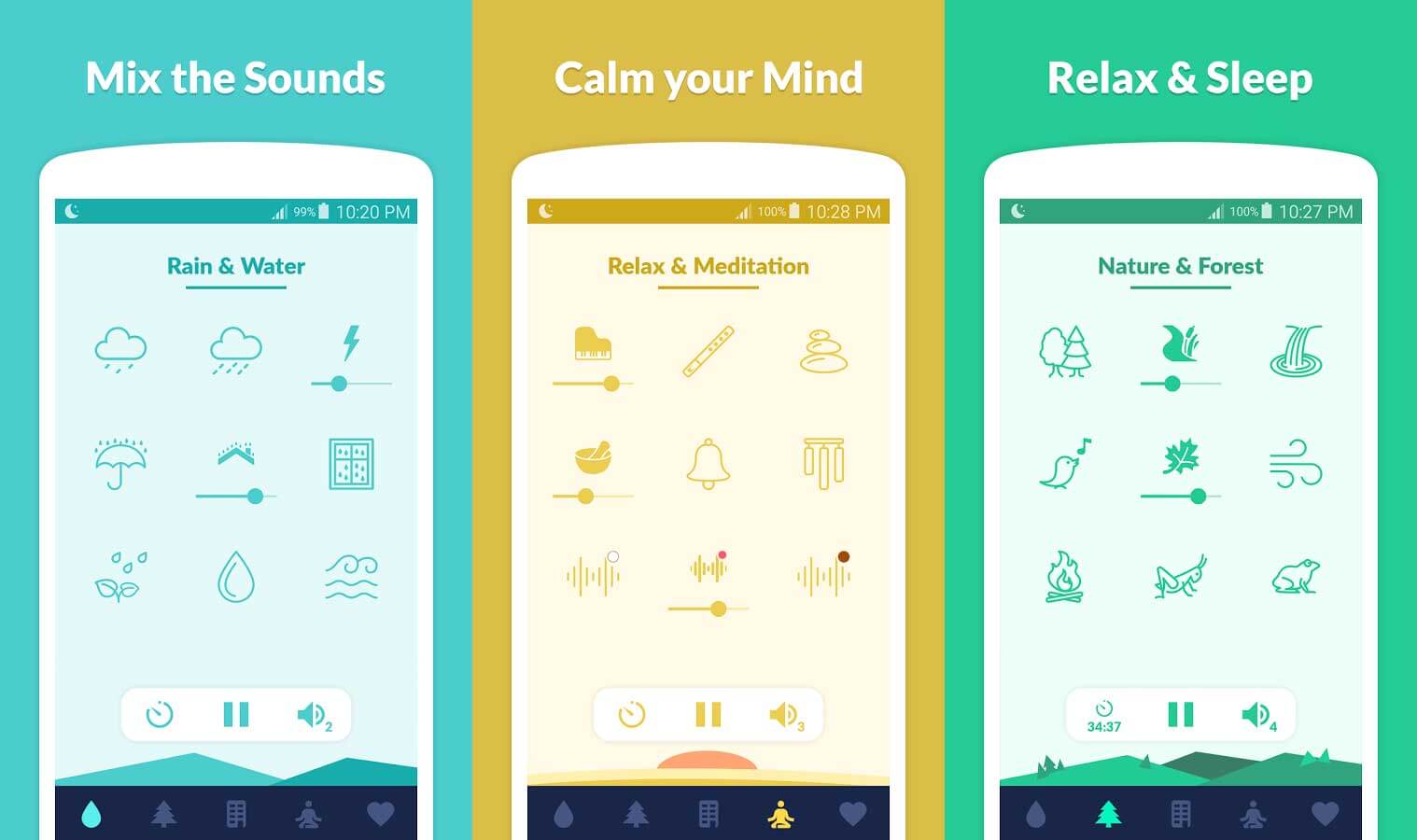 Sleepo is yet another "Editor's Choice" app which currently enjoys a deserving 4.8 user ratings on the Google Play Store.
It follows the same formula as Atmosphere, but with a little less finesse in execution. The app boasts a fresh, colour-coded, modern UI and has an assortment of sounds to mix. The app features HD white noises such as rain on the window, ocean waves, forest, creek, subway, and meditation sounds like piano and ornamental flute. You can also customize the ambient sounds, which you can save later for offline use.
The only gripe I have with the app is that it does not offer a lot of options compared to some of the apps featured on this list.
8. Calm – Meditate, Sleep, Relax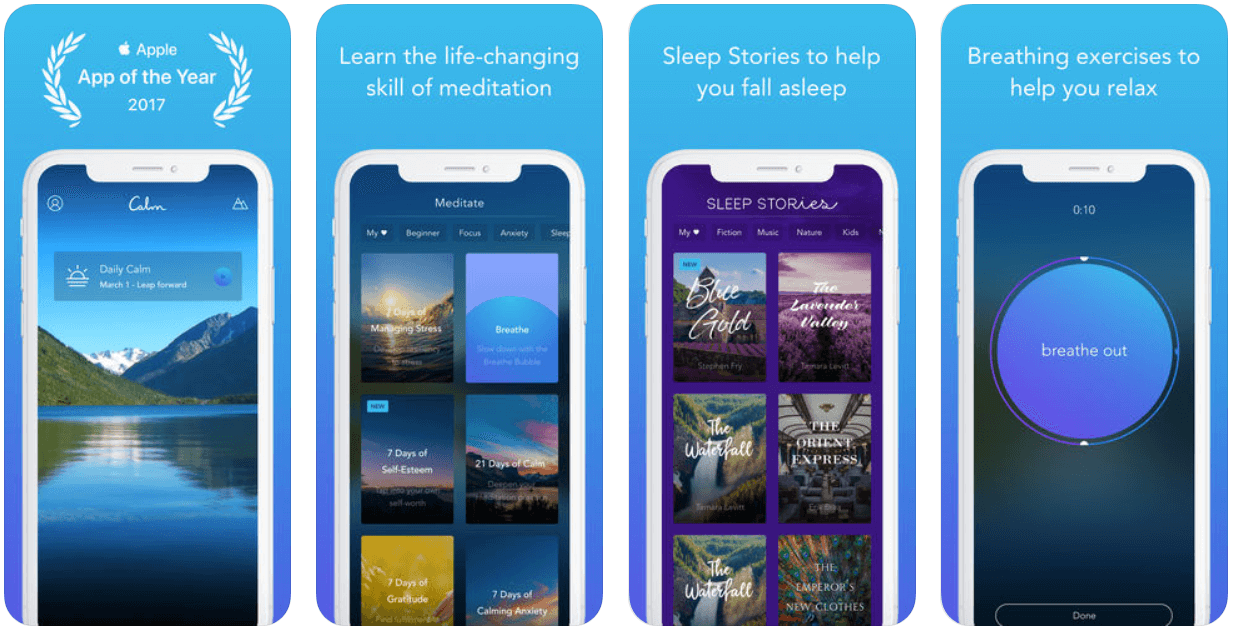 This app currently ranks third in the "Top Grossing Health & Fitness" apps in the Google Play Store. It also belongs in the "Editor's Choice" curated apps, with over 5 million downloads and a high 4.6 user ratings.
Calm features guided meditation sessions available in various timeframes to suit your schedule. Meditation topics include calming anxiety, stress, deep sleep, focus and concentration, breathing exercises, and even meditations while commuting to work or school. There are also adult bedtime stories to lull you to sleep, and soothing ambient sounds of nature.
It was also featured and received positive feedbacks from reputable news sites such as the New York Times, Mashable, Tech Republic, and TechCrunch.
9. Relax Melodies: Sleep Sound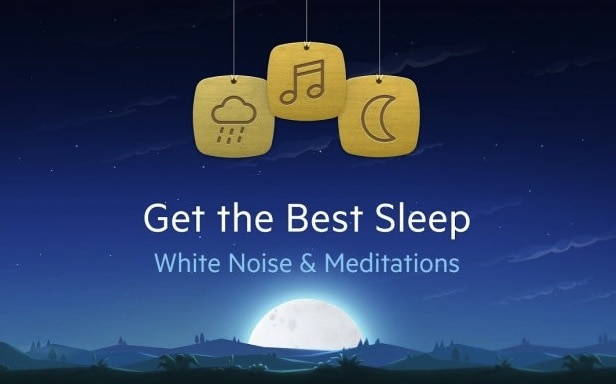 Relax Melodies is another high-rated, Editor's Choice curated app.
It features sleep meditations, such as white noise, water sounds, meditation music, and the all-time favourite nature sounds. This app has some premium features, but also comes with over 50 free relaxing sounds, which you can customize to your liking. This app is a must-have for a rainstorm, and ocean waves sound lovers.
10. Headspace: Meditation & Mindfulness
Headspace is another "Editor's Choice" meditation app, which currently ranks second in the "Top Grossing Health & Fitness" apps in the Google Play Store.
Co-founded by a former monk, this app is a must-have for people who currently have a problem dealing with life challenges, losing focus on work, school, and personal relationships. Health meditation topics include anxiety, stress, sleep, and depression, all the way down to things like pregnancy, cancer, pain management, regret, and anger. After all, who knows meditative medicine better than a monk?
11. Pacifica- Stress & Anxiety
Another Editor's Choice app, Pacifica target problems of stress, anxiety, and depression using tools based on Cognitive Behavioral Therapy, mindfulness meditation, relaxation, and mood tracking. The app is subscription-based, but there are many features available for free users.
Pacifica also features topics such as public speaking, taking a plane flight, and public transport meditations. Users can also update status, and interact with many other users across the globe.
12. Binaural Beats Meditation Brain Waves Sleep, Relax
This is one of my favourite apps on this list, and it's not even an "Editor's Choice" like many of the entries. What sold me to this app though is the simplicity of how the developers put things together, which I believe every meditation and relaxation apps, should be.
Binaural beats are divided into categories such as sleep, body, brain, and spirit. Each includes many binaural patterns targeting some specific problems. You can also customize your own beats with choices of relaxing background music. You can also time your sessions, which comes in handy when you're about to sleep but wants to reserve some battery juices. However, there are some reports that the app stops working on some Redmi devices after the latest update. If you are experiencing the same problem, feel free to report it to the developers and wait for fixes before leaving ratings and feedback.
13. Pzizz – Sleep, Nap, Focus
Pzizz is also one of my favourite apps in general. Harry Potter author J.K Rowling, His Royal Highness, The Duke of York, NBA Star Roy Hibbert, and Shopify Co-founder, Roy Weinard, have all expressed their fondness of Pzizz. Whether you have problems dealing with insomnia, or just want to end the day with a super relaxing sleep, Pzizz is one of the best sleep and relaxation apps available on our smartphones today. And what's more? It's clinically validated.
Pzizz has a minimalistic user interface and features a variety of "dreamscapes" based on psychoacoustics. "Dreamscape" is a sleep-optimized mix of music, voiceover, and sound effects that changes automatically each night.
14. Sleep as Android: Sleep cycle tracker, smart alarm
This app is quite different (in all obvious ways) than any of our other entries, but it doesn't feature a hardcore guided meditation or sleep-inducing acoustics (if there is, it is rather simple). What it does best is tracking and monitoring of sleep cycle with Pebble, Android Wear and Galaxy Gear integration. It also detects, and records embarrassing sleep talks, and snoring, with features to prevent it.
What I like about this app though is the wake-up verification feature. There are times when the alarm rings, and I just look at the display, turn it off only to crash back to sleep. But with CAPTCHA "Wakeup" verification, my brain is greeted with simple, yet effective activity (like sheep counting and phone shaking) to alert and activate my mind and body.
Getting the most out of these Anxiety apps
All the apps on this list produce quality sounds. You can enjoy them with your normal earphone or through your phone's speaker. However, to get the ultimate best out of them, you should do one of the following:
Use high-fidelity audio equipment: Pairing any of the apps with a pair of HiFi in-ear monitors or headphones will boost the audio experience. The detailed separation of individual notes and beats such equipment are capable of producing will immerse you completely in the ambience.
Connect to your speakers: If you have a surround system setup in your home or office, consider connecting for a real surround sound experience.
Use an equalizer: Lastly, you can consider using an equalizer to tune the sound to your taste.
So that's it, our list of some of the Top Apps to Help you Relax, Sleep or Concentrate. We genuinely hope you find them as useful as we do. Also, feel free to let us know what you think of them in the comments section.