Apple had done something unique in the March of last year, the company resurrected its iPhone 4 aesthetic. Obviously, the display and shell might have been the old school 4.0-inch but the internals had been brought up to speed. The iPhone SE got the latest OS and Apple's then peak performing A9 SoC to complete the trifecta of compact design, latest internals and software. This was no accident as a significant chunk of Apple's core smartphone users had lamented the Cupertino based companies adoption of larger displays.
Noted industry analyst Pan Jiutang believes that this was a one off by the company and we should not be expecting a refresh of the iPhone SE. He further states on his Weibo account that if anyone wants to pick up a compact iPhone they should pick up the 2016 SE or iPhone 5C.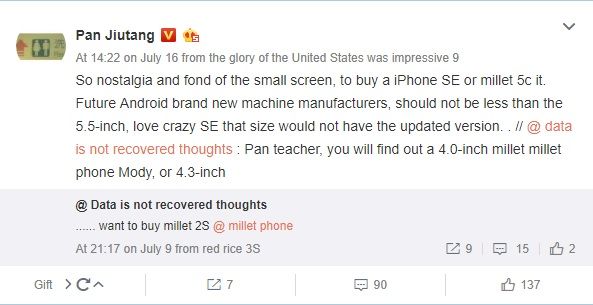 He bases his argument on the fact that display manufacturers want to hit the 5.5-inch display mark because that is the median these days. Sure there would be smartphones below that size but the smallest iPhone coming this year would likely be the iPhone 7s with its 4.7-inch Retina display.
Apart from the noted analyst, it is also being speculated in the industry that Apple might be going even larger with the iPhone 8 which also might accommodate a change in the display's aspect ratio. This would most likely be to counter the latest Android flagship's shift to the 18:9 "tall" aspect ratio.
What are your thoughts on Apple going with larger displays on its devices? Do you support the move or dislike it? Let us know in the comments below and remember to follow us on our social media.