When Apple introduced the iPhone X, everyone was just awestruck with what hey saw on the surface. That big OLED screen! But little did they know that within the confines of the new shiny metal was a beast waiting to rip the competition to shreds. Yup, we are talking about the A11 Bionic chip that is the new engine of all the new iPhones of this year. The A11 Chip succeeds the A10 which again was a topper in its time. But the A11 has some cards up its sleeve. The new silicon has the ability to run all six of its cores simultaneously that the A10 chip could not. The A11 chips 2 performance cores offer 25 percent faster speed than the A10 fusion chip. And the 4 efficiency cores are 70 percent faster than the previous generation.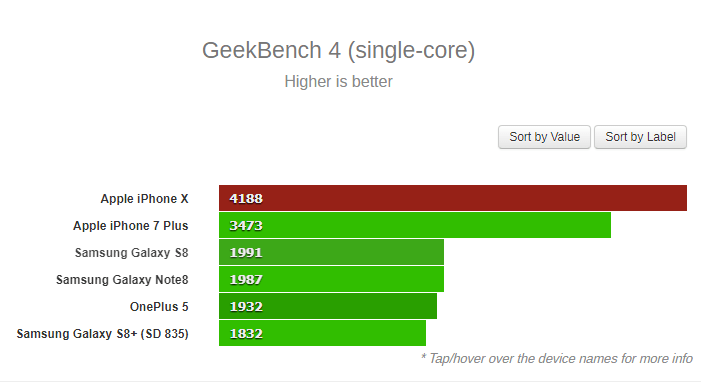 Now, that the results of the benchmarks are in. We know, this new baby from Apple blows everything out of the water. The iPhone X was put through its paces on GeekBench 4. If the Single core tests proved the mettle of the new chip than the multi-core tests put it on the top of the food chain. In single core tests, the iPhone X clocked 4,188 points compared to the closest Android rival Galaxy S8 which was far behind at 1,991. The OnePlus 5 was second last on the list with a score of 1932 points. Only the iPhone 7 Plus came close to the top dog with a score of 3473. In multi-core tests, the iPhone X score was 10,069. In comparison, the Galaxy S8 lagged behind with a 6656 score. The OnePlus 5 scored an even lower 6604 points.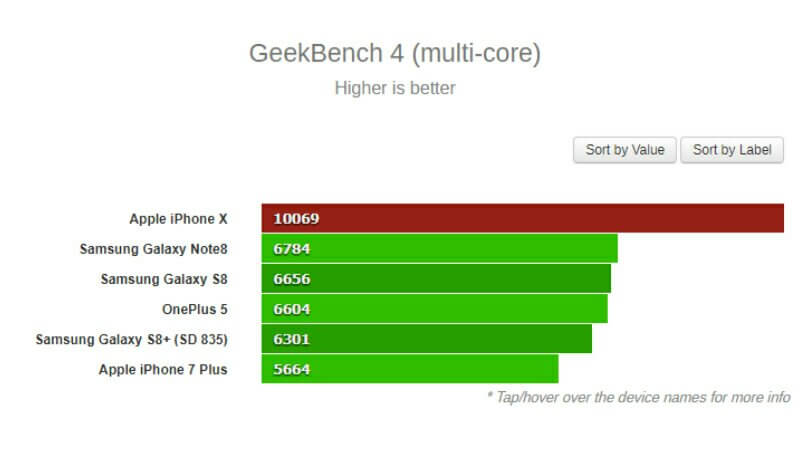 We should point out that numbers aren't everything when it comes to smartphone performances. Benchmarks aren't an ideal indicator of real-world use. Also, phones like the Galaxy S8 and the Galaxy Note 8 have to push their processors more because of high resolution. Having said that, most flagships these days come with chipsets that can go 2 years with glitch-free performance. But when it comes to sheer power, we've seen it. The iPhone X is right up there.
Apple's A11 Bionic chip also comes with an enhanced three-core GPU with 30% better graphics than last year. It also has a neural engine that handles Face ID and AI tasks Animoji and the new AR features that will soon make it to other Apple phones.