Apple on Tuesday surprised everyone by announcing a considerable amount of products silently on their website. Though previously, Apple has refreshed their products in this manner, this is the first time Apple has announced new hardware without holding an event.
The most important product was a new version of the 9.7 inch iPad. It is budget iPad which costs $329 and is replacing the iPad Air 2. The new iPad which is simply called iPad, comes with a brighter display, a Touch ID sensor, worldwide LTE support, Apple A9 chipset and comes pre-loaded with iOS 10. Notably, the updated iPad is thicker and heavier than the iPad Air 2. For comparison, the Ipad Air 2 was 6.1mm thick and weighed 0.96 pounds whereas the iPad is relatively bulky and is 7.5mm tick and weighs 1.03 pounds. This is a pretty significant downgrade.
The new Red iPhone 7 is part of the Apple's (RED) campaign, which contributes to the Global Fund to fight AIDS. The new product starts at $749 and will be available starting Friday. Apple also added a 128GB configuration for the iPhone SE and the iPad mini 4.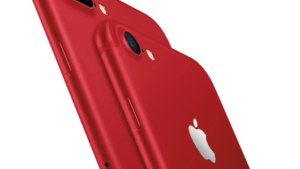 Also, Apple introduced new colour options for the silicon and leather cases for the iPhone 7 and iPhone 7 Plus.
The Tech giant introduced new watch bands with colours like pollen, berry, azure, orange, sapphire and red. New luxury Hermes bands were announced in bleu, like and other styes. However the bad news is that new Apple Watch buyers will have to shell out more cash if they don't want either the Sports band or Milanese loop, which are the only entry level options available as of now. Previously, Apple had offered several styles without buying separate bands including Classic Buckle, Leather Loop, Modern Buckle, Woven Nylon, Link Bracelet.
The California Company introduced a new app, Clips, that aims at combining video clips, photos and music shared through social media or messages. The app utilises Artificial Intelligence and recognises people in the video and automatically suggests them as recipients. The app will be released as a software update in iOS 10.3 starting April.
Popular learn-to-code app "Swift Playgrounds" is now available in 5 different languages including Chinese, Japanese, French, German and Latin American Spanish.
What do you think about these updates? Do you think that the iPad has received more of a downgrade? Let us know in the comments below