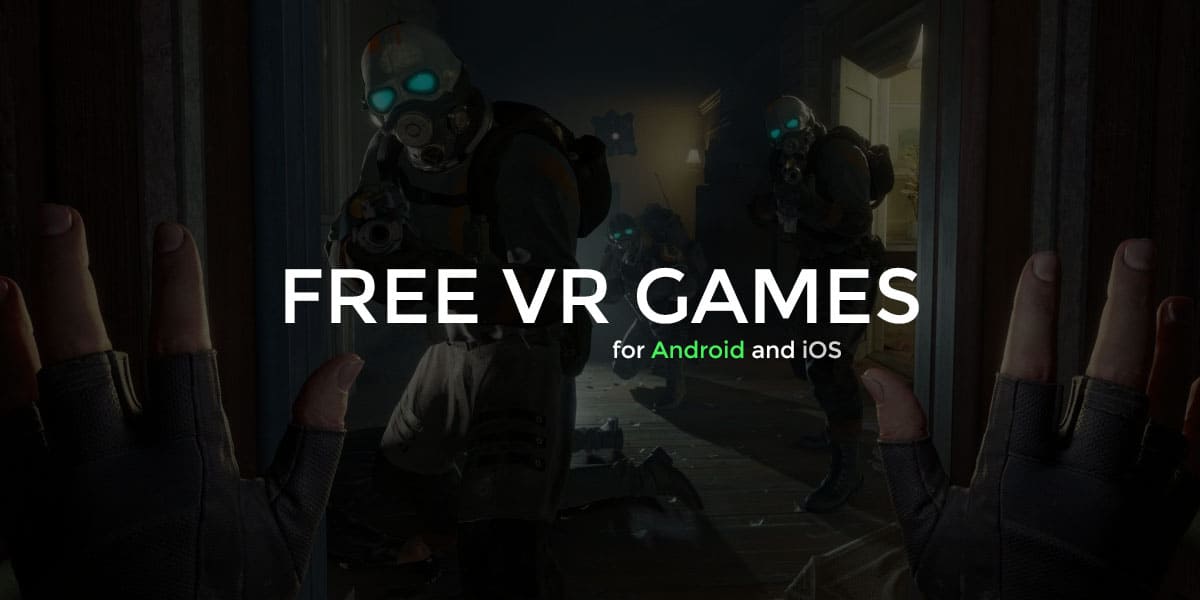 Virtual realities have completely shifted the paradigm of technology. What was once a dream is now a reality. Held as the next vista in the era dominated by technology, VR is now available everywhere. While techies have been experimenting with VR for years, the results haven't been satisfying. However, with the inventions of different gadgets and optics, it seems like VR has finally got the start it was always longing for. 
Although these VR headsets were initially expensive, manufacturers have gone to great lengths to offer app support to VR. Over the years, numerous companies have rolled out several iterations to make VR more accessible. To further enhance the reach of VR and everything it brings along, tech companies are rolling out newer VR-based free applications and games each year.
Just like every year, the list of the top free VR apps and games for 2022 is long enough to get you confused. But to make things easier for you, we have picked out the top 35 best free VR apps and games of 2022.
Top 35 Best Free VR Apps & Games of 2022 
As we mentioned above, companies have now started to roll out VR-based applications and games at regular intervals. This can make choosing a lot tougher since you now have a pool of options at your disposal. However, we have compiled the best VR apps and games for you to enjoy in 2022.
1. Zombie Shooter VR
The only places where zombies look good are the movies and video games. And the only thing better than watching a zombie flick is shooting them with VR glasses on your mobile. Zombie shooter is one of the best free VR games for Android & iOS that take you into a post-apocalyptic world ridiculed by blood-thirsty zombies. Your only way of survival is to shoot your way through.
2. InCell VR
This is undoubtedly one of the top VR games for android and iOS. If you are a fan of racing games, then you'll definitely like this one. However, there is a slight twist in the game as here you'll be entering a highly unusual micro world as a recreated human cell and will be racing other human cells.
3. vTime XR
Meeting new people is always exciting. However, meeting people around the globe via VR is even more fun. With the vTime XR, you can meet, chat, and share content from people across the globe. Similarly, you can interact and hang out with your friends using AR or VR or using the Magic Window Mode the app provides. This app lets you create your profile, a vTime avatar, and pick your destination.
4. InMind VR (Cardboard)
Similar to the InCell VR we saw above, the InMind is a short adventure game filled with elements brought in exclusively by the Google Cardboard. Here, players can use the VR box and enter the human mind in search of neurons that are likely to cause mental disorders. This game is fully compatible with View master, fibrum, homido, Lakento, Archos, Durvois, and other headsets.
5. Ghost Hunters
Now this game is where it all gets real. Created by Fibrum, Ghost Hunters is one of the best VR mobile games you can play. Put on your headset and set out to explore the dark side of the universe. On the way, you'll have to battle vengeful evil spirits that are hell-bent on killing everything that stands in their way. 
6. Twilight Pioneers
Created by Netease, Twilight Pioneers is a first-person ARPG that takes place in a world of fantasy. If you like DnD, chances are you are going to end up enjoying this one as well. Just like DnD, this game will grant your hero with magic-wielding powers. Your mission will be to stop the Dark Lord who is out collecting souls of every last person alive.
Note: Available for Android users only
7. VR Mojo Orbulus Special Edition
If you love exploring different places, this is one of the VR apps for iPhone that works as a smartphone viewer. Not places, but this app gives you orbs to look at. You can travel to the stars, stand on Mars, and control the experience with nothing but just a VR headset. Right from watching the stars on mars to enjoying the fireworks in Hong Kong, this app has it all
Note: Available for iOS users only
8. Roller Coaster VR
Roller Coasters are always fun. Be it in reality or in virtual reality. If you wish to witness some crazy amusement rides by sitting in the comfort of your home, then you need to get the Roller Coaster VR ASAP. It gives you a 360-degree breathtaking view and lets you enjoy some of the most thrilling rides around the world by giving you a completely immersive experience.
Note: Available for iOS users only
9. VR Roller Coaster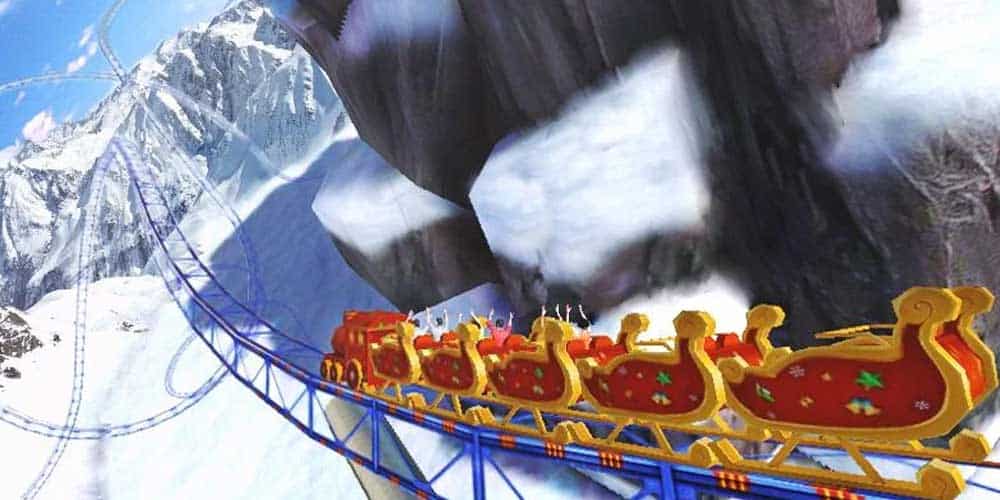 In case you missed the chance of going out on a rollercoaster, here's the second chance you were so longing for. The best part is that these chances are going to be regular now with the VR roller coaster, one of the best free VR apps for Android. With the VR Roller Coaster, you now get the real-life experience of a roller coaster in 3D with a complete 360-degree view.
Note: Only available for Android users
10. VR Crazy Swing
If you haven't already guessed what's in store with this one, we have you covered. Just like the VR Roller Coaster, the VR crazy Swing allows you to experience some of the fantastic swings using VR. The best part is that you can suspend the swing anywhere you want. Be it between two buildings or between two helicopters flying side by side, you can get any settings you want.
11. Refugio 3D Space Station
There have been times in life where each and every one of us has dreamt of going into space. While it ain't possible for everyone, the Refugio 3D Space Station aims to change just that. This is one of the best VR apps for Android that takes you into space. More specifically, you'll be visiting the planet Refugio. So just sit back, relax, and enjoy everything VR has to offer.
Note: Available only for Android
12. Sisters: A VR Ghost Story
Up until now, the only place we have seen horror is during the movies. But here, you get to experience horror first-hand. Experience a chilling and horrifying experience with Sisters: A VR Ghost Story. Put on those VR headsets and watch the horror unfold around you at all times. To add to those chills, you get a 360-degree experience of everything that goes on around you. So, put on those VR headsets and plug-in those earphones and play this one.
Note: Available only for iOS
13. Cartoon Village for Google Cardboard
If you are a fan of The Sims, chances are you going to like this one. As the name suggests, the game takes you into a small 3D stylized village filled with farmers, workers, and some of your favorite cartoon characters. In addition, you get tons of customization options using which you can customize the time of day, seasons, camera mode, speeds, and all the other aspects.
Note: Available only for Android
14. IR Village
This simulation is somewhat similar to the above one minus the cartoon part. But instead of cartoons, this is one of the VR apps for iOS that takes you in a village gearing up for the festivities. The holidays are fast approaching and the village is embracing the holiday spirit and prepping for all the festivities that are in the offing.
Note: Only available for iOS
15. Within VR: Virtual Cinematic Reality
Now, this is where things get interesting. If you are someone who takes great joy in watching nature documentaries and other infotainment programs, then you are going to enjoy this one. Considered as an emerging art of Cinematic VR, you to get to experience beautiful, hand-picked, and immersive stories, documentaries, music videos, horror, and more.
16. Cardboard
We all have different choices and experiences when it comes to VR. Some want to experience how it feels at the top of the Empire State Building whereas some need to touch the bed of the deepest ocean in the world. The Cardboard application does just that. Using cardboard, you can launch your favorite VR experiences on and enjoy them on your smartphone. 
17. Full Dive VR: Virtual Reality
VR has everything for everyone. If you are someone who keeps track of the crypto market, then the Full Dive provides you with a platform that allows you to earn money using Ethereum, Bitcoin, and other forms of cryptocurrencies. You can use this navigation platform to watch, react, and comment on other people's videos.
18. VR Fantasy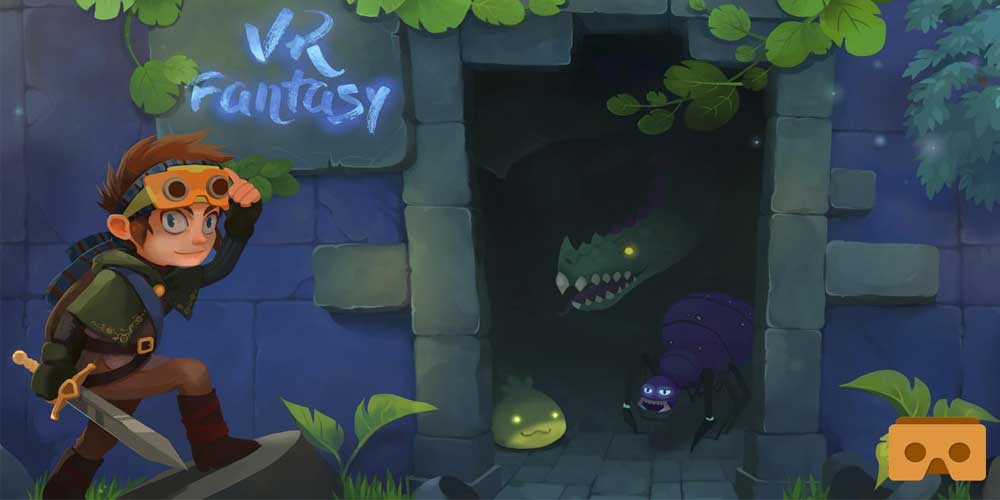 This is one of the VR fantasy apps for Android that takes you into exploring the dungeons of an ancient magical fortress. Here, you will take on some of the most dangerous enemies to make it to the final stage. What makes it stand out is that VR Fantasy is being updated at all times to give you the scope of improvements you needed.
Note: Only available for Android users
19. Beasts Of Legend VR Cardboard
If you have a VR headset compatible with the Google Cardboard, this is one of the free VR apps for Android that presents you with a series of stories wherein you get to meet and fight one new creature at each level. Inspired by several other blockbusters, Beasts of Legend lets you experience some of the amazing atmosphere parks right from the comfort of your phone. 
Note: Only available for Android users
20. Trail World VR
For those who are looking to enjoy a beautiful fantasy outing in real life, this is one such VR game for you to try out. Here, you can experience some of the most amazing rides located across other beautiful landscapes. Meanwhile, all these rides pass through towns that hide a deep secret. This makes it interesting for you to figure out the mysteries of every town while passing by.
21. VR Escape Game
As the name suggests, this game is something wherein you need to find the escape routes during every possible solution. This game can be played with and without VR glasses. All you need to do is keep watching without even needing to touch the screen. There are different stages for you to pass through to make it to the final.
Note: Only available for Android
22. Egypt VR
If you think Egypt is all about mummies and pyramids, you are clearly mistaken. For Egypt offers a whole lot of mysteries for you to solve while wandering around the deserts of Egypt. This game has numerous amazing puzzles on offer that comes with a flexible inventory system and is fully compatible with Google Cardboard
Note: Only available for Android users
23. Real Life Traffic Ride Virtual Reality Glasses
If you have been a fan of racing games, then this definitely is one of the games you should opt for the Real Life Traffic Ride Virtual Reality Glasses. This game takes racing to a whole new level that allows you to enjoy some of the best virtual bike racing realities for free.
Note: Available only for iOS
24. Moon Bird 2 VR
We have all wanted to experience a bird's eye view at least once in our life. The power of flight and the ability to be on top of everyone. With the Moon Bird, you can do exactly that. Put on your VR headset and enjoy the picturesque flight of distant planets.
25. VR Abyss: Sharks and Sea Worlds in Virtual Reality
As the name suggests, this VR application takes you deep into the ocean and experiences underwater life. From a random shark attack to a sunken war submarine, experience it all on your Android. Here, you can discover the entire coral reef just by sitting in the comfort of your own homes.
Note: Only available for Android
26. VR Zombie Shoot (Cardboard Game)
Yet another zombie shooter designed explicitly for Android VR users. Just like always, this game takes you deep into the world filled with flesh-eating zombies lusting for your blood. Filled with exciting activities, you play a commando who needs to use his military skills to make it out of the city.
Note: Only available for Android
27. Shooting Showdown
The Shooting showdown is one of the best free VR games for android and iOS. This trick shooting FPS lets you match up against your enemies in combat or friends during an online multiplayer. Put on your VR headset and head into the game to see how accurate you are with your aim. From shooting challenges to practice range, everything is on offer at the Shooting Showdown.
28. Fractal Combat X (FCX)
If you are a fan of World Of Warplanes, then you are probably going to end up loving this. Fractal Combat is an action-packed flight simulation combat game. To match with its gripping storyline, the game offers superb 3D graphics, VR support, and intense 360-degree gameplay.
Note: Only available for iOS
29. VR X-Racer: Aero Racing Game
Moving away from the land of zombies, this game takes you into an extraterrestrial war and pits you against the aliens that have invaded Earth. To counter-attack, the government has deployed fighter jets, missiles, and your task will be to fly these jets and take out every last one of them.
30. Avakin Life: 3D Virtual World
If you have ever dreamt of living the Avakin Life, this is your chance. This game takes you deep into Avakin's life, a world packed with endless opportunities. Restyle your wardrobe with the latest of fashion and redecorate your house in ways unimaginable. Create your own avatar and take on your wildest dreams.
31. VR Temple Roller Coaster
If you have ever been a fan of Temple Run, you are going to enjoy a whole lot more on the VR temple roller coaster. Considered as the next big step in VR evolution, this game takes you on some of the most dangerous roller coasters that pass through the subterranean and eventually dive under water.
Note: Only available for Android
32. VR Rollercoaster for Cardboard Virtual Reality
Rollercoasters are always fun and are of the most popular activities among VR users. Designed using Google's Cardboard Virtual Reality, you now get to experience the real sensation when on a roller coaster followed by the chills and thrills that follow.
Note: Only available for iOS
33. Vanguard V for Google Cardboard
Yet another VR game that takes you deep into orbit. The Vanguard V is a rail-shooter that takes you through the deepest orbit of the planet. Right from control, design, and amazing music, there is everything on offer that give you the best aspects of flight and adventure.
Note: Only available for iOS
34. VR Tunnel Race: Speed Rush VR
Racing games are always fun. These games tend to be even more fun when you are racing using VR. This is one of the best free games for iOS that has you racing through a condensed environment like a black hole. Here, you are someone who is trapped into the darkest corner of the universe and your only way of survival is to race through a weird tunnel while being hypnotized.
Note: Only available for iOS
35. Wingsuit Flight (Breathing VR)
If you haven't heard of breathing games, then you are in for a treat. Based on the famous Pursued Lip Breathing technique, this game is designed explicitly for those who have breathing issues such as asthma, emphysema, COPD, and other stress-related disorders.
Note: Only available for iOS
Conclusion
Although VR didn't initially get off to a great start, it has now slowly started seeing the light of day. Thanks to tech companies' enhanced onus on VR based apps and games, VR is now becoming more and more accessible to everyone. Similarly, these companies have started to roll out inexpensive iterations of VR gadgets to make them affordable to each and every one.