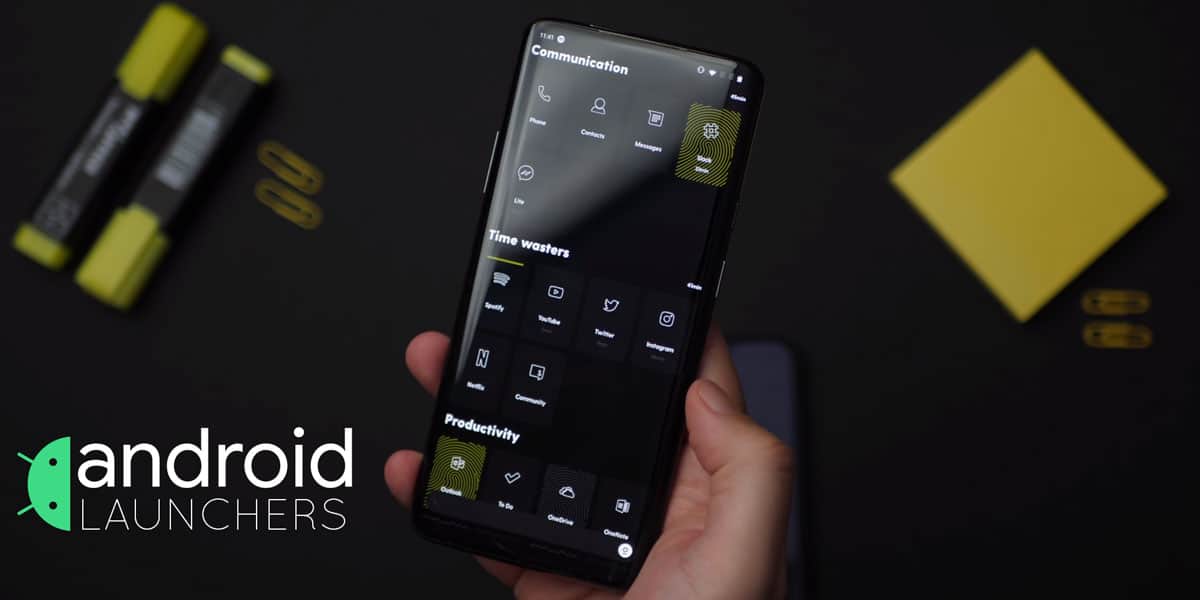 If you have been using an Android device for a long time now, then you might be familiar that the system gets a little sluggish and the user interface becomes a tad bit boring after a while. While Android can be rooted, it demands technical knowledge and the risk of bricking the device is ever standing.
In such scenarios, installing a Custom launcher is the best way to customize your Android device & boost performance without getting your hands dirty by Rooting your Android as it allows you to replace its default launcher with any customized launchers of your choice.
There are hundreds of custom launchers for Android on Google Play Store offering to customize your smartphone in many different unique styles.
To be honest, searching for the best Android launcher that can transform your phone is a tough job as some of these products might work smoothly but won't offer enough customization options, or sometimes the ones who do present a ton of options, end up making your device slower.
But don't worry, in this article, we have compiled some of the Best Android Launchers which perform flawlessly in these aspects.
Custom Launchers have been a hallmark of Android tweaking since the early days. They were partly borne out of necessity, as Android was rather ugly before Google decided to start taking design seriously. Let's check out some of the Best Launcher Apps of 2023.
Top 10 Best Android Launchers of 2023
1. Smart Launcher 5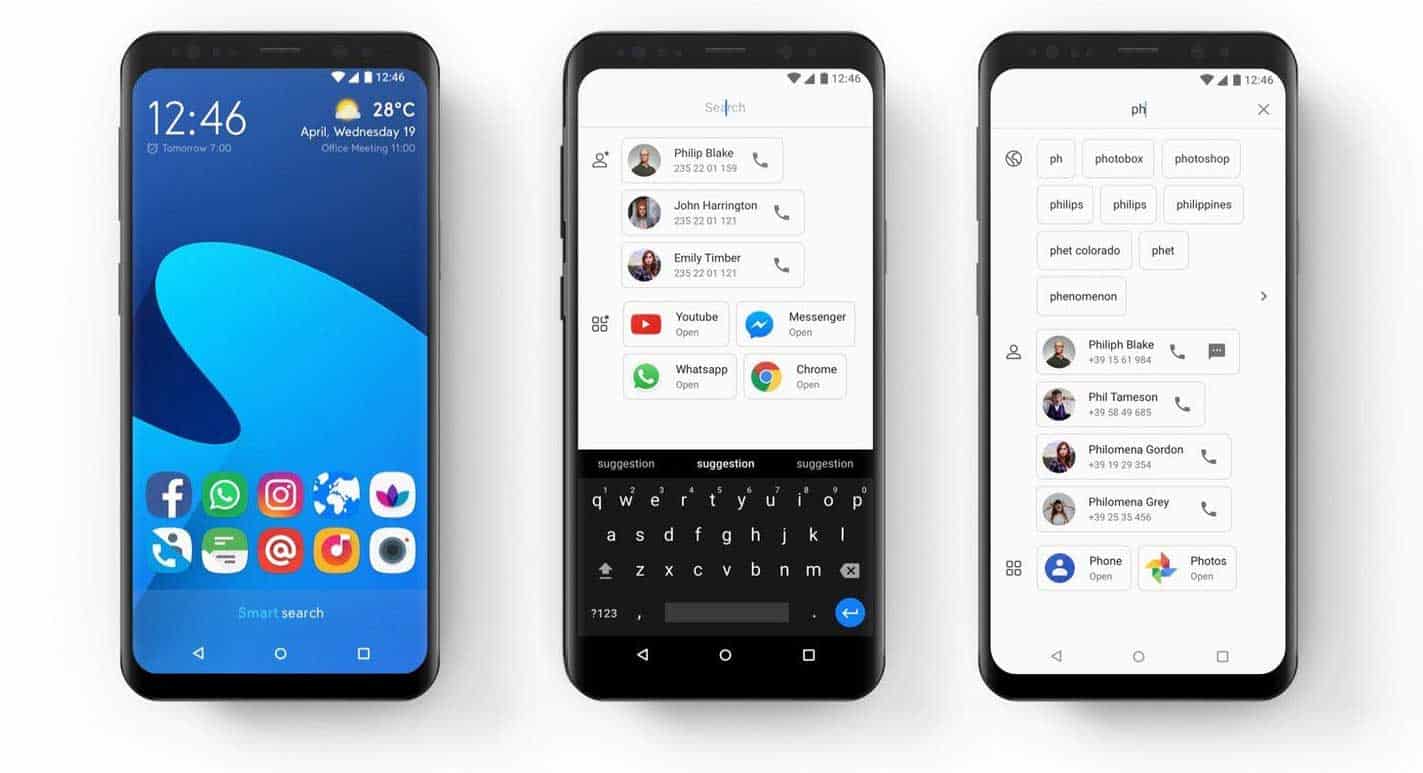 The Smart Launcher has been a fierce industry player in the android launcher market since a long time, and recently they came out with the Smart Launcher 5.
This product is the best home screen replacement app in the market as it automatically sorts your apps categorically making your daily tasks faster and easier. Apart from the automatic app sorting feature, Smart Launcher is also well known for its flower grid home screen feature.
Some of the features to watch for are scrollable categories, editable themes, wallpaper parallax, and resizable icon labels. The smart search feature is also redesigned in the recent updates, making it much more efficient as it now also shows some of your most used apps, favorite contacts, and frequently accessed web searches.
While it could use some tweaks as it is blindingly white, it is still a fantastic feature nonetheless. Like any traditional launcher, this one also offers 5 basic icons for free users, but the Pro users have access to advanced levels of customization with over 20 shapes to choose from.
A smart addition to your android device.

2. Nova Launcher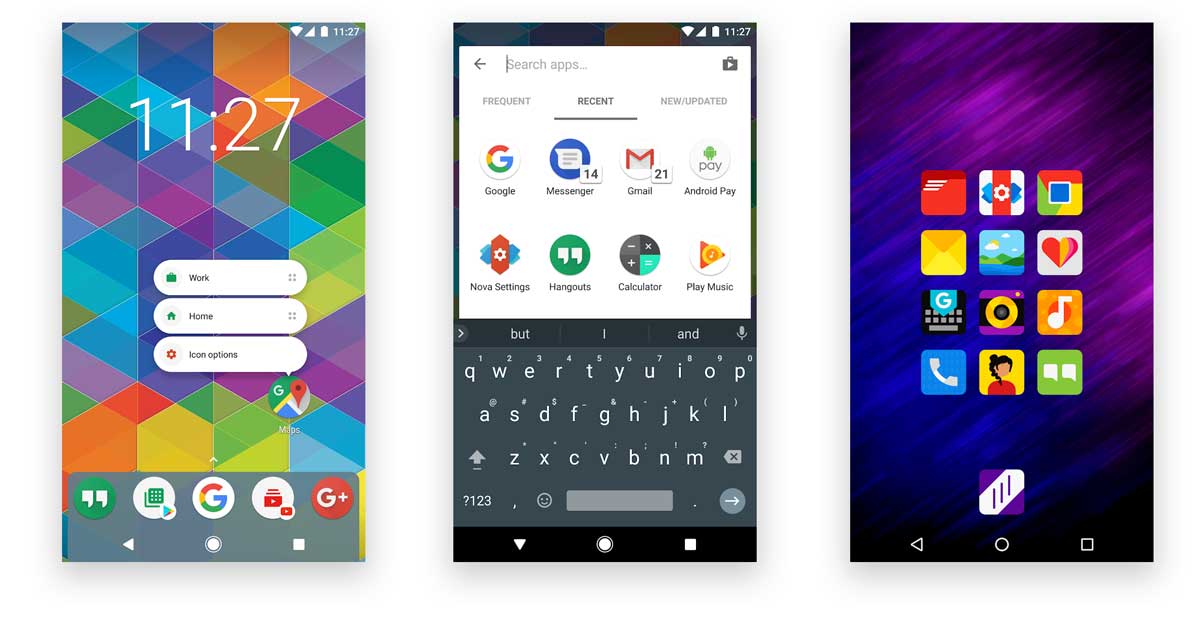 Nova Launcher is hailed for being one of the smoothest and highly customizable launchers in the market. It surely is the undisputed king of customization. It comes with a pure AOSP style launcher however, you can customize it using any Icon pack. The best part is the level of customization & performance it offers.
Some of the features that make the Prime version worth every penny are it's customizable swipe gesture feature which makes it super smooth to jump around among different apps, high-level of customization options for the app drawer.
The pull to search feature helps finding most frequently and recently visited apps in no time, and last but not the least the sesame shortcut integration which because of their partnership with Nova, provides exclusive access to dynamic shortcuts.
Nova Launcher's popularity cannot be regarded as just a single feature, it stems from their capability of delivering a wide range of tweaks and customization options.
With around 50 million downloads & 4.6 user ratings, it's surely the user's favorite App because of its simple yet feature rich interface. With the addition of Google Now, Nova Launcher surely has no competition left.
Nova Launcher is a customization & Pure Performance Package.
3. Solo Launcher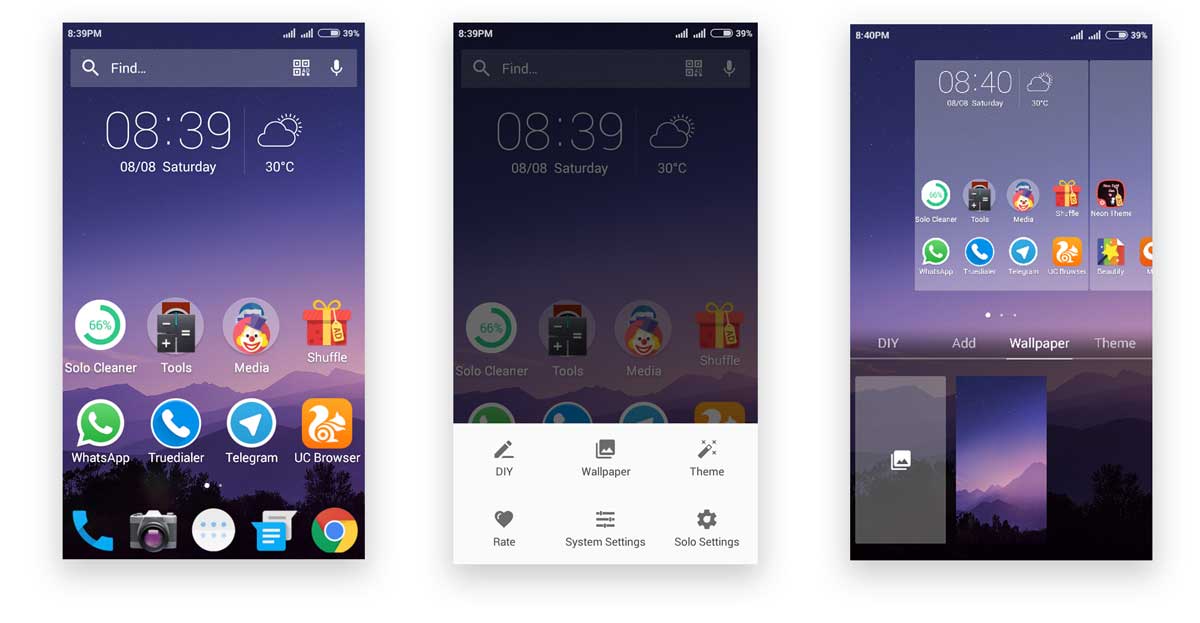 Solo Launcher was developed by a chinese company named NewBornTown and released in 2014, and is regarded among the top three in the Google play store with over 100 million downloads worldwide.
With its fantastic DIY features the app enables its users to personalize and customize over 300 settings and there are over 5000 themes, wallpapers, and fonts to choose from.
The app offers all the standard functionalities one could possibly look for in an android custom launcher. While it performs well to keep customers satisfied, it also offers many delights namely DIY for Photos, Smart homescreen management, and smart widgets.
Finally, if you like having advanced control on your hands, and love to experiment with the visual settings on your smartphone, we advise you to give the Solo Launcher a fair shot.
One of the Smoothest launcher on the Play Store with a Clean UI.
4. Action Launcher: Pixel Edition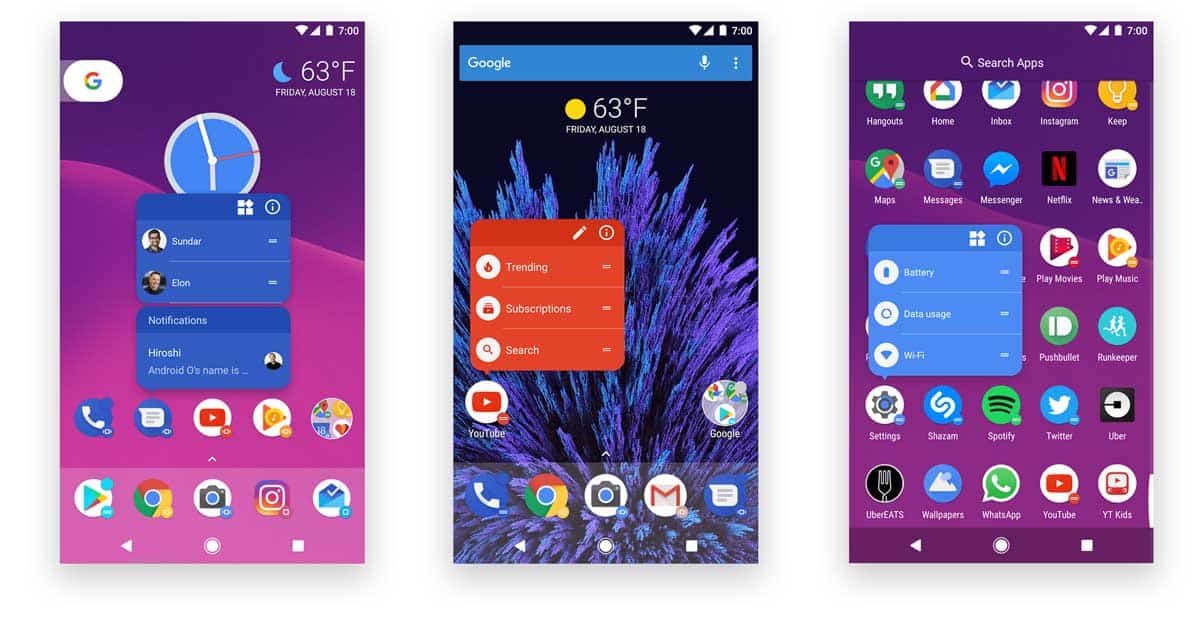 Action Launcher: Pixel Edition or otherwise known as the Action Launcher 3 has to be one of our favourites and is the most perfect Material designed Android launcher.
When it comes to user experience and app design, this bad boy is a clear winner. It is also the only launcher which has Quick Theme feature, meaning the application adapts and analyses the colors of your wallpapers and automatically customizes your homescreen layout based on that.
A few of the outstanding features include the adaptive app bar, Oreo-like app shortcuts, and the slide out app drawer with unique gestures like "covers" and "shutters" allow for quick access. This launcher allows you to customize its every piece.
It comes with some of the most unique features like Quick theme, Shutter & Covers. It's perfect for customization as well as performance. But this launcher comes with a price, the free version isn't that attractive.
Best launcher in terms of User experience and App design
5. Launcher iOS 14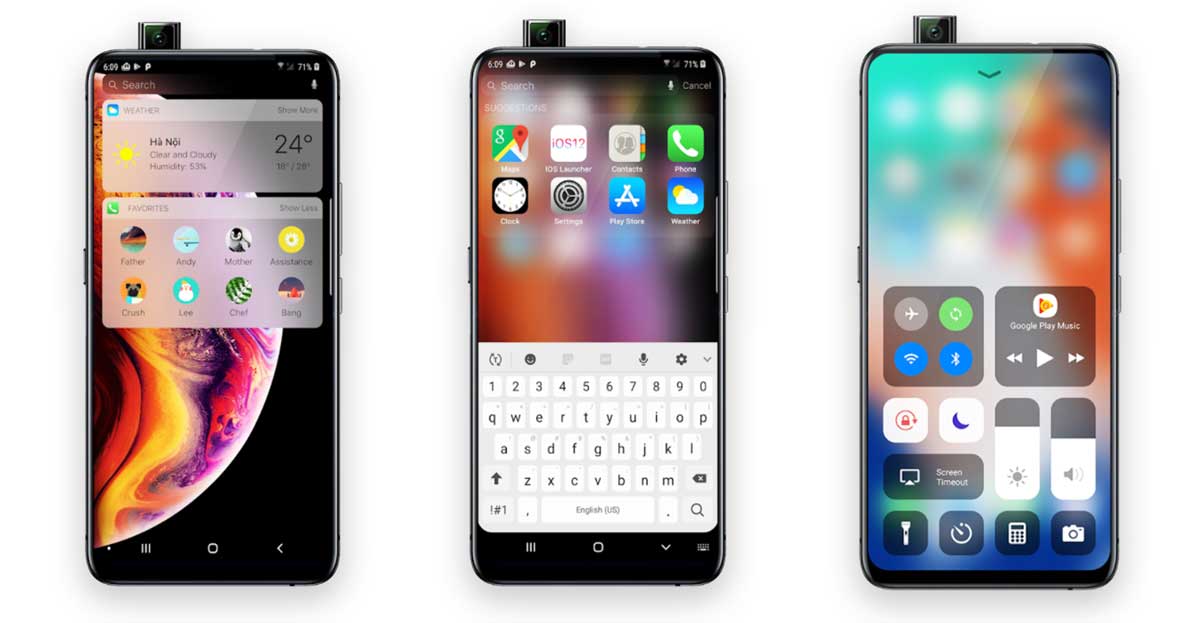 While all of us are happy with our android features, there is a significant proportion of android enthusiasts who sometimes get smitten by those smooth lines and rounded corners that iOS 14 offers, and owing to the creative community that android has, if we don't have something, we can easily make it for ourselves.
The Launcher iOS 14 does this quite effectively and opens your phone up to amazing new opportunities of customization.
Some of the features we loved are the 3D Touch just like iOS 14, the 2sec long press to uninstall or rearrange, and those catchy iOS widgets. While some of the users report issues like widget overlapping, sluggish system, and sporadic crashes, it still manages to deliver the much sought after iOS experience to the android users.
So, if you don't mind the occasional ads which help and support these talented developers, do give the Launcher iOS 14 a try.
A must try launcher to get the iOS experience on your Android device.

6. Microsoft Launcher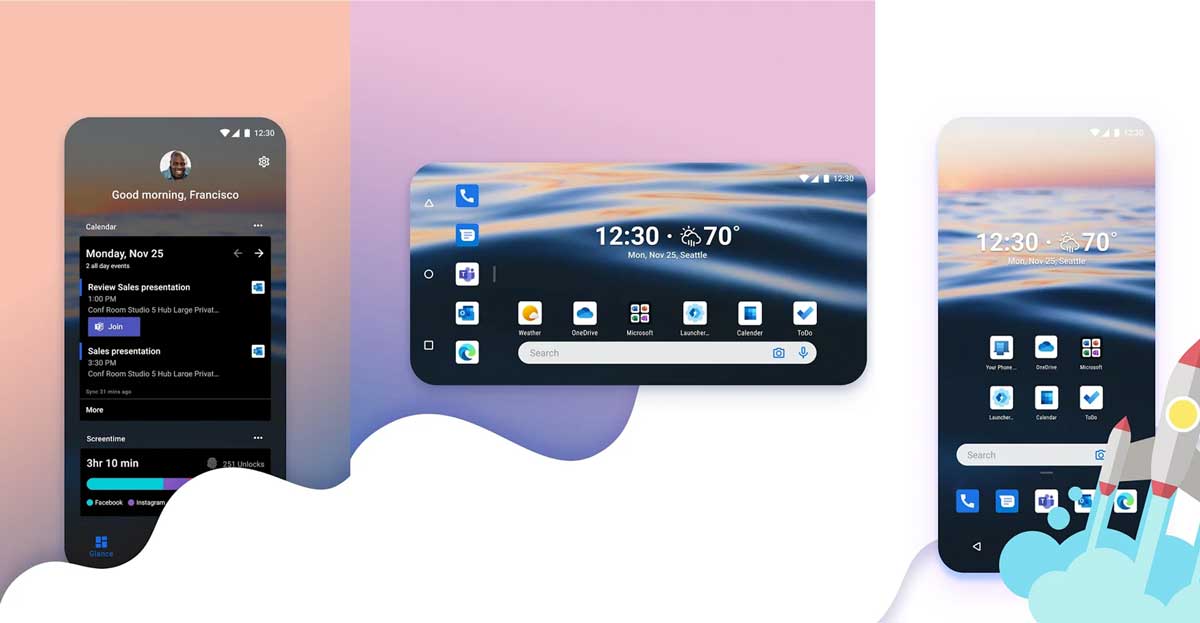 Microsoft Launcher (formerly known as Arrow Launcher) is another app launcher for android mobile platform and is extremely fast, lightweight, efficient and elegantly simplifies the android user experience.
It has a highly customizable feed which displays personalized information on the user's screen. There is a news feed, calendar events, to-do lists, and recent activity info, to name a few.
You can easily access app shortcuts by simply swiping up from the bottom screen. As the name suggests, the launcher is designed to integrate Microsoft's other android applications by employing the feature of "Continue on PC."
Microsoft Launcher boasts around 10 million downloads from Google Play, and while it is a bit complex compared to Smart Launcher 5 and the Niagara Launcher, it is still a great option especially for people relying on the Microsoft ecosystem for work, or personal use.
The best alternative to Google Now.
7. Niagara Launcher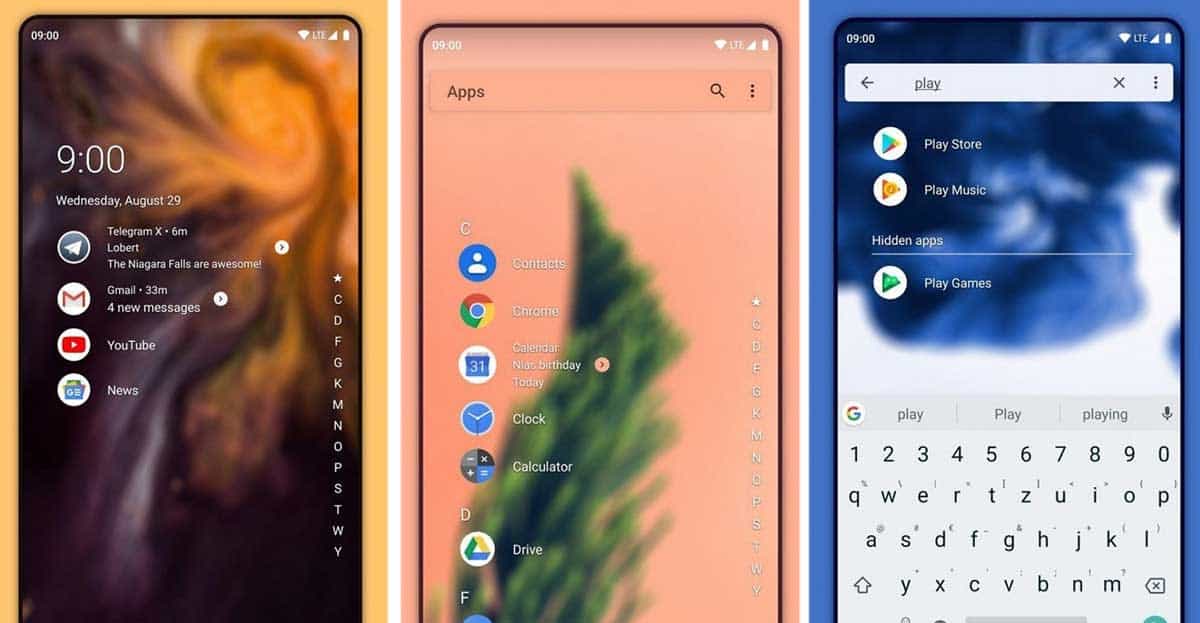 The main reason why people are allured by the Android OS is the ability to customize it based on personal preferences. One of the recent entrants in this market is the Niagra Launcher which offers minimalistic design and works surprisingly fast for low-end devices.
The enhanced notification dot feature allows you to read quick summaries of your notifications right on the home screen, and it also offers the basic icon support.
The features that fell in the "me likey" list are the super easy user interface, super smooth and fast functionality, and the fact that even as a minimalist launcher, Niagara still manages to offer learning abilities which help you sort out your favorites quickly.
While we look forward to the double-tap to lock feature in future updates, if you're looking for a quick and easy way to personalize your smartphone, this is the answer to your troubles.
A minimalistic launcher with sufficient customizations.

8. Lawnchair 2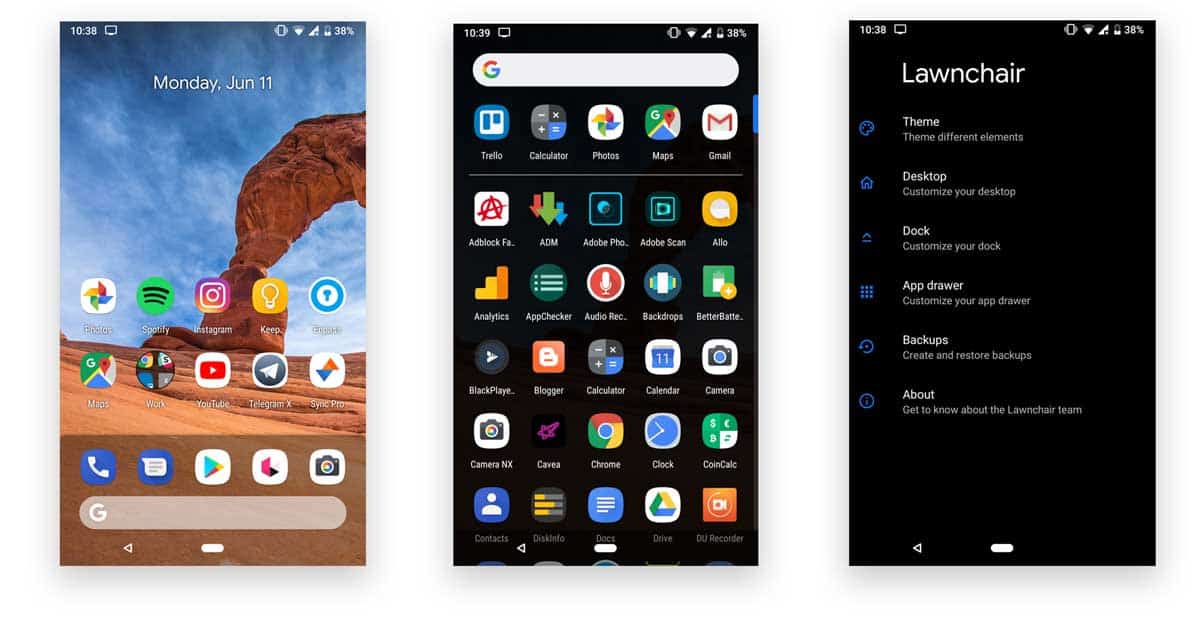 The Google Pixel employs the Pixel Launcher developed by Google and it's absolutely flawless except for that fact that it doesn't offer customization options for the home screen, app drawer and others.
This is where we should thank the developers of Lawnchair 2 as they perfected the Pixel for android users with automatic theming, edge-to-edge widgets, adjustable grids and icons, and to top it off they also included categorically assigned app drawers.
The second part was a long wait as it finally came out of Beta testing towards the end of 2019, but it was worth it. No doubt some areas still need to be focused on, like the fact that it doesn't offer users an option to import their settings for other launchers.
Also, it can be a bit frustrating to new users when only the testing community gets frequent updates and you're left out in the open waiting for those patches. Regardless, if you're looking to personalize your android to the Pixel look, this is the best option for you. Do check it out and let us know how it worked out for you.
Turn your android device to a fresh Pixel look with Lawnchair 2.
Also read: Download Rootless Pixel Launcher with Google Now for Android Devices
9. Evie Launcher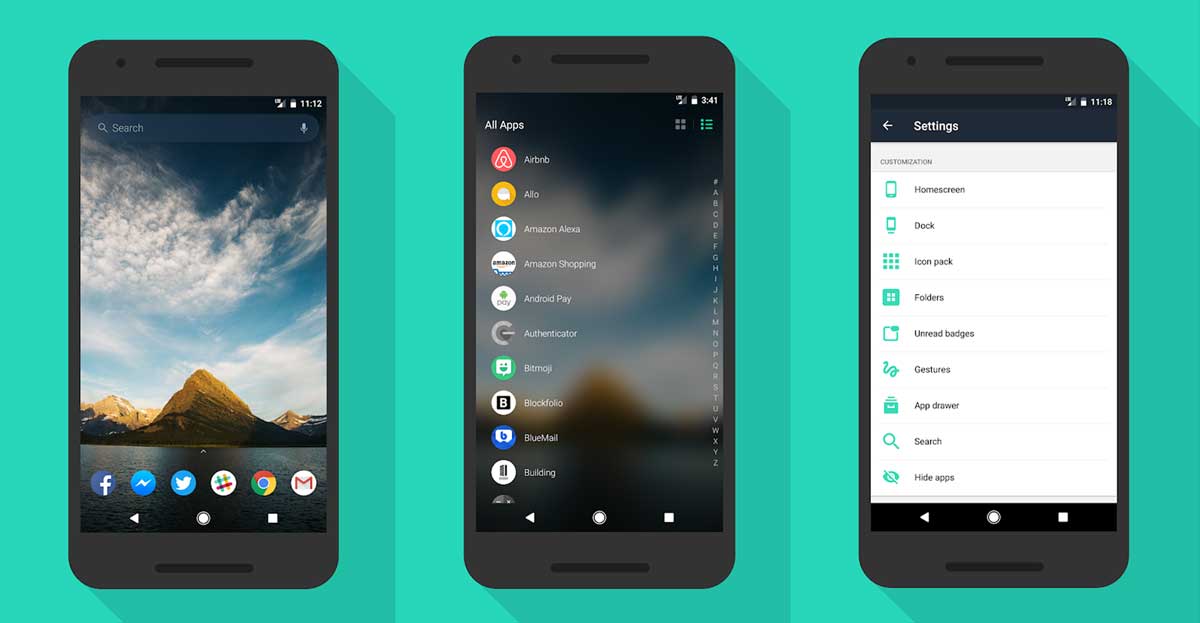 This is undoubtedly one of the smoothest launchers in the Google Play Store. Everything looks neat and attractive so that you won't get bored from it. Swipe up anywhere on the homescreen and find the App drawer. Everything is properly put together except the Search bar.
To put it simply, the Evie Launcher much like the Niagara launcher, focuses more on speed and keeping the OS as minimalistic as possible, and thus offers limited yet powerful customization options. It has the automation capabilities suitable for those not looking to get their hands too dirty, and it also offers in-depth options for the seasoned users.
While we don't have much to complain about, an option to replace the default search bar with Google search box would have made this a perfect and practical launcher. Overall, a smooth and quick launcher and recommended for the new entrants looking for a quick feel of the custom launcher world of Android smartphones.
One of the most cleanest and quickest launchers which offers Stock UI.
10. POCO Launcher 2.0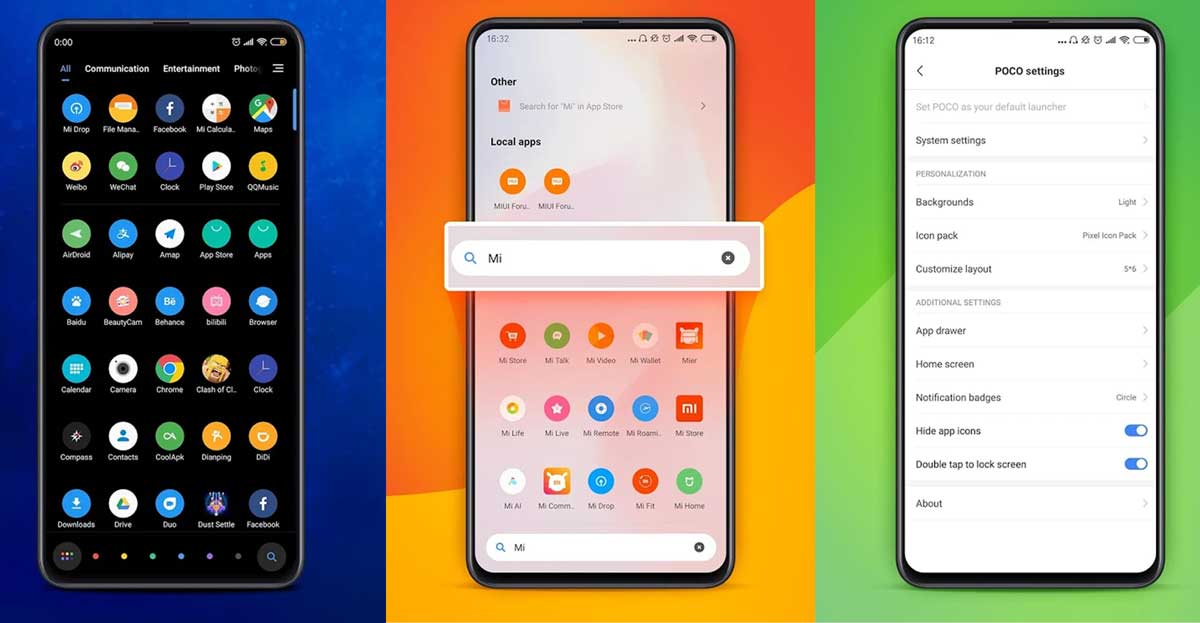 This one is especially for users residing in countries where the Xiaomi phones are not that popular. It is slightly distinct from the usual design of Xiaomi as it offers an automated app drawer with sorting capabilities.
A highly customizable home screen, icon packs, notification dots, and whatnot. It also has the dark mode support and unlike the Niagara Launcher, it allows users to lock their smartphones with a simple double-tap on the screen.
Just like any other phone from the Chinese manufacturer, POCO launcher also includes a RAM boost shortcut on the homescreen for users with gaming priorities.
While every software struggles with some bugs and glitches from time to time, POCO also has its own troubles to deal with. Nevertheless, we would recommend this one to users looking for the OG android experience and struggling with other launchers because of their relatively older smartphones.
With dark mode and double-tap to lock, its the best featureful launcher from the list.

Conclusion
Many of you might be confused about which one to go for among these 10 best Android Launchers. We suggest the Action launcher to start with, as it has a clean design but the free version isn't much of use.
Let us know if we missed out any Android launcher that you want to see in this list. Feel free to drop a comment down below if you want to discuss further.