Nova Launcher is one of our favourite custom Android launchers not just because it is so flexible but also due to the various features and customisation that are packed in by the TeslaCoil team. Now, once again the developers behind Nova are at the forefront of a breakthrough; Google Now integration. This was earlier considered an impossible task due to the restrictions Google had put in place but somehow the guys at TeslaCoil have managed to pull it off.
Till now only default system applications had the permission to bring up the Google Now pane. This was reflected when SONY integrated Now functions into its default Xperia Home launcher. This is impossible to replicate with third-party applications such as Nova Launcher because they cannot be moved to /system partition without root access. This locked out a majority of users who do not or cannot root their devices.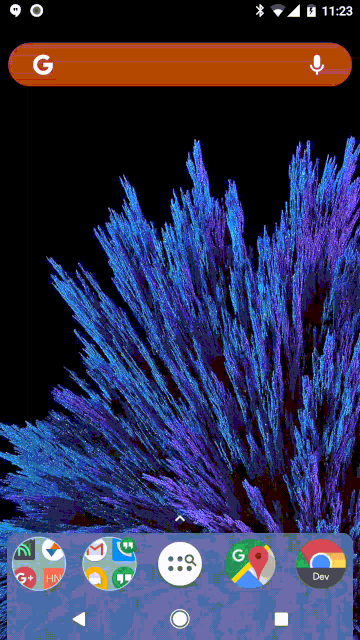 Hence, Nova Launcher is using a different approach to the whole scenario which was opened up by Google themselves. Google application's check was altered a few updates prior, the Google app now checks if the client app is debuggable and not itself. So third-party applications such as Nova Launcher can now utilise the API so long as the client is debuggable. So to subvert the nitty-gritty, the TeslaCoil developers went about creating a companion application aptly-named, 'Nova Google Companion' to fulfil this criteria.
The companion application fulfils Google applications necessity for the client to be debuggable but since it is debuggable, it itself cannot be published on the Play Store. So interested parties have to grab it via APK Mirror, here. Once the launcher detects the companion APK, the Now pane will be activated. This will work on any device which is running Android v.6.0.0, Marshmallow or higher.
Read More: The 10 new applications you must try this month, June 2017 edition
Currently you need to be running on Nova Launcher's latest BETA to enable this functionality along with having a device running on a Marshmallow or more recent flavour. To become a BETA tester for Nova Launcher, head here. Nova Launcher Prime is not a pre-requisite. Since the companion app is only running with the BETA branch of the launcher, it might be advisable to hold out till more fixes are out.
Follow us on our social media to keep up to date with the latest in the world of Android.