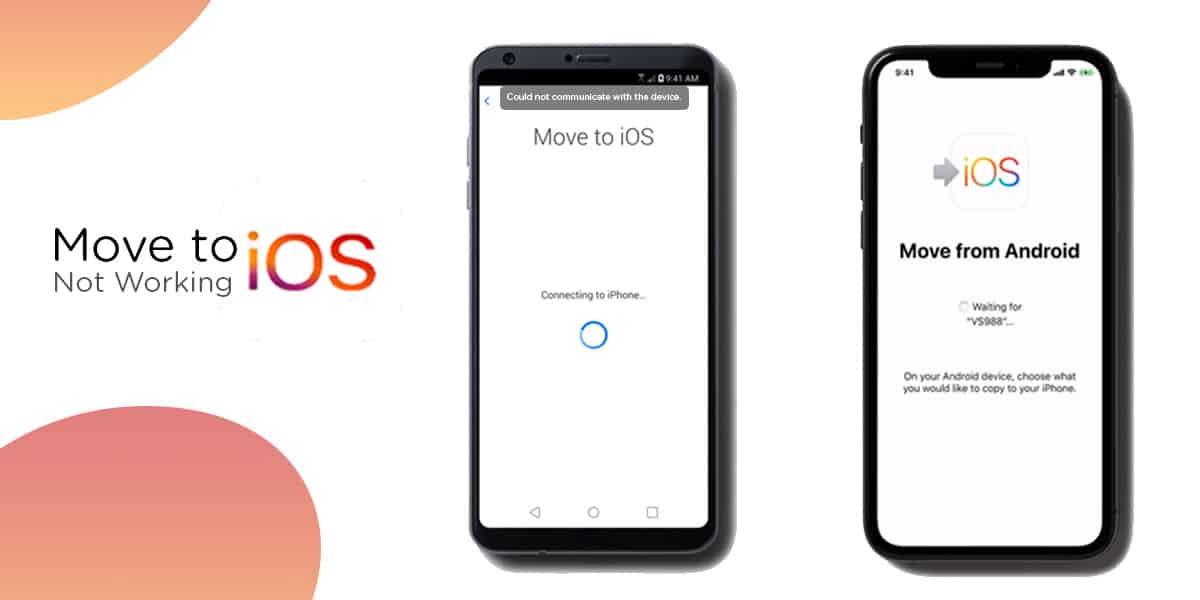 Apple is what it is because of the outstanding user-experience they provide to their customers. They always strive to make sure that every part of the customer journey leaves a mark on a user's mind. In a similar effort, Apple has developed an app called "Move to iOS" with the purpose of making it easier for people to move from Android to iOS.
This application is available on Google Play Store and helps you move important data like your contacts, messages, photos, videos etc. to your new Apple product.
Now, the developer team at Apple has done a fantastic job in designing the app, they also keep an eye out for bug reports, and the app does work perfectly fine most of the time, but some users do report issues with its functioning. We decided to test the bug out and also ran some search results.
As it turns out, most of the top results don't offer much help on this topic and the users are still wondering why Move to iOS won't connect. All things considered, we put together a detailed article which will provide you with a step-by-step guide as to how to get rid of this troubling issue and smoothly transition to your new iOS device.
5 Ways to Fix Move to iOS not connecting Issue
'Move to iOS' is a fine way of saving a lot of time and energy when you're making the switch. But, while it turns an exhausting manual task into an effortless automated one, users have been reporting sporadic occurrences of errors like
Move to iOS not working
Move to iOS unable to migrate
Move to iOS transfer interrupted
Move to iOS could not communicate with the device
Move to iOS no code
Move to iOS Stuck on transfer page
Move to iOS abrupt Wi-Fi drop
Let us take you through the following top 5 ways which could help you fix this issue.
1. Force Connect to the Wi-Fi created by the iOS device
Nowadays, Android devices include a feature called WiFi Optimizer which makes sure that the device is connected to the best network available. This means that your phone will switch connection if the network you are currently on is inactive, or it finds a faster alternate.
You see where we're going with this? Correct. Since the WiFi connection made by the iPhone is for data transfer and not internet, your android might be changing networks for access to the internet and that's probably what's causing you this issue. Let's see if disabling that feature comes in handy or not:
Go to Settings > WiFi & Internet.
Tap on Wi-Fi and select Wi-Fi preferences from the menu.
You should be able to see a feature called Smart Wi-Fi switcher / Intelligently select the best Wi-Fi in this menu.
Go ahead and turn this feature off.
If you are still facing "Move to iOS not working" issue & still not able to connect with your device, try the next method.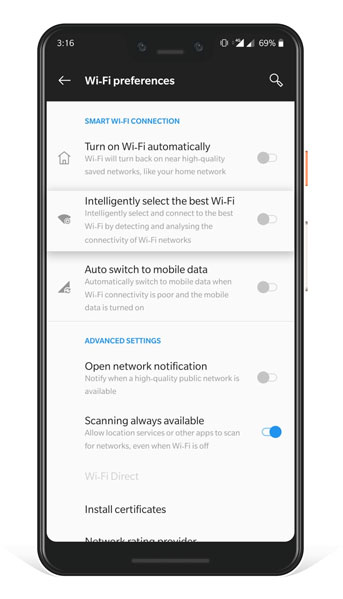 2. Turn off Mobile data
There is one more feature that could be the reason why Move to iOS is not working for you. Android phones have improved the connectivity experience by introducing a Connection Optimizer feature. In short, this feature helps your phone to automatically switch to mobile data when all Wi-Fi networks are of poor quality and the mobile data is turned on. This could definitely hinder the transfer process and return an error. Let's see how to turn it off:
Go to Settings > WiFi & internet.
Tap on Wi-Fi and click on the three dots on the top right corner of the menu.
Select Advanced, and turn off the Switch to Mobile Data
Relaunch the app & check if you are still facing "Move to iOS not working" issue.
NOTE: For OnePlus users, this feature is called Auto switch to mobile data, and you should be able to find it under Wi-Fi Preferences.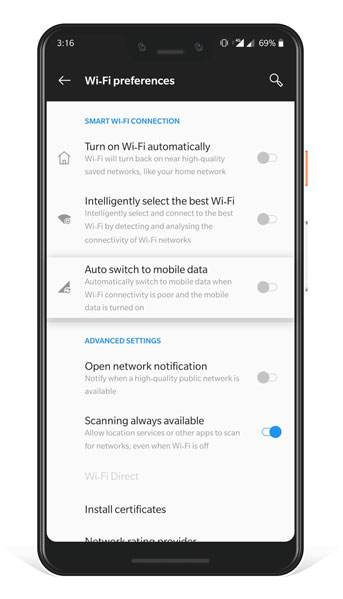 3. Turn On Airplane Mode
If the above features are misbehaving by any chance, you can try enabling the Airplane mode on both the devices so that this connectivity learning algorithm doesn't cause any unwanted problems.
For the iPhone, swipe up to open the Control Center menu, and click on the icon for Airplane mode to turn it on.
For Android, you can find the Airplane mode shortcut in the swipe down menu. Look for it and turn it on.
Once done, you can now enable Wi-Fi on both your devices while the Airplane mode is still on and establish a private network for data transfer.
4. Turn off Apps that affects your Wifi connection
Many users for whom Move to iOS was unable to migrate data, reported that when they tried switching off network hogging applications, it started working suitably. For doing this, identify the apps that have background running permissions granted to them and temporarily restrict them from trying to use the internet on your smartphone.
For Android, go to Settings > Wireless & networks
Select Data Usage and next, tap on Network access.
In this list, look for the respective apps and uncheck the Wi-Fi box next to them.
Once done, close the settings and restart your data transfer process from the beginning.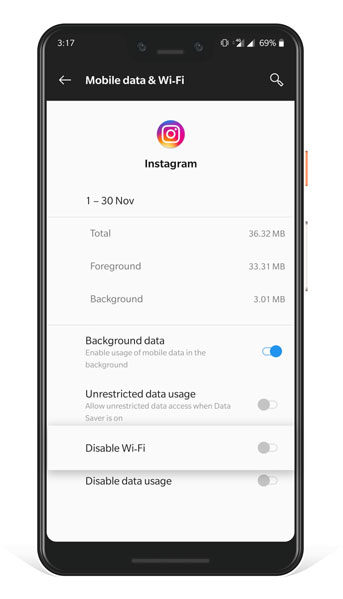 5. Restart both the devices
It seems a bit irrelevant, but a simple reboot does the trick most of the time as it gets rid of small bugs that tend to come up in a device which has been running on for extended periods of time.
For Android, simply press and hold down the Power button, and select Restart from the menu that pops up.
For iPhone users, hold the power button down and swipe the slider to turn off the device. Wait for a few seconds and then restart your phone.
Now. Go to the app and start the transfer process. If Move to iOS still won't connect to the other device, you might have to start looking for alternatives or start doing the process manually.
Conclusion
We sincerely hope that after reading the article and using these 5 steps, you were able to successfully resolve the "Move to iOS not working" issue. This app is a fantastic tool for transferring your precious data and memories from your old phone to the newer one, but if it still gives you those same errors, it would make sense to look for other options.
There are plenty of other competent options in the market which are capable enough to do the job. Let us know if you had to find other ways for this or one of our methods worked like a charm. Drop your thoughts in the comment section down below.