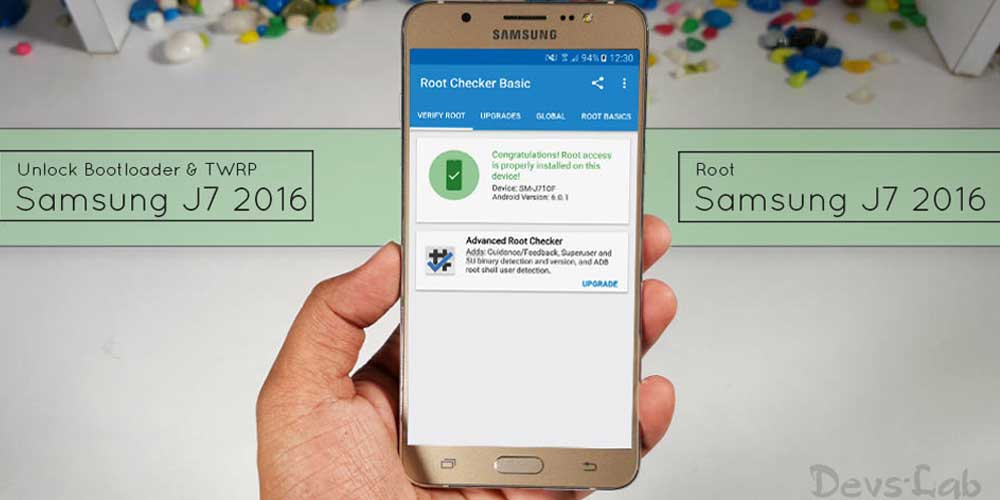 J-series smartphones are Samsung's best selling phones ever. It's already been a year since Samsung launched J7 2016 and Recent reports of Q2 2017 reveal that Samsung J7 2016 is still the fourth most selling Android smartphone. The popularity of one-year-old model reflects the trust, support, and quality of Samsung's offerings.
Samsung J7 2016 is powered by 5.5inch Display, Exynos 7870 Octa-core processor, 3GB Ram, Expandable storage and 3300 mAh battery. Rooting unlocks many hidden functionalities and gives a chance to tweak performance and battery life of your smartphone. If you are new to the world of rooting, head over to this page to know more about unlocking and rooting an Android device. If you are familiar with rooting, then continue with this article to know how to Unlock Bootloader, install TWRP and Root Samsung J7 2016.
Note: This guide should be followed only by users of Samsung J7 (2016 version only). So, Please confirm the model no: SM- J710F before proceeding with the steps mentioned below.
Pre-requisites:
Unlocking will erase everything present on the device. So please backup your data before proceeding with steps below.

Make sure to charge your device upto 60% to avoid any low battery issues during the process.
Enable developer options and OEM Unlock
To Enable OEM, Go to Settings > About Phone > Tap on Build Number 7 times until it says "You're now a Developer". Now return to Settings > Developer Options > Enable USB Debugging & OEM Unlock.
How to Root Samsung J7 (2016)
Unlock Bootloader: Unlocking bootloader is the first step to rooting and flashing custom ROMs. Bootloader is a code that tells your device's operating system how to boot up. In order to avoid any system modifications, manufacturers lock their firmware. Hence, to install any 3rd party files into your system, you need to unlock the bootloader. Samsung 's Exynos devices has a unique feature of flexible bootloader, so, for unlocking bootloader in such devices, you just need to enable OEM unlock. Bootloaders usually contain several ways to boot the OS kernel and also contain commands for debugging and/or modifying the kernel environment.
Flash TWRP: Stock recovery doesn't allow any installation of 3rd party zip files. In order to install any other zip which is not signed by the firmware manufacturer, we need to install TWRP Recovery. TWRP is a powerful tool that gives control over the phone without needing to boot into Android. It can be used to flash a ROM or use minor app mods, as well as to create and manage backups.
Flashing Supersu (Rooting): SuperSu is an app that grants you Administrator rights (called "root access") to run or install specific apps restricted by the Android Operating System for security concerns.
Flash TWRP on Samsung J7 (2016)
Step 1. Download and extract the Samsung Odin zip file. Also, make sure your PC has Samsung USB drivers installed.
Step 2. Power off your device and then Hold Power home and Volume up buttons to boot into download mode.
Step 3. Right click on the Odin.exe file and click "run as administrator" on your PC. Now connect your device using USB cable.
Step 4. You should see a box in left most section, lighting up blue, description on left saying Added.
Step 5. Select AP slot and then select the Downloaded tar file of TWRP file.
Step 6. Uncheck the Auto Reboot option in the top section and then start the flashing process.
Step 7. On successful completion, you must box lighting up in green.
Step 8. Now in TWRP ask you for allowing modification, You must swipe to allow changes or the OS will replace TWRP recovery once you reboot your device.
Step 9. Next, continue with the rooting process below.
How to Root Samsung J7 2016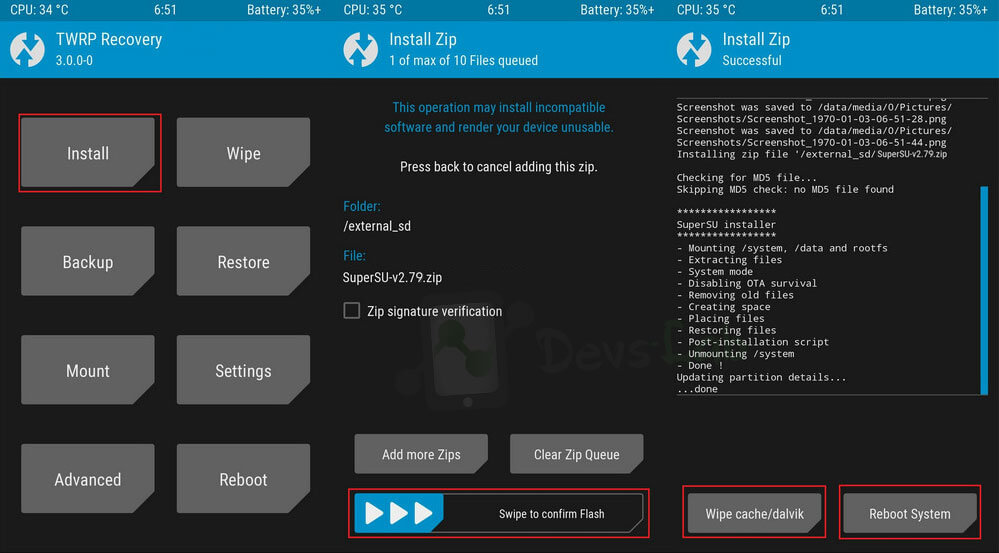 Step 1. Download and transfer the Supersu zip file to your device.
Step 2. Reboot into TWRP recovery by using key combinations(VOLUME UP + HOME + POWER), if you are already in TWRP then skip this step.
Step 3. In the main menu, tap on Install option and search for the Supersu zip file.
Step 4. Select the file and swipe to the right to start the flashing process.
Step 5. Wait for completion and then Wipe Dalvik/Cache.
Step 6. Next, remove your device from PC and Reboot by long pressing the power button. Alternatively, remove and reinsert the battery, then restart.
Step 7. Don't interrupt the boot process, give some time for the first boot.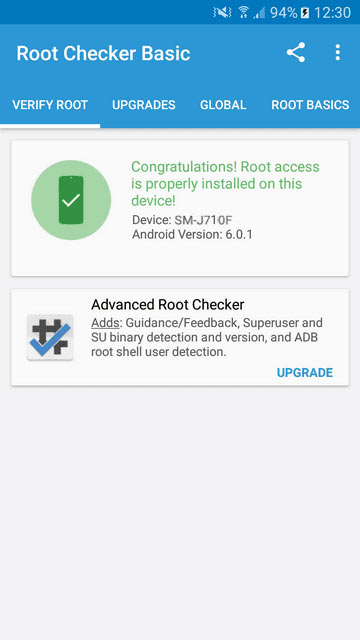 Frequently Asked Questions
1. What is Odin mode in Samsung phone?
The Odin mode on any Samsung device is a download mode that allows you to flash the device and install a new firmware for it.
2. Why do I need TWRP?
TWRP is a custom recovery that gives you full control of your device's inside. It can be used to flash custom ROMs as well as to root your device.
3. What is the purpose of bootloader?
Bootloader loads an operating system from the storage device. It sets up the minimal environment in which the OS can run. When the bootloader is locked in a device, it only boots its current OS whereas when it is unlocked, it also allows to load the custom operating systems.
4. Is rooting through SuperSu better than rooting through Magisk?
Both Magisk and SuperSu has its own advantages. Though the function provided by both are same i.e rooting a phone, the way in which root affects the device's system differs in both. SuperSu modifies the system partition and let's you deeper into the systems settings of the device, which may block certain apps on the device. Magisk modifies the boot partition by which, the modification overlays the original system settings which will allow all the apps to work properly.
5. What happens when I root my phone?
Rooting gives you a complete control over your phone. By rooting your phone, you can access and modify your device's software. It also allows you to alter your device's system settings. Along with this, your device's performance, speed and battery life is also improved by rooting your device.
6. Is rooting reversible?
Yes! If you do not like your rooted phone, you can anytime unroot your phone and use the original OS for your device. Although, when you unroot your Samsung phone, you will lose your Samsung OEM apps like Samsung Pay and Samsung Secure folder.
7. Can a rooted phone be hacked?
Any device connected to the internet can be hacked. Even when your phone is not rooted, it can be hacked by the attackers. ALthough, the phone without rooting is less vulnerable as compared to the rooted ones. In Samsung phones, there is a security installed by the manufacturers named Knox to secure phones from such hackers. When you root your phone, Knox is also removed from the phone. Rooted phones can get hacked only by either installing unauthorized apps or by spoofing into the network or by VNC.
Conclusion
That's it. If you followed every step correctly, your device should be rooted by now. You can check the root permissions by using any app requiring root/ Root checker apps. Also, visit our ten best apps for rooted devices to start tweaking your device.