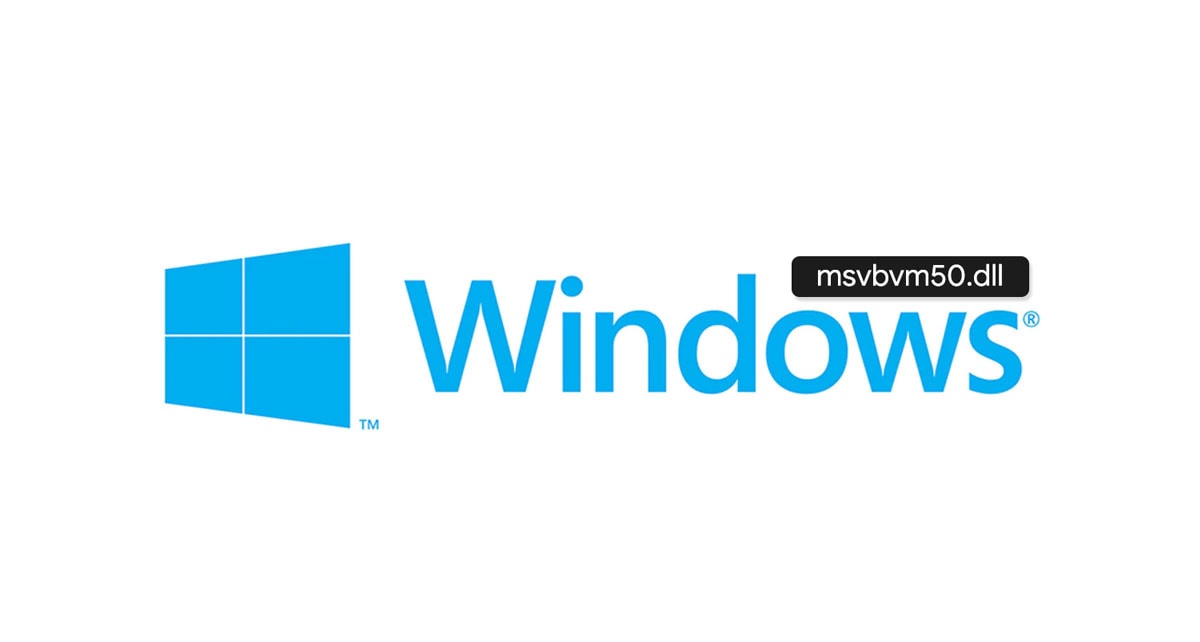 What is msvbvm50.dll
The msvbvm50.dll is a system file located in the C Drive within the System folder. It's a part of the Microsoft Visual Basic Virtual Machine, which is used to run native 32-bit visual basic applications on 64-bit machines. It's one the library associated with the VB Runtime and is a must-needed to run games and software designed with the help of Visual Basic 6.0
For Windows users, dealing with DLL errors is nothing new, rather it has become quite common. There are different types of errors, but today we will talk about msvbvm50.dll file missing error and the possible workarounds to potentially combat and troubleshoot the issue.
This article is a part of our Windows explanatory series which explains different process found in Windows like msvcp140.dll, CompatTelRunner.exe, ctfmon.exe, dllhost.exe and many more.
The msvbvm50.dll missing error can appear on your Windows screen, due to the deletion of the msvbvm50.dll file, or it has been not correctly installed or got corrupted. You can encounter msvbvm50.dll errors while installing particular programs or accessing some applications. It can even pop-up while performing Windows installation or during Windows boot and shutdown.
But there is no need to worry about it; here we got the working methods well explained in the following sections which you can employ to get rid of this problem.
What is the MSVBVM50.dll?
| | |
| --- | --- |
| File Name | msvbvm50.dll |
| File Size | 1.29MB |
| Description | Microsoft Visual Basic Virtual Machine library |
| Location | C:\Windows\System32 and C:\Windows\sysWOW64 |
| Is it a virus | No. But, It can be disguised as a virus |
| Can be disabled | Yes |
| Error Message | msvbvm50.dll is missing |
| Common Solution | Download msvbvm50.dll from Microsoft |
Before you get going with the fixes mentioned below, you should first understand what this error is all about and why you got it in the first place.
DLL (a file extension) stands for Dynamic Link Libraries and the reason why these files are important because it contains small programs and instructions for other applications to help them perform certain functions. Most of the Windows apps aren't complete on their own, thus tend to store codes in different DLL files across the memory by using them as a repository.
When your PC failed to recognize the concerned DLL file needed for the operation you're trying to execute, you could see the missing error on your screen stating the same.
The msvbvm50.dll is a system file located in the C Drive within the System folder. It's a part of the Microsoft Visual Basic Virtual Machine, which is used to run native 32-bit visual basic applications on 64-bit machines. It's one the library associated with the VB Runtime and is a must-needed to run games and software designed with the help of Visual Basic 6.0
Therefore, if the msvbvm50 DLL file gets damaged or ejected by any means, or your PC isn't able to track it, you will be required to repair it. Also, keep this in mind; the error may pop-up in numerous ways with not so identical wordings, so don't get confused with it because it is just referring to the missing msvbvm50.dll file and nothing else.
How to Fix "msvbvm50.dll is missing" Error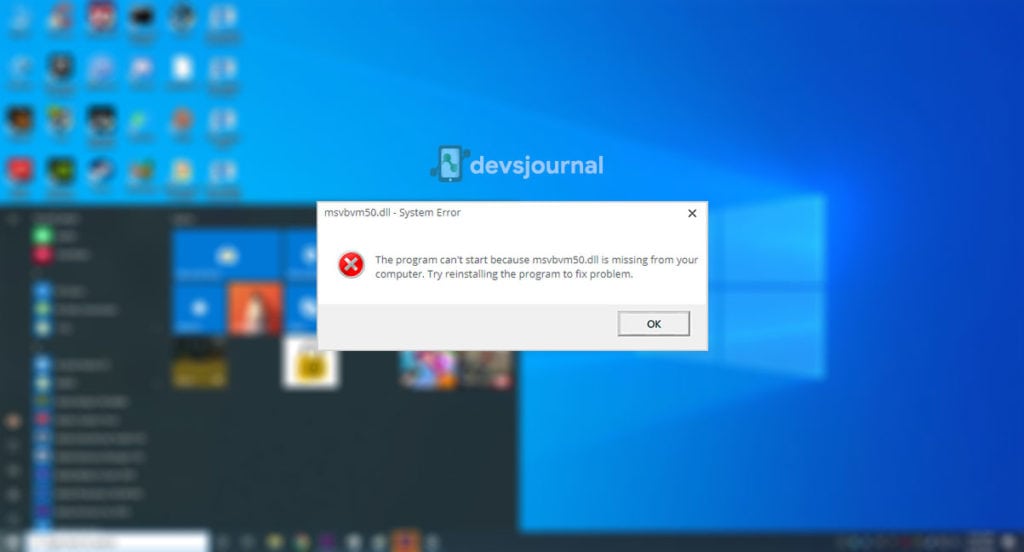 I must say before you get your hands dirty performing the advanced troubleshooting, try re-installing the application or program you're having trouble with due to the occurrence of the error. More often than not, doing this simple trick tends to fix the issue, saving you from the hassle.
Well, if you are getting the error while starting or shutting Windows, you must follow the methods given below. Because after all, if you have the msvbvm50.dll file missing on your computer, sooner or later, you're going to need it if you don't want it to limit you accessing specific programs.
NOTE: Don't even bother downloading the msvbvm50.dll in particular from the unknown/non-trusted "dll downloading kind-of websites," because this will cause more harm to your system rather fixing it.
1. Update the Windows
We guess it doesn't need any further explanation.
2. Restore from the Recycle Bin
It might sound like doing a "formality," but it's worth mentioning that you should once have a look at your Recycle bin if you are encountering the msvbvm50.dll file missing error right after deleting any program or file from your PC.
There could be a possibility that you've accidentally deleted the msvbvm50 file thinking it should be of no use while being unaware of your action. So, go and check it out, and luckily, if you find the file there, restore it without a second guess, and don't forget to thank us for letting you know this easy hack.
Well, we don't know if we are assuming too much, but if you are dead sure that you've deleted the msvbvm50 file, then even if you have to make use of any free Windows file recovery software to retrieve the data from the emptied Recycle Bin, do that.
3. Download msvbvm50.dll from Microsoft
Microsoft lets you download the msvbvm50.exe, which is a bundle of 11 different files containing 8 DLL's and, of course, incorporating the one you're looking for.
You can either run/install the program directly by double-tapping on it or extract the msvbvm50.dll using any Windows extracting software (WinRAR and 7-Zip) and then drag & drop it to the C:\Windows\System32 (for 32-bit system) or C:\Windows\SysWOW64 folder (for 64-bit systems)
However, if you run the downloaded .exe program, it would install the VB Runtime on your system that would automatically throw all the DLL files into their appropriate places in the System folder. Doing this would certainly fix your problem, but if it persists – which we don't think should happen – you can implement a few more methods given below.
4. Run System File Checker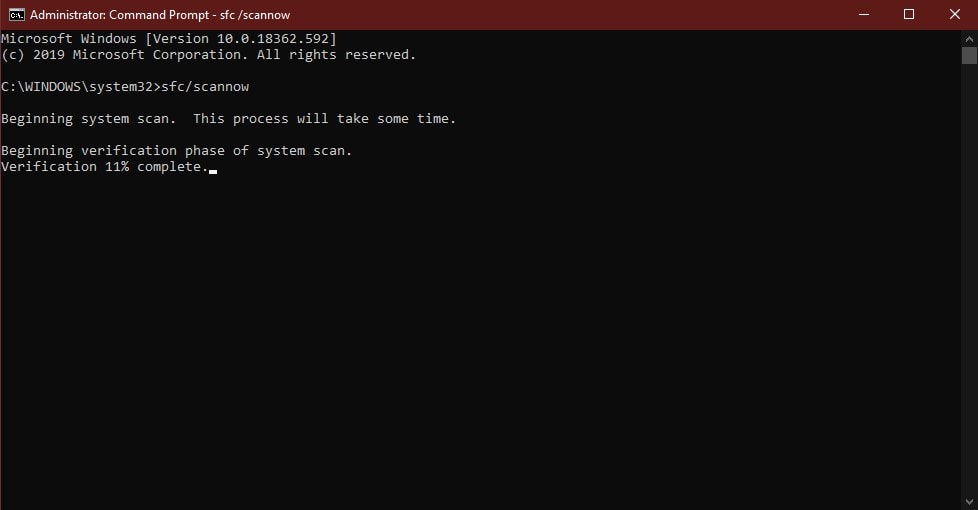 It's a handy feature in Windows that can be executed by sfc /scannow command using Command Prompt. This enables the System File Checker utility to scan all protected system files on your PC and replace/repair corrupted ones with a cached copy located in a compressed folder at %WinDir%\System32\dllcache.
How to do:
Using Windows Search bar, look for CMD and right-click on the Command Prompt app and select "Run as administrator."
Type-in sfc/scannow and press Enter.
It may take you a while to complete the process, and upon completion, don't forget to restart your PC before accessing the program that's causing you msvbvm50.dll file missing error.
5. Run a Malware Test
This is something you should do regularly, anyway. If you haven't performed a virus/malware test for a long, this serves as a reminder for you to do it now.
Apart from the general cases, it has been reported that many times msvbvm50.dll errors are caused due to the malware infection on the system. Malicious programs and files often infiltrate and damage DLL files and corrupt other system files if not kicked off soon.
6. Do a System Restore
It may or may not help you fix the issue, but if you suspect that you are facing the msvbvm50.dll missing error due to some of the recent changes you've made in your system configuration, then undo-ing it would undoubtedly help. Give it a shot; it may worth it.
7. Clean Installation of Windows
Lastly, as your last resort, perform a fresh Windows installation when everything else falls flat on the face. However, we don't think you would find yourself into the situation of doing this unless you haven't correctly followed the steps mentioned above with the utmost precision.
We hope this article has helped you get rid of the msvbvm50.dll file missing error. Let us know which method works for you, and if you have any queries unsolved, comment them down below.