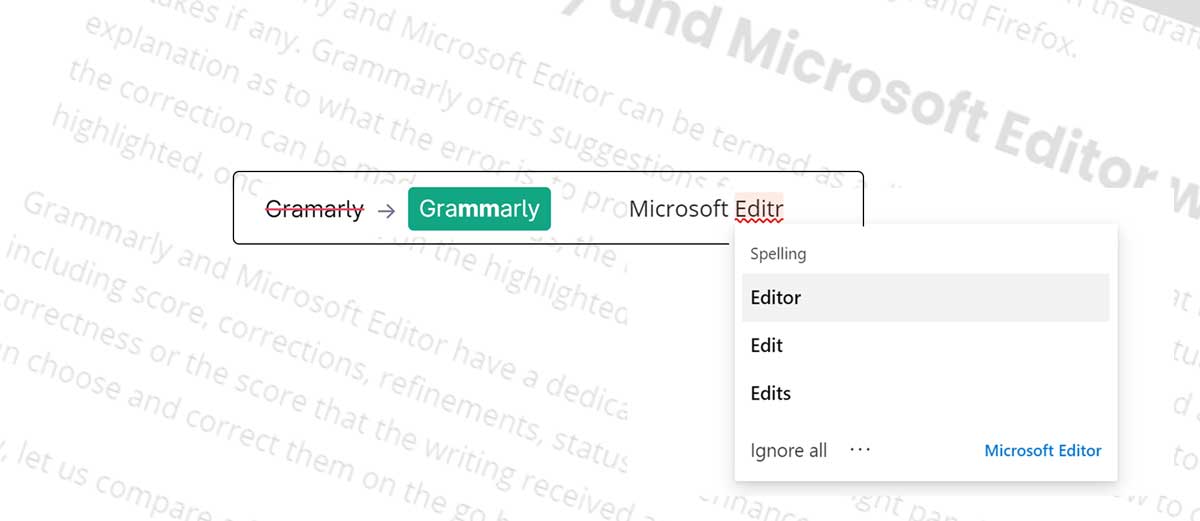 Both Grammarly and Microsoft Editor are Grammar assistant tools that can help clean up writing by checking Grammatical or usage errors in general. Very often, while putting Ideas into words, we end up sounding less likeable than what it was in our heads. Grammar assistants like Grammarly or Microsoft Editor can help users in coming up with better words and eliminating repetitive words thus making our writing cleaner and clearer. Here we have compiled a brief comparison on both the tools to understand the pros and cons of both and also to help choose which one to go with.
Microsoft Editor
Microsoft rebranded Office 365 to Microsoft 365, as the precursor to adding more products outside Office to the suite package with the subscription. One among the latest additions was Microsoft Editor which is conceptually a competitor to Grammarly that is well accepted.
Microsoft Word already had commendable grammar checks in place. Microsoft Editor starts where MS Word Grammar checker stops. It is enhanced with AI-based grammar checks so that it gets to work simultaneously as we type. Browser plugins for Google Chrome and Microsoft Edge are also in place for the Editor.
Also read: How to get Microsoft Office for Free
Grammarly
Grammarly is a trusted word in the world of writing for spell checks, grammatical errors and plagiarism. The most important feature which made Grammarly the trusted assistant was the real-time feedbacks which helped the writers clean up the writing on the go rather than waiting for them to finish the draft and check the grammar. Just like Editor, Grammarly also has browser plugins for Chrome, Edge and Firefox.
How Grammarly and Microsoft Editor works
Both Grammarly and Microsoft Editor can be termed as a digital proof-reader that helps assess ones writing and correct mistakes if any. Grammarly offers suggestions for structural, grammatical or punctuational errors with a brief explanation as to what the error is, to provide an insight into how the error occurred along with its suggestions on how the correction can be made. Whereas, the Microsoft Editor gives suggestions similar to that of MS Word. The error will be highlighted, once we click on the highlighted error, there will be suggestions on how to clear it.
Grammarly and Microsoft Editor have a dedicated area on the right panel to show the number of details scanned including score, corrections, refinements, status and enhancements. The number of errors and percentage of correctness or the score that the writing received as per the tool is displayed. In case of errors or warnings, the writer can choose and correct them on the go by choosing the best available option from the suggestions.
Now, let us compare a few features of both the tools.
Grammarly vs. Microsoft Editor


1. Grammar correction
While Microsoft Word spell checking facility offers grammar checks on click of a button, the real-time grammar correction came as a game-changer for writers. They could check and edit the writing on the go, instead of waiting for it to be finished and click the button to check it. Grammarly gained momentum because of this feature and cherry on top was that it was offered in free option as well.
Coming to Microsoft Editor, the real-time grammar corrector in the free version is at par with Grammarly's. Both Grammarly and MS Editor is backed by AI which assists the writer not just with grammatical errors, but punctuation and structural errors as well.
Instant reviews and feedbacks help the writers profoundly as these tools give the writers options and suggestions while pointing out the errors if any. The writers can then make the changes as suggested to remove the suggestion and clear the writing of any errors present. Microsoft editor also helps identify confusing phrases and offer suggestions that help the writing be cleaner in comparison.
2. Accuracy
Although none of the online grammar checking tools can boast 100% accuracy, Grammarly and Microsoft Editor scores fairly well when it comes to stability and accuracy. It catches spelling errors with ease and efficiently. Structural usage which can otherwise be overlooked will also be pointed out with suggestions so that the users can finetune their writing skills.
3. Ease of Access


Grammarly and Microsoft Editor have browser plugins and several in-app supports. There is an app named Grammarly Keyboard which is supported by Android and iOS platforms. Punctuation and typos are all detected by this app thereby giving a smooth user experience. The tool itself is fairly simple and doesn't require prior knowledge or training to get started with it.
4. Usability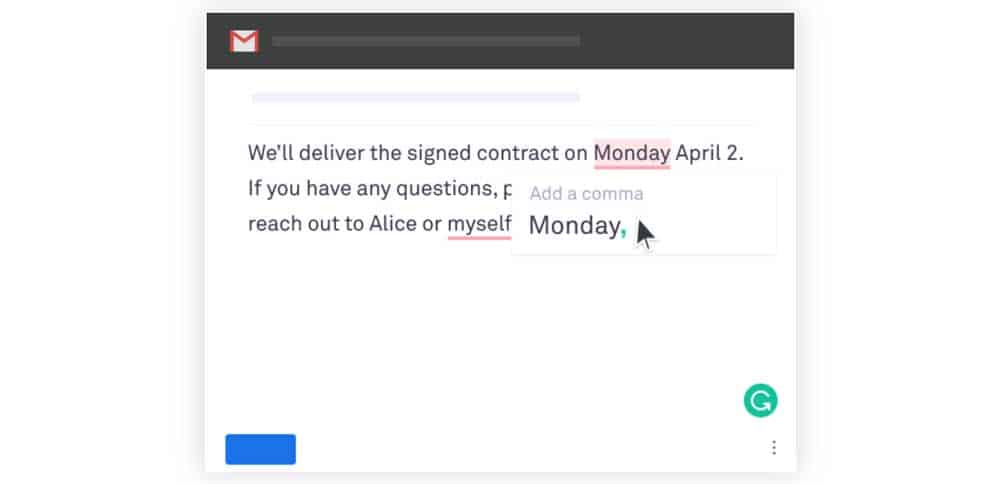 Grammarly web plugins are by far supported cross-platform and pretty reliable in that case, whereas MS Editor plugin is not supported till now in a few web pages like WordPress, Google Docs etc even with MS Editor paid subscribers. Microsoft Editor being a new tool and further support must be coming up as time goes by.
Grammarly on the other hand works perfectly regardless of it being a free or paid option. Grammarly interface is very user friendly which makes even a new user go ahead without having to spend a lot of time getting to know the interface. Once a user logs into Grammarly, they can access the document across various platforms or devices using Grammarly.
5. Customization
Grammarly lets you customize your own vocabulary and maintain a custom dictionary. Customization and the range it offers is without any doubt is one of the best features of using Grammarly. It also has an option to let the system know the intent of our writing, which can be – to inform, describe or story-telling. Once the intent is provided, we can define the target audience as General, Knowledgeable or Expert. Once the audience is set, the users can also set the tone of their writing. Whether it needs to be formal or informal, and that if it needs to appear as strong or mild.
Customization helps the writer to provide contents that suits the purpose thereby enhancing the content to suit the target audience.
6. Machine Learning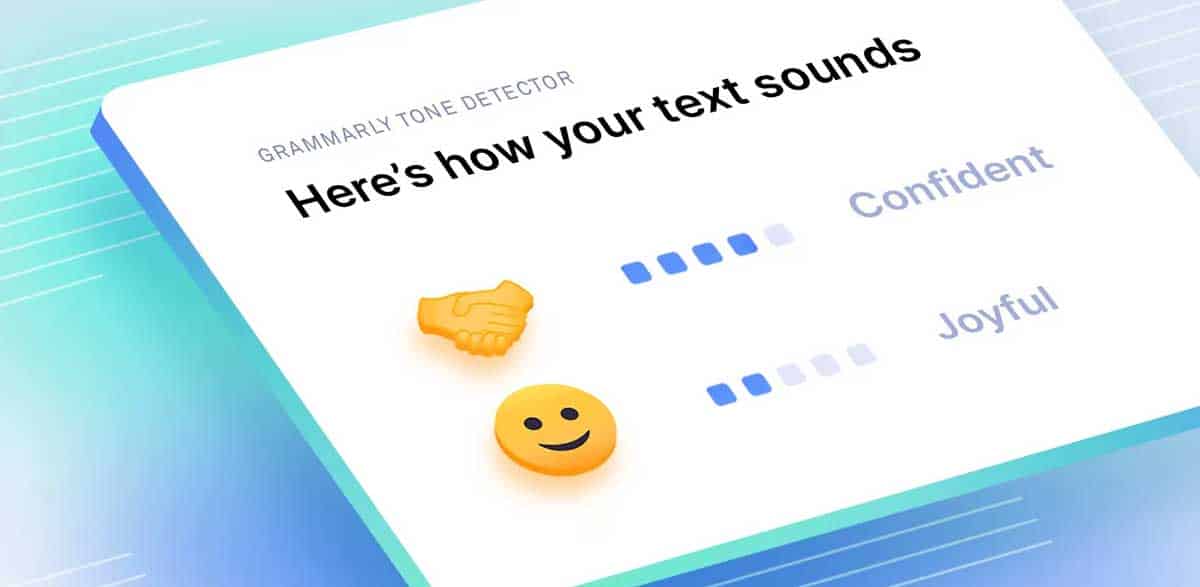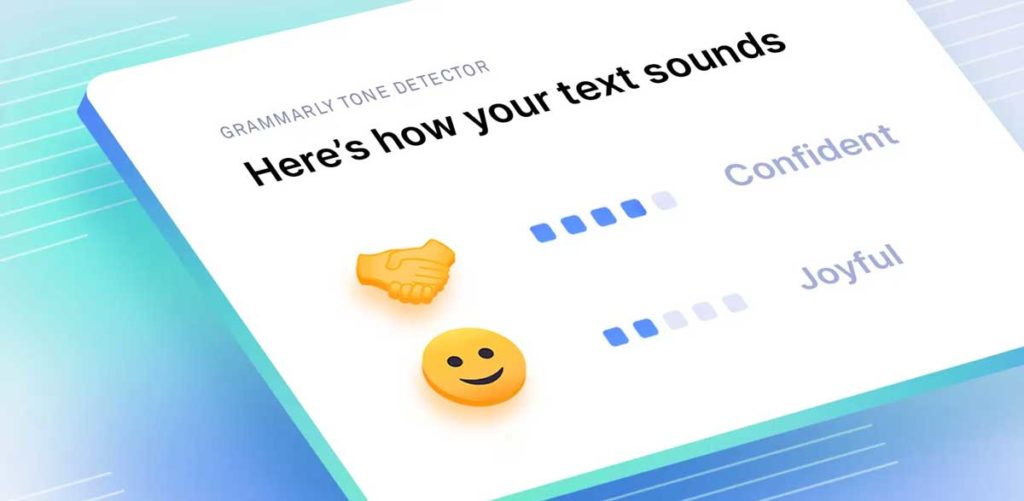 Microsoft Editor and Grammarly are backed with AI to provide real-time assistance in writing. Microsoft Editor assists with rewriting suggestions which helps the users in reworking on any particular sentence or a word by proving replacements from a context menu.
MS Editor can help come up with gender-neutral words or sentences as suggestions if it detects any offensive or sensitive usage of words in the writing. Thus, being said, Microsoft Editor is backed by the strong machine learning using the deep neural network which assists the user in finding appropriate terms and structurally appropriate sentences.
Grammarly AI uses Machine learning combined with a range of natural language processing feature. Natural Language processing is where the system is taught to understand human language so that it can perform useful tasks upon receiving instructions. The more people take assistance from Grammarly for writing, the system will process the data and enhance its vocabulary and learns itself to identify and correct mistakes in an even better manner. This is what Natural Language Processing is all about.
Conclusion: What to Choose?
MS Editor is more affordable as a paid subscription as Grammarly is quite pricey. For an average user aiming at having general services to be utilized, Microsoft Editor is a very good option as it comes with Office 365 subscription. For a serious dedicated user who would like to improve writing skills or is aiming at setting writing goals, Grammarly would be a better option though it comes at a price.
Grammarly tends to find more mistakes than MS Editor, but it might also include a few false positives. But it offers brief explanations of whatever mistakes were found by the engine. Microsoft Editor on the other hand tends to grab a lesser number of mistakes, but the number of false positives is closer to none. As it comes up with a lesser number of errors, it tends to be faster than Grammarly.
Free versions of both provide spell checker and grammar assistance, but Grammarly provides more features in free version in comparison with Editor. In the Premium version, Grammarly scores with the powerful tools and features that are offered. Microsoft editor can be termed a simpler and faster grammar assistant. Wherein when it comes to having writing feedbacks, Grammarly will be the best choice one can have.
It is clear that, under current circumstances, Grammarly has more features in comparison with Microsoft Editor and the best option for serious/professional writers.