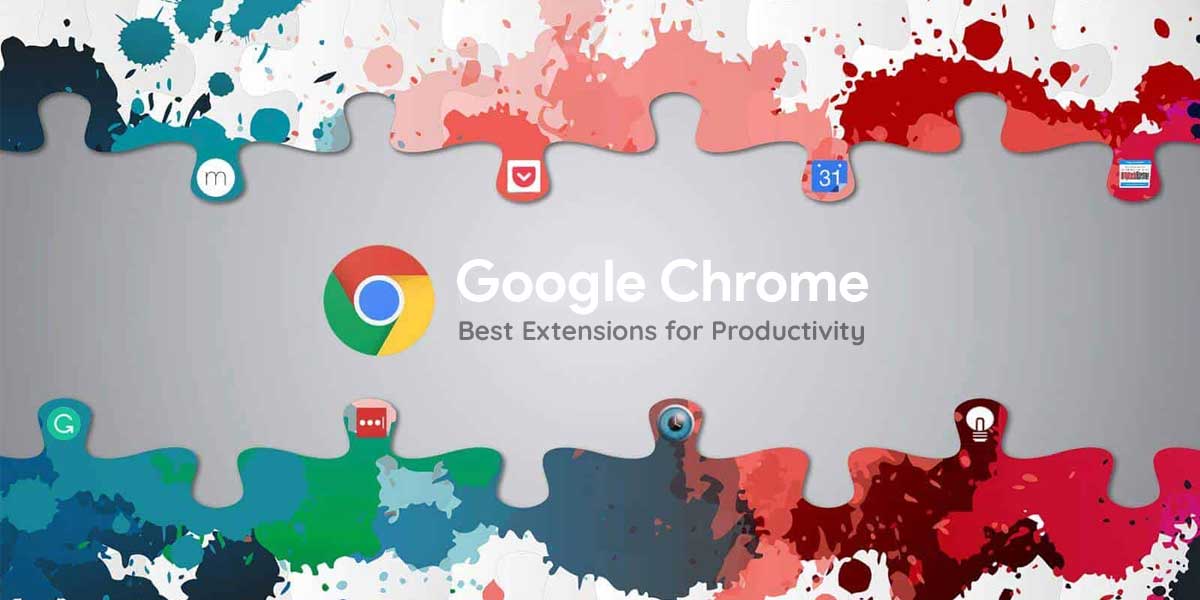 A thoughtful way to lighten up a dull browser is through extensions that can essentially boost the browser's overall functionality and enhance productivity. At times, you may have added numerous extensions to Google Chrome, such as Spotify, Grammarly, Google Input Tools, and various others, to make it convenient for you to perform tasks online. What makes these extensions unique is that Chrome's extensions come with minimal interference and can be disabled or removed anytime you feel a particular extension isn't required.
Meanwhile, the Chrome browser comes with several built-in features to satisfy even the most advanced web users. Web extensions are nothing but software programs primarily built on web technologies such as HTML, CSS, and JavaScript that enables a user to customize their overall Chrome Browsing experience.
For example, if you have added Grammarly as your Chrome extension, the app automatically takes effect every time you write or edit written content on the Internet.
There are various chrome productivity extensions to choose from. However, selecting a single extension for chrome from a pool of options is challenging. Therefore, here are our must have chrome extensions, that you can add to Google Chrome to enhance productivity.
15 Must Have Chrome Extensions for Productivity
As we mentioned above, there are numerous Chrome extensions to suffice the needs of even the most advanced web users. But selecting the correct extension from a wide range of options ain't easy. Therefore, here are our top picks for the 15 best extensions for Google Chrome that can significantly boost your productivity.
1. Todoist for Chrome
Todoist, short for a to-do list, is one of the widely used to-do list chrome extension on Google. With Todoist, you can add websites as tasks, blogs to your reading list, organize your daily tasks, complete tasks from the browser, and plan your day from start to end. Also, Todoist allows you to capture and organize your tasks the minute they come to your mind while simultaneously helping you keep track of the deadlines and due dates for a particular task. In addition, the app has over 60 integrations with different applications such as Google Drive, Dropbox, Zapier, Evernote, and so on.
2. Toggl Track: Productivity And Time Tracker
As the name suggests, this particular extension allows you to insert a timer into any web tool to keep track of the overall time taken for that task to be completed. Similarly, it provides the user with a productivity tracking meter that tracks all the data stored in the Toggl Account. With over 100+ integrations, the Toggl Track automatically comes into play every time you open apps such as Trello, Slack, Asana, Todoist, Jira, and many more such apps. Along with a time tracker and productivity meter, this extension provides other useful features such as idle detection and tracking reminder.
3. Save To Pocket
If you are tired of going through your Bookmarks to look for that one article you had saved months ago, we suggest you shift to Save To Pocket. This extension allows you to capture articles and videos on the video and save them instantly to the directory. And all it takes is one click to make all those captured articles and videos appear on your screen. With Save to Pocket, you can list relevant articles for all the content you save and add tags to order, sort, and find stories easily in your Pocket account.
4. Noisli
The Noisli Chrome Extension lets you focus on your work to the fullest by masking unnecessary sounds in the background while you study, work, or relax. Here, you can create or customize your own personal sound environment that fits in perfectly with your work/study routine. Similarly, you can have a soundtrack in place that will help you relax after a stressful day at work. At Noisli, you have quick access to your curated playlists. Meanwhile, you can also share your curated playlists and favorite sound combos with your friends and colleagues.
5. RescueTime
This particular extension helps you keep track of the time you spend on Google Chrome and tells you precisely what you were doing on Chrome the whole day. Similarly, this app helps you keep track of the time you spend on Chrome or in a single tab/window. This is a great feature to have an idea of what you do all day and keep track of your digital life. The app stops tracking automatically the minute you step away from your computer. Another intriguing feature this extension brings is that it categorizes the websites you visit on a scale of Very Productive to Very Distractive.
6. Mailtrack
Mailtrack is a free tracker for your Gmail account with over 2 million active users. This email tracking software adds checkmarks to your Gmail and tells you the exact moment when your emails were read. In addition, it also tells you the number of clicks and times a particular recipient opened your mail. Also, you can make intuitive checkmarks to your Gmail and read receipts in your inbox.
✓ This means that your email has been sent but not opened.
✓✓ Means that your email has been opened.
7. StayFocusd
This is a productivity-enhancing extension that limits the time you spend on time-wasting websites. Most of the time, we tend to waste valuable time on distracting websites that hamper our productivity. But with StayFocusd, you can automatically limit the time spent on distracting websites. You can block these distracting websites for a certain amount of time during the day. Once that set timer is up, these blocked websites will be automatically accessible to you once again.
8. LINER: Search Assistant And Web Highlighter
While the web is the best place for information, it can sometimes present you with results that don't satisfy your search. However, LINER helps you find reliable information faster, which makes it a must have extension for chrome. Along with information, this chrome productivity extension brings daily web highlights to you. Liner Basic is free to use and needs no credit card information whatsoever. The "Highlights Preview" gives you a quick and brief overview of the web page you are currently on. Similarly, you can manage all your highlights in one place.
9. Diigo Web Collector
Diigo is one of the best productivity chrome extensions that lets you capture, bookmark, archive, screenshot, and markup the important content on any particular web page. This web collector tool is one of the must have chrome extensions that let you bookmark links to your chosen webpages, attach highlights/stickers as a reminder, and share your webpages via Twitter and Facebook. Another key feature is that you can access this chrome extension via your iPhone, iPad, Android, Tablet, PC, and multiple other devices.
10. Timewarp
Timewarp is a chrome focus extension that acts as a reminder to help you complete your tasks and prevents you from procrastinating. At times, we might lose track of time while browsing our Facebook feed or mailbox. This is where Timewarp comes in and sets up small wormholes which remind you about the task at hand along with the deadline. Meanwhile, you can opt for three different wormholes that perform different functions. The Redirect wormhole takes you to the most productive site. The Quote wormhole pops up a highly motivating quote on your screen, whereas the Timer shows the total amount of time you've spent on a particular website on that day.
11. Google Keeps
As the name suggests, this is a to-do list chrome extension that lets you organize your thoughts and share them with your friends and colleagues. At Google Keeps, you can add notes and lists of things to do. Meanwhile, you can also record a voice message that this chrome focus extension will transcribe for you to access later. To make your search fast and efficient, you can even highlight the important things using color codes and labels. This to-do list chrome extension works perfectly on your iPhone, iPad, Android, PC, and more.
12. Grammarly
Every work-related email, report, or presentation works best if it has little to absolutely no grammatical errors. With Grammarly, you can make that happen and write error-free reports and emails. Grammarly is one of the must have Chrome extensions that automatically check the tone of your text and helps you eliminate errors for added efficiency. Grammarly has dozens of app integrations, and you receive real-time reports every time you write something on Twitter, Gmail, Linked In, Google Docs, and many other such applications/websites. While the basic version of Grammarly is free, you can always upgrade to Grammarly premium at a specific price.
13. Night Eye
Pulling an all-nighter is depressing as it is. However, this is why you need your overnight study and work sessions to be productive and minimally invasive on your eyes. Night Eye is one of the best Chrome extensions for productivity that enables dark mode on nearly every website. This way, this extension ensures that brightness doesn't take a toll on your eyes. This extension analyses each web page's colors and converts them to give you a smooth and consistent dark mode.
14. AdBlock
Constant and unnecessary ads are practically the worst thing to encounter after a slow and sloppy internet connection. At times, these ads can ruin a perfectly good video and completely spoil our mood. To counter this, the AdBlock is one of the must have extensions for Google Chrome. This adblocker helps improve your social media experience by blocking ad pop-ups, video promotions, and other such advertisements. With over 50 million users, Adblock is one of the best Chrome extensions for productivity. Apart from blocking advertisements, this extension automatically blocks malicious malware and scams.
15. Google Dictionary
Be it during a presentation or in a debate, it is always better to stay updated on our vocabulary. This chrome focus extension lets you easily view definitions while browsing the web. Double click on any word to check its definition on a small pop-up on your screen. Similarly, you can opt to check the whole meaning of a phrase and store words for later reading. Also, words in foreign languages are automatically translated into your chosen language.
The Bottom Line
Extensions are a great way of enhancing your browser's overall efficiency. Also, some chrome focus extensions aim explicitly to keep the user from wasting time on distracting websites and web pages. Mentioned above are some of the must have extensions for Chrome. When paired with your browser, these extensions can largely enhance your overall productivity by providing you with some of the most advanced features.