Google Pixel & Pixel XL are true Google smartphones that are some of the most anticipated smartphones of this year. While it took too long for Google to build a "true Google phone". The device packs some great hardware along with added Android features. However, the phone does come with Google bloatwares & offer minimal customization because of the Stock Android. Users have been searching ways to Root the Google Pixel & Pixel XL to gain root access to flash ROMs, Kernels & MODs.
Before jumping on to rooting Google Pixel, we must first unlock the bootloader on Verizon Google Pixel & Pixel XL. If you have bought your Pixel device from Verizon or any seller other than Google's official site, you can follow the below procedure. But if you are bought the device from Google's Official website, you can follow the procedure as mentioned here.
Prerequisites:
Enable USB Debugging in your device: Goto Settings > About Phone > Tap 7 times on build number. Now return to Settings app & you'll find "Developer options". In developer options, find "USB Debugging" & enable it.
Make sure your device is charged upto atleast 50% to avoid any shutdown during the entire unlocking process.
Backup all your Apps, contacts, messages, call logs etc as unlocking bootloader erases all your data. You can perform a wireless backup by saving your data directly in your PC by using FlashFire tool.
A Windows PC.
Required files:
dePixel8 bootloader unlocking Tool: Download
How to unlock Bootloader on Verizon Pixel and Pixel XL
Step 1. Download the dePixel8 tool and keep it in a different folder other than ADB folder.
Step 2. Connect your Pixel device to your Computer/Laptop and launch ADB (Refer).
Step 3. Check if everything is working fine by entering below command in ADB:
adb devices

Step 4. Close the ADB tool & now open a command window inside the dePixel8 folder by pressing Shift+Right Click and select "Open command window here" from the context menu.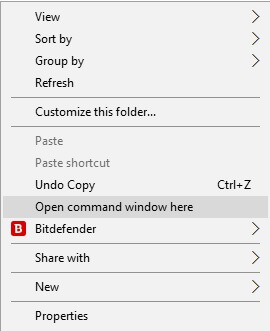 Step 5. Now enter the following command one by one in the command window
Command 1: adb push dePixel8 /data/local/tmp

Command 2: adb shell chmod 755 /data/local/tmp/dePixel8

Command 3: adb shell /data/local/tmp/dePixel8
Step 6. Wait for the phone to reboot to the bootloader. If it is not rebooting you can try to run various apps until it does, or you may have to reboot and start over.
Step 7. Issue the command "fastboot oem unlock", this will open up the unlock prompt and warning on the screen. You can now unlock. 

Step 8. Once bootloader is unlocked, your device will reboot into bootloader mode. You can boot into system by long pressing power button or entering below command in adb:
fastboot reboot
Step 9. During the rebooting process, your Google Pixel device will go through a factory reset.
Note:  If you get an error, about unlocking not being allowed, start all over.
Conclusion
Now that you're doing with unlocking bootloader on your Pixel device, you can start with Rooting Google Pixel and Pixel XL.
Rooting such an awesome device is actually not needed if you're a normal user. But who doesn't love experimenting with Tech! Make sure you think twice before unlocking the bootloader as it will void your device's warranty. If you have any questions regarding the procedure, you can ask us below.