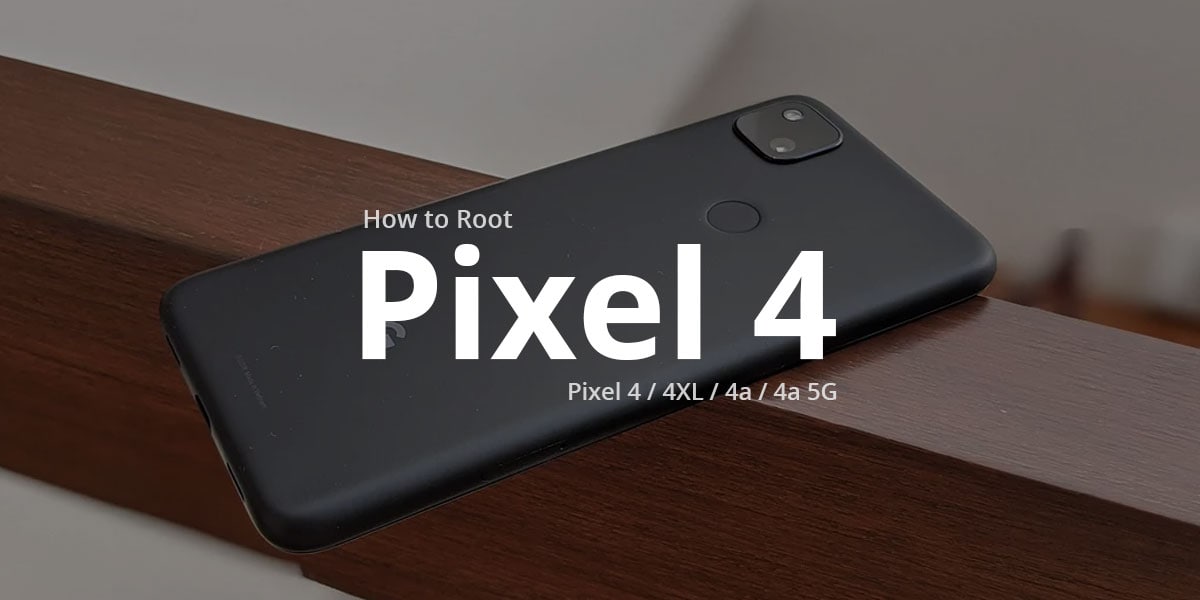 Every modern-day smartphone user knows the importance of having a good camera. In fact, many would agree to the fact that the camera is the first thing they look at when buying a new smartphone. And when it comes to decent cameras, Google's Pixel smartphones are one of the best in the business right now.
Irrespective of how good the phone already is, there are already mods popping up. And what better way to unlock all your phone's features but rooting. If you are looking to get your phone rooted, then using Magisk is the best way to get on with it. Secured by Google's Safety Net, Magisk is a popular Android feature that lets you root and install custom mods onto your phone.
It leaves your system partition untouched but modifies the boot partition as promised which is probably why they call it the systemless boot method. Magisk sports an effortless installation process and keeps all your components under a single bracket. In this article, we will walk you through how you can unlock bootloader, install TWRP & root pixel 4, 4 XL, 4a, and root pixel 4a 5G using Magisk. 
Rooting Google Pixel 4, 4 XL, 4a, and 4a 5G
Since Android is open-source, it allows you to navigate through all your device easily. Meanwhile, rooting your Android gives you access to all the phone's hidden features. When you root your pixel 4 using Magisk, you get additional access and further control over several features of your Android such as clock and cache. In addition, you can also use the root to get rid of unwanted software from your pixel 4 device.
When rooted, your device can run a firewall and get a security system in place. In simple words, rooting your Android helps you attain privileged control over various Android subsystems. Given that Android uses the Linux Kernel, rooting your Android will automatically give you admin permissions to Unix-like OS such as Free BSD or MACOS.
Prerequisites to root Pixel 4, 4 XL, 4a & 4a 5G
Before you root pixel 4, 4 XL, 4a, and 4a 5G, there are certain prerequisites that you need to fulfil. Here are the prerequisites for the same
Note: Ensure that you back up all important data before you root your phone. Note that rooting will affect your Pixel smartphones. DevsJournal is NOT responsible for any damage to your phone while rooting.
A Pixel 4, 4 XL, 4a, or a 4a 5G smartphone with 70% battery
Download the TWRP Custom Recovery:
1. Unlock Bootloader of Pixel 4, 4 XL, 4a, & 4a 5G
The first prerequisite to be matched is unlocking your Pixel 4 bootloader. An unlocked bootloader will allow you to flash custom recovery and custom ROM on your smartphone just like any other device. Before you unlock the pixel bootloader, there are a few things you will need to take care of before moving on. Here are the prerequisites to unlocking the bootloader
Open Settings on your Pixel 4, 4 XL, 4a, or 4a 5G
Go to About phone
Tap on the Build Number for 8 times rapidly
This will now enable Developer Options on your Pixel smartphone
The message "You are now a developer" will now appear on your screen

Return to Settings & Go to System
Open Developer Options
Now, find and enable OEM Unlocking & USB Debugging Mode on your Pixel smartphone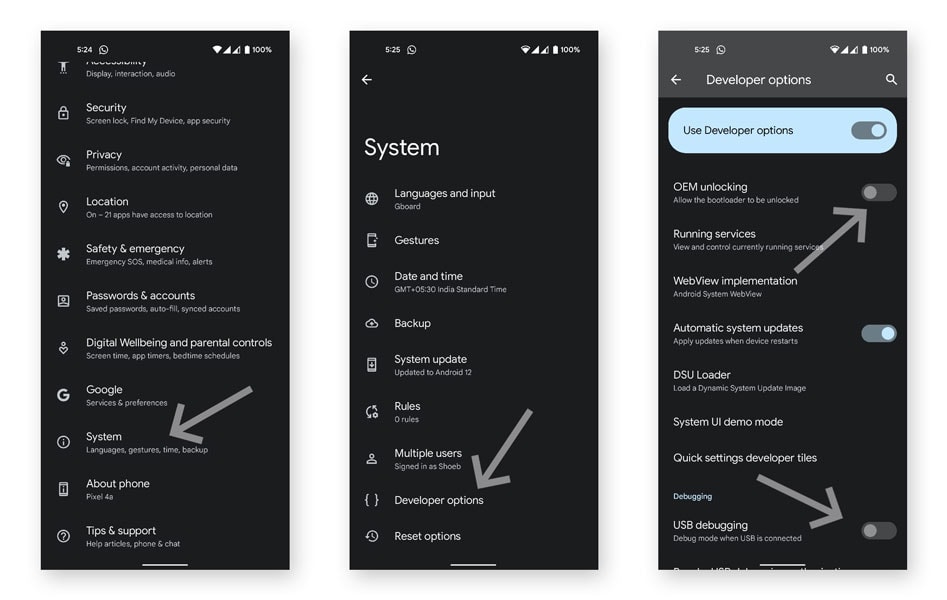 Once you have enabled everything, you can easily unlock your phone's bootloader.
Note that in order to unlock the bootloader on your pixel smartphones, you will need to download and install Fastboot Files onto your computer. Ensure that you know the location of where you have installed the files before proceeding.
Once you have enabled everything, it is time to unlock your Pixel bootloader using the given steps
Note: Unlocking the bootloader will automatically wipe out every last ounce of data on your system. So ensure that you back up all the important data at once.
Switch off your Pixel smartphone
Press and hold Volume Down and Power buttons simultaneously
You will now see the Fastboot Mode on your screen
Using the volume keys, navigate your way through and press the Power button to select Restart Bootloader
Connect your Pixel smartphone to your computer with the help of a USB cable
Locate the folder where you have installed the Fastboot Files
Type CMD in the address bar
Type the following command
fastboot flashing unlock 
Press Enter to start the unlocking process
Confirm the prompt on your screen using the Volume and power buttons
Now, type the following command in CMD and execute
fastboot reboot 
You have now successfully unlocked the bootloader of your Pixel 4/ 4 XL/ 4a/ 4a 5G smartphone.
2. Install TWRP on Pixel 4, 4 XL, 4a, & 4a 5G
Once the bootloader has been dealt with, it is time to install the custom recovery on your device. Installing TWRP (custom recovery) on your phone allows you to install Magisk on your Pixel 4, Pixel 4 XL, Pixel 4a, and pixel 4a 5G. As of now, TWRP is currently the finest custom recoveries available. You can install TWRP using the following steps
Using the steps given above, boot into bootloader mode on your Pixel smartphone
When the bootloader mode is enabled, connect your mobile to your PC using a USB cable
Ensure that you have downloaded the TWRP for your respective smartphone (Prerequisites)
Move all the downloaded TWRP files into the Fastboot folder
Rename the TWRP file as twrp. img
Now, Open cmd in the Fastboot folder
Type in the following command
fastboot boot twrp.img
Your smartphone will now enter the custom recovery TWRP mode that will allow you to install different files on your phone
3. Root Pixel 4, 4 XL, 4a, & 4a 5G using Magisk
There are a tons of custom rooting software available in the market. However, choosing the right one is always tough. But as we mentioned earlier in the article, Magisk is currently the leading rooting software that is used widely. Follow the given steps to root pixel 4, 4 XL, 4a, and pixel 4a 5G
Download the Magisk Installer
Now, using the steps mentioned above, boot your device into the bootloader
Head over to the Install Menu
Locate and open Magisk File to confirm the installation
Once the installation is finished, reboot your Pixel smartphone.
Conclusion
Rooting your smartphone gives you access to better privileges and further control over your smartphone. In simple words, rooting your phone unlocks several customisation features and gives you access to every inch of your device. Ensure that you backup all your important data before you root Pixel 4 device.