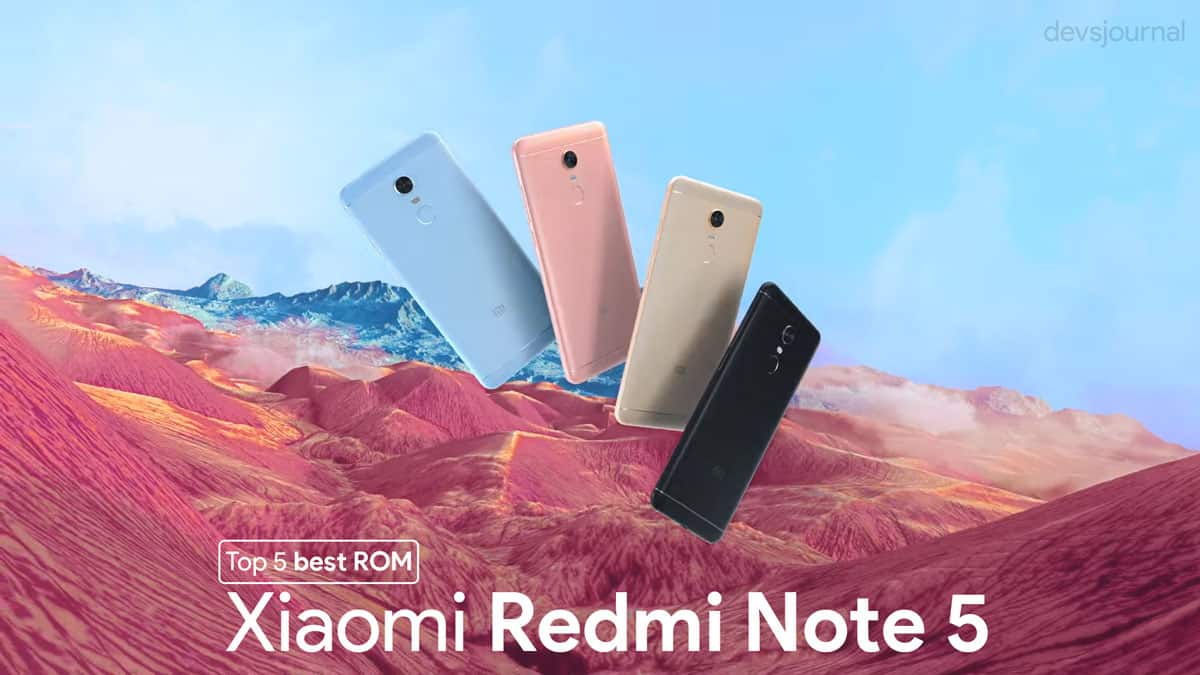 Mi has recently launched Redmi Note 5 or Redmi 5 Plus which is the successor to it's vaguely popular predecessor Redmi Note 4. The Redmi Note 5 features a 5.99-inch display with round edge. The device is available in Black, Gold, Rose Gold, and Lake Blue color with a matte finish metal unibody. The Redmi Note 5 comes under the budget smartphone segment. It is also one of the only budget smartphones which comes with the bezel-less display. The device also offers a 12 MP camera which can capture sharp and crisp shots.
Overall the device offers plenty of features, however, if you want to extend the list of features and customize the device to suit yourself, you can try using the best custom ROM. To install a custom ROM, you will first need to root your device. Rooting is basically giving yourself superuser access, which allows you to make administrator level changes to your device.
After rooting, you can either install a feature-rich custom ROM or you can flash kernels and mods to customize your device. You can overclock your CPU to make it run on its full potential. You can remove annoying bloatware and free up space. Once you have rooted your device, the possibilities are never-ending.
[toc]
What is a custom ROM?
Android is open-source. That means anyone can edit the code, recompile it and release it for a variety of devices. A custom ROM has many changes as compared to the stock ROM. You will find extra customization options as well as better battery optimization and consumption. Some Roms are more focused on device performance.
There are tons of Roms available out there which offer different features. However, it is very hard to pick out a ROM for your daily needs. This article features a list of best Roms for Redmi Note 5 so that you don't have to scour the internet searching for best roms.
Why use Custom ROMs?
A custom ROM provides much better battery optimization and device performance as compared to the stock ROM. Also, the customization options are endless. You can customize every nook and corner of your ROM. Mostly, people use Custom Roms to improve device performance. With time, your devices start to slow down. Installing a custom ROM which focuses on device performance might speed up your device as well as provide you with additional features.
Prerequisites for installing a Custom ROM.
Before I move on to introduce you to the Custom Roms, please make sure that you meet the following prerequisites first.
You will need a Redmi Note 5 smartphone.
You need to make sure that your device is rooted and a custom recovery like TWRP is installed.
Backup all your data and device's stock ROM.
Lastly, make sure your device has more than 70% battery left.
Note:  This post is meant for educational purposes only. The author or Devs Journal is not responsible for any bricked devices and damaged SD cards.
Now that you have met all the prerequisites let's move on the list of ROMs which I have compiled and which I think will be ideal for your daily use.
Top 5 best ROMs for Redmi Note 5 / 5 Plus
#1. Xiaomi.EU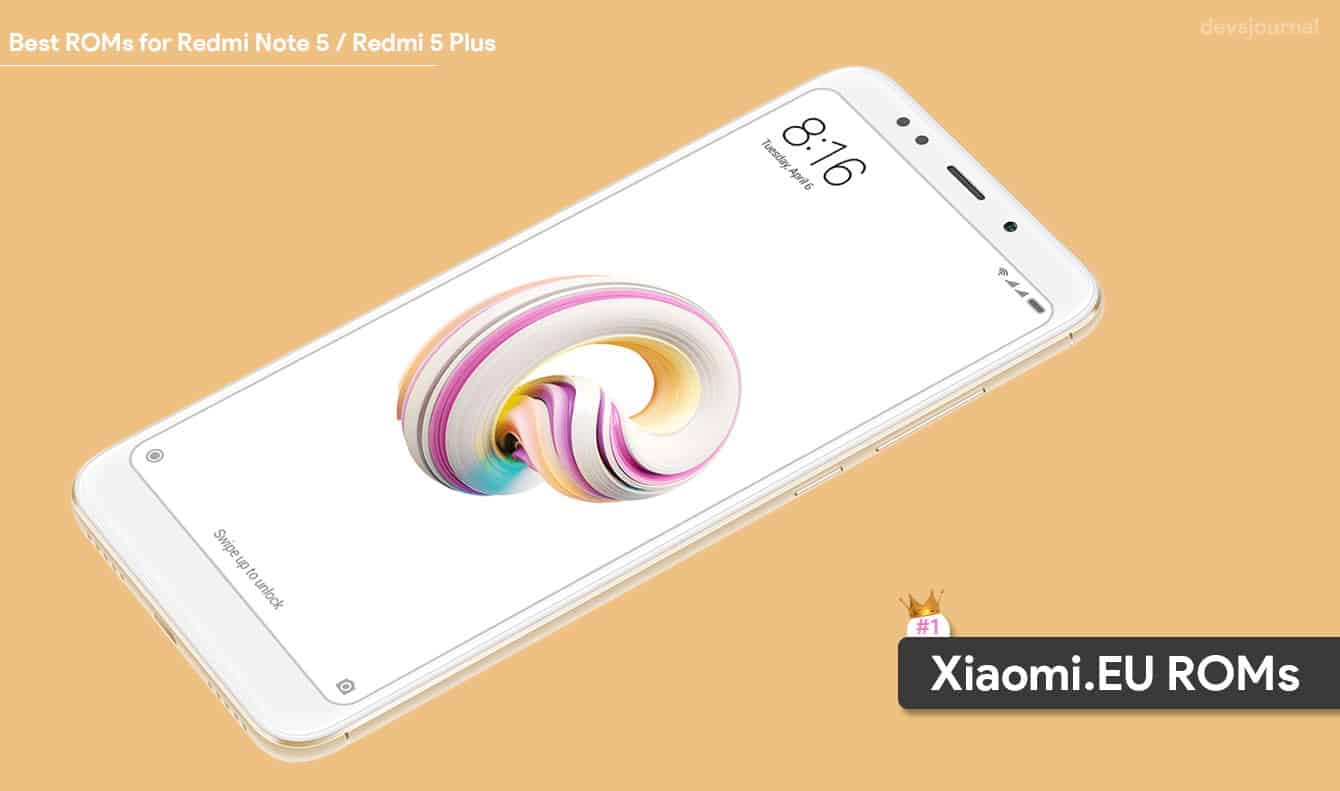 Xiaomi.EU ROM comes packed with some amazing features and offers a ton of customization features. Xiaomi.EU is relatively more faster than other ROMs. It has a clean design which looks pretty stunning. You can find the search gesture enabled in this ROM. The menus have been re-worked. Now you get colored icons next to the menu options and not just text as seen in the stock ROM.
All bloatware apps like Mi Video, Mi Radio, Mi Music, and Mi browser are removed. The camera is also tweaked. You get sharper and stable photographs in low-light conditions as well. The ROM also enables the support of 4K Videos. The ROM is optimized to save more RAM by reducing the number of background processes.
#2. LineageOS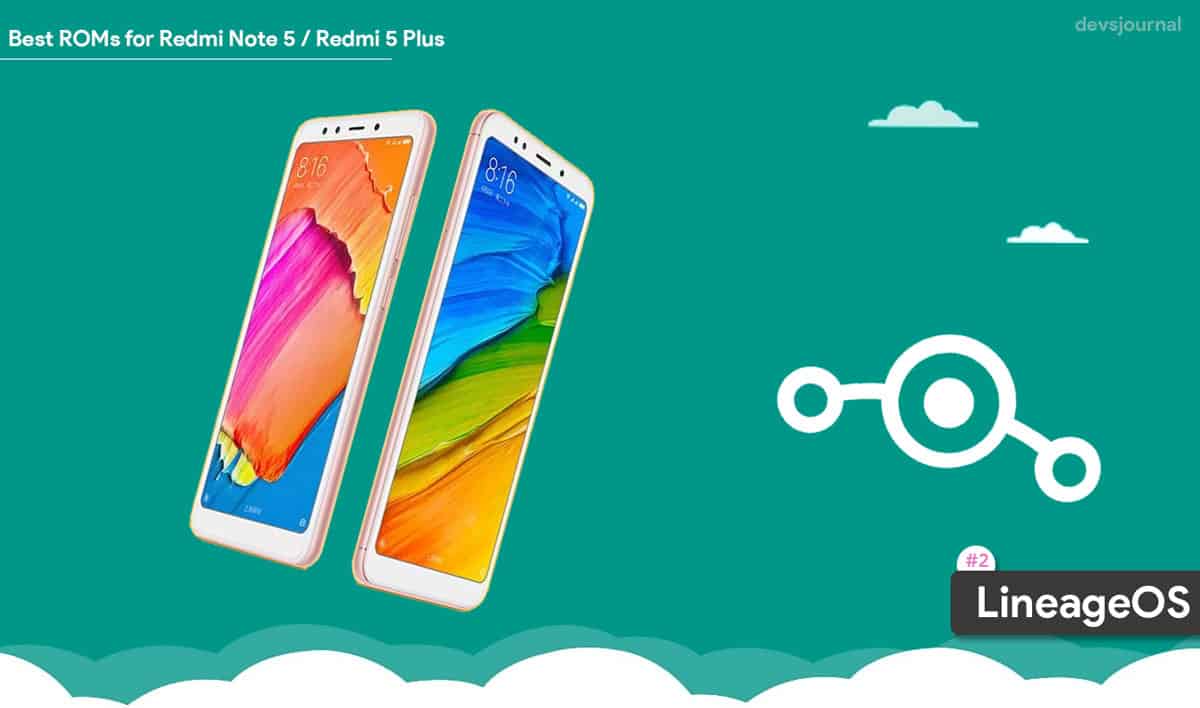 LineageOS was previously known as Cyanogenmod. LineageOS is a very stable ROM and that is the reason for its huge popularity. The ROM is packed with incredible new features and features the latest version of Android Oreo. It has a clean and sleek user-interface.
If your device is running slow, or if you are experiencing lag you can try installing LineageOS ROM. The ROM is specifically designed to increase performance and functionality as compared to the stock ROM. It is not the stable version, you might experience some bugs. The ROM is updated on a weekly basis through OTA updates, so if you are experiencing a bug, you should report it to the developer and there's a good chance that the bug might be fixed in the next update. You can also check out the official thread for any queries and support.
To know more about LineageOS ROM and to get a full list of features, you can read out this comprehensive guide.
#3. AOSPExtended ROM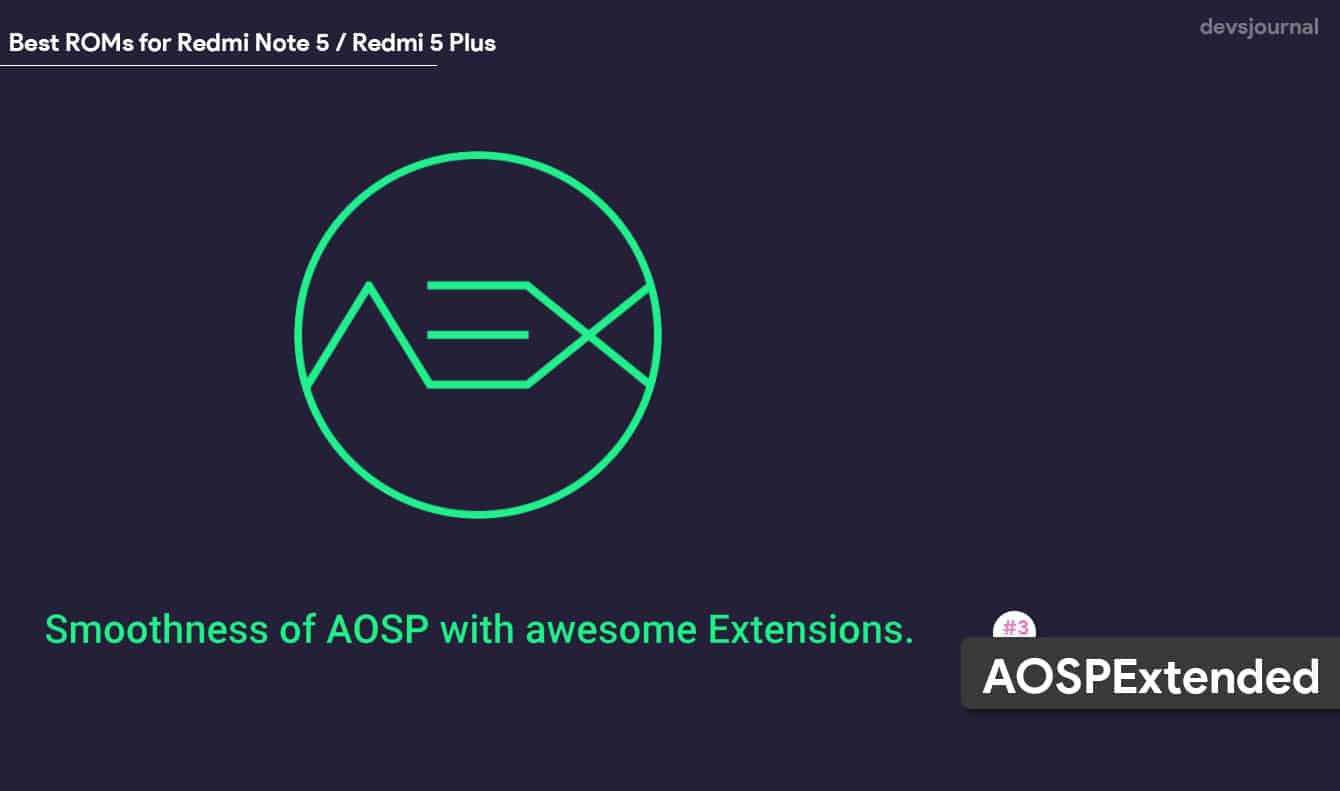 AospExtended is an AOSP based ROM which provides stock user-interface and various customization features along with Substratum theme engine. The ROM is based on Android version 7.1. The user-experience is quite similar but you can experience faster loading and responsiveness on the AospExtended ROM.
You can also contribute to the development of this ROM by joining their official Google+ community here and their official Telegram group chat here.
The ROM is updated on a monthly basis whenever a new build is ready. The monthly updates come with the latest security patches and new features. If you are facing any bugs, report it to the developer on the official thread and it would be resolved in the next update.
#4. Resurrection Remix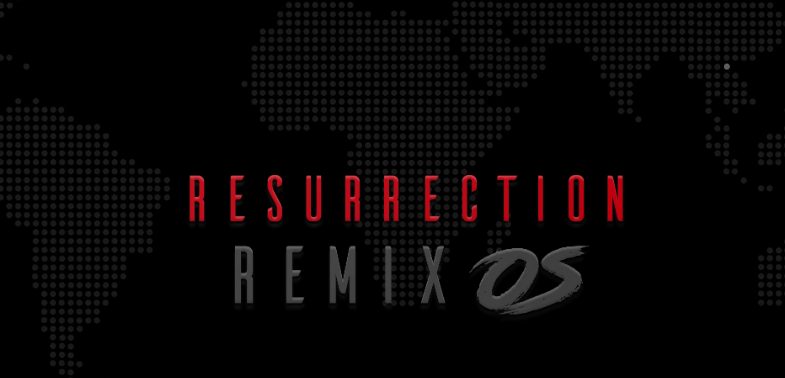 The Resurrection Remix ROM features the latest version of Android i.e, Oreo. The Resurrection Remix ROM is originally based on CM and AOSP ROM builds. This makes the ROM a perfect combination that provides functionality, customization, and performance. The ROM is also optimized for battery performance. It brings a whole set of new features with every new update every month.
A stable build has been released. However, you can also try the newer builds. The ROM does not have a lot of bugs and the newer builds receive frequent updates as compared to the stable builds. If you need a superior user-interface, plenty of customization options, and better device and battery performance then you should definitely try this ROM.
#5. crDroid v4.2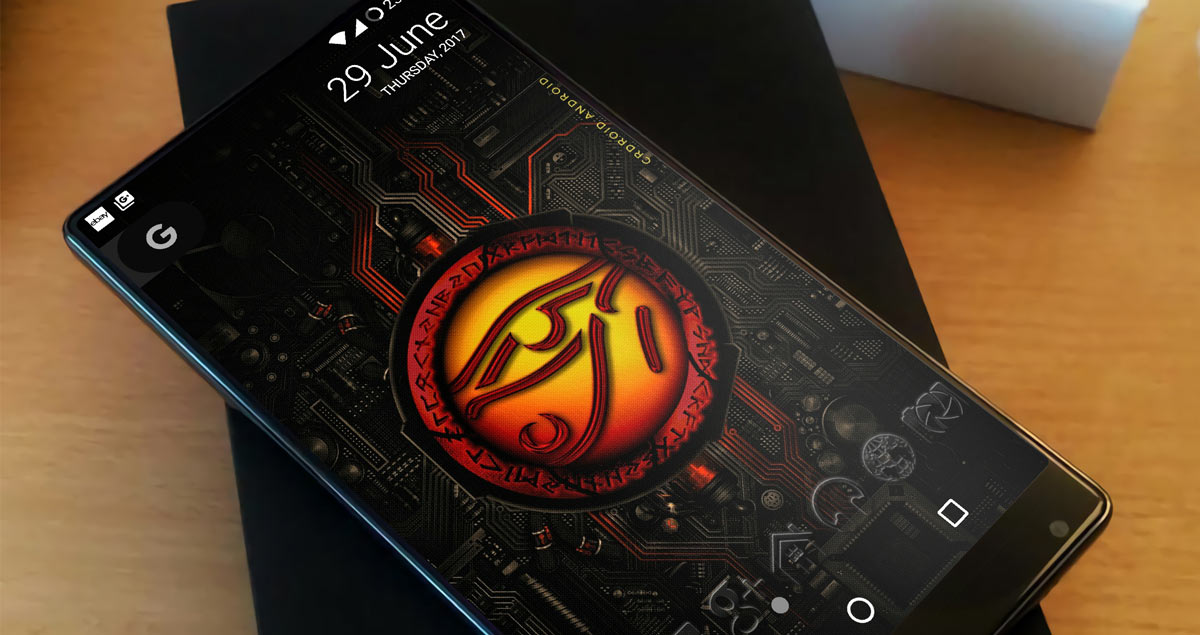 The crDroid ROM mainly focuses on performance. If you need to have an amazingly fast device, then you should definitely check out this ROM. The ROM is based on LineageOS, so it uses the custom kernels compatible with LOS. The ROM features Android 8.1.0 Oreo. The ROM provides a clean and fresh Pixel look. There are tons of features packed in the ROM, you can check out the list of features here.
The stable version of the ROM is released and it is frequently updated with security patches and fixes. The OTA updates can be downloaded directly through the settings menu. Currently, a stable version of the ROM is released with the latest features. You can try it out on your device or check out the nightly builds which have some beta experimental features.
If you want the ROM for daily use, it is preferred that you use the stable version.
These are the best ROM's for the Redmi Note 5. Before flashing any ROM, please make sure that you backup all your important data and files. Flashing a ROM will erase all data on your device. If you have any more doubts or queries regarding flashing and ROMs feel free to discuss them in the comments section below. I will try my best to solve your query as soon as possible. In the meantime, you can also check the official XDA threads to get your query solved.