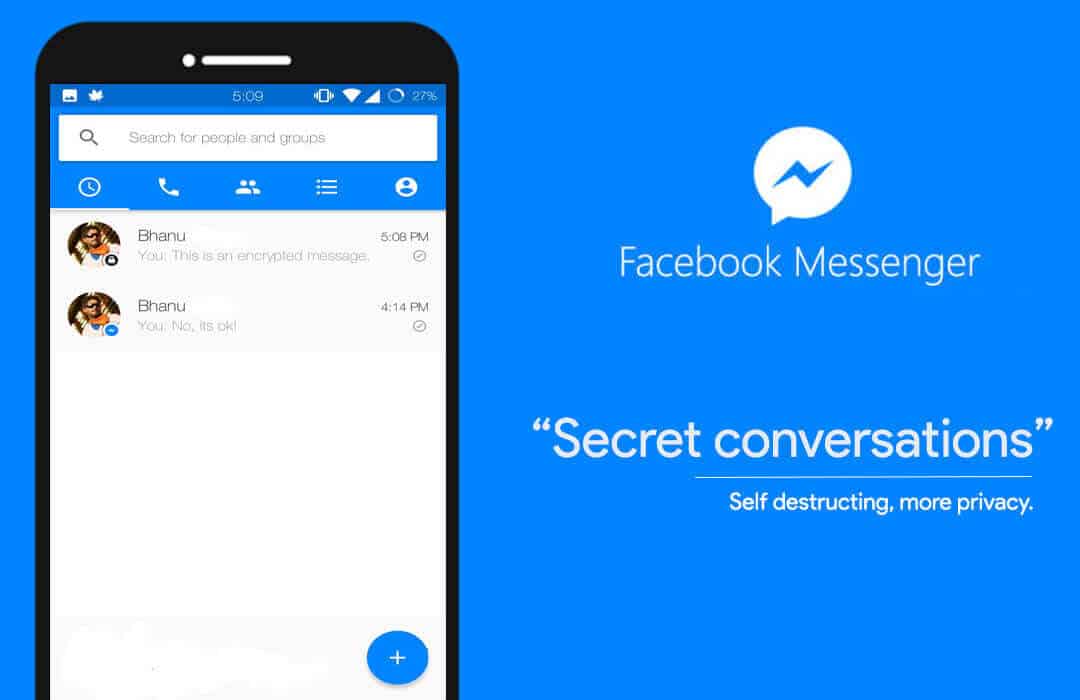 With almost over a Billion users, Facebook Messenger is the second largest messaging app after WhatsApp. Since Facebook had acquired WhatsApp, it has enabled end to end encryption to all of its users who had updated the app. Howerver the Social media giant, Facebook has said their messaging app is completely protected from any security leaks & they keep working to fix any loop holes in security. But to offer next level privacy which is not tracked by any company or government, Facebook has introduced "Secret conversation" in its messenger app.
The "Secret conversation" feature is available only in messaging app and not for the desktop or browser chat. In the same secret conversations, users can send private data which gets self destructed after a particular time period. Sent messages are only visible in Messenger app & not in browser or any other messenger app.
Send Self-Destructing messages Facebook Messenger
What is Secret Conversation?
Using the Open Wisher System's single protocol, Facebook has added an end to end encryption to a conversation. Within this encryption on, users can completely secure their information. No one can know or break the encryption, not even the Facebook, or NSA. You can set timer of 5 seconds to 1 day for Self-Destructing Messages which can be activated from Secret messages option. The timer starts once the contact sees the message. By default Secret Conversations are not enabled; you need to activate from the app.
How to Activate Secret Conversations in Facebook Messenger?
Before actually sending a Secret Message to a contact first we need to activate the Secret Conversations in the app.
Step 1. Once you open the Messenger app, it will show you the previous chats, open the person's chat to whom you want to send secret message.
Step 2. Click the profile Icon in the top right corner of the app which will take to your Messenger profile and setting.
Step 3. Below you can see an option "Secret Conversations" after photos & media.
Step 4. Once you open this you'll see a toggle button, click on the button.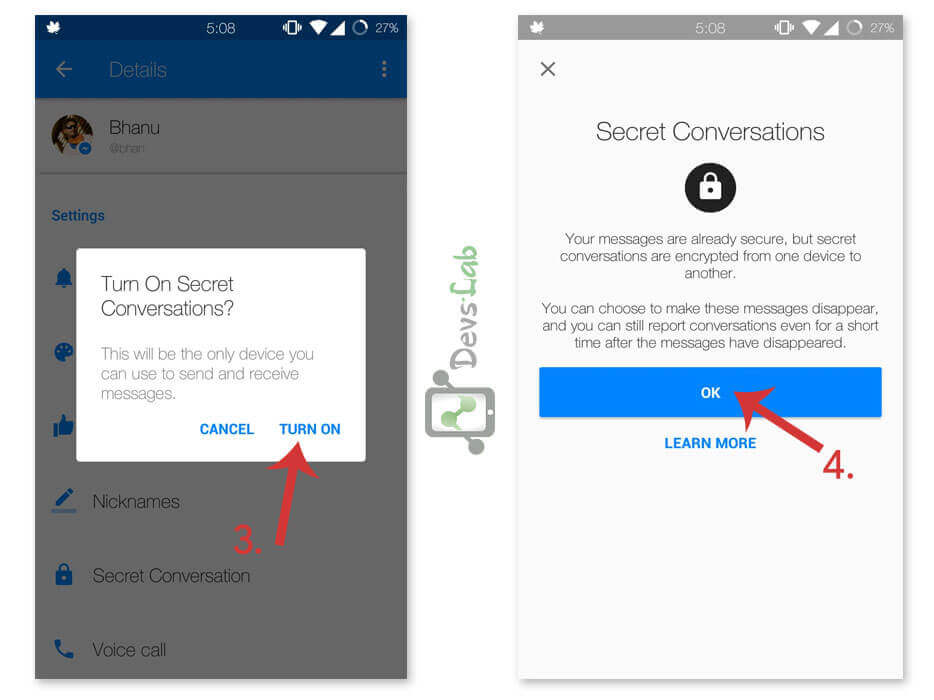 Step 5. Now it will ask your permission to "Turn On" tap it to activate the Secret Conversations.
Once it had activated you can send a secret message to any of your contacts. Even now you cannot directly send the Secret message or Self-Destruct messages. To sent Secret messages, follow the below method.
How to send Secret or Self-Destructing Messages?
To send secret messages is almost same as Activating Secret Conversations. However, you need to go to the Messenger profile of the contact you like to send Secret Message instead of your profile.
Step 1. Go to the chat box of the contact you wish to send a secret message or self-destructing message.
Step 2. Click on the button with "i" inside a circle which will take you to the Messenger profile of the contact.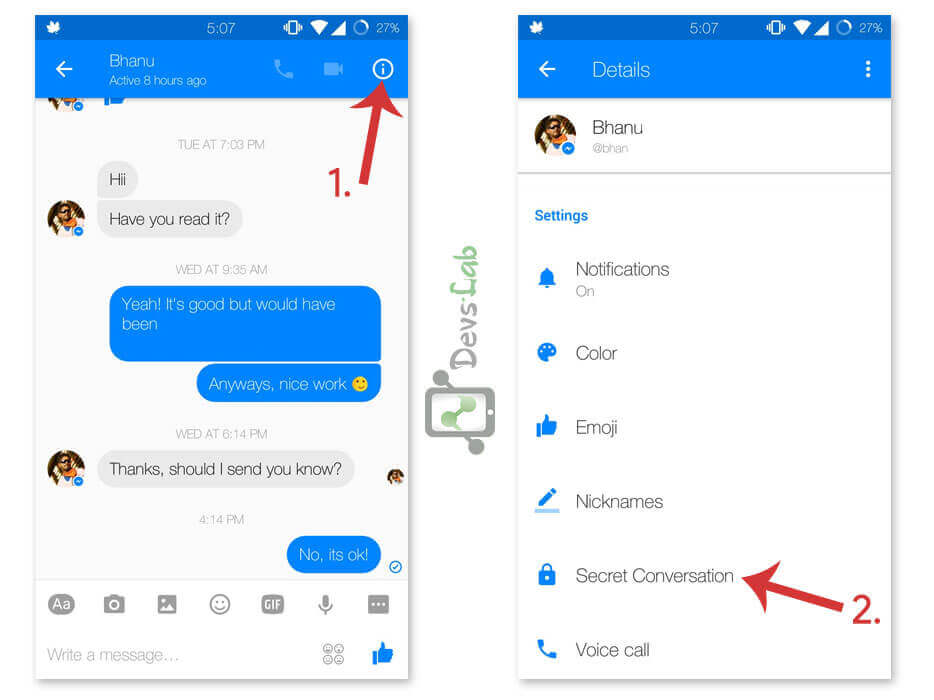 Step 3. Below the Nicknames option you will have a new option called "Secret Conversation."
Step 4. Once you tap on the option, you can see a new chat section for the contact.
All the messages you send in this chat box are entirely end to end encrypted which are unbreakable for anyone without device keys. All the messages you send in this, are self-destructing after 10 seconds the contact sees the messages. This can be turned off in timer which you can see with a stopwatch above the keyboard. In this option, you can either turn it off or prolong it to a day.
This is everything you need to know how to activate and send Secret and Self-Destructing messages in Facebook Messenger app. With this cool option, you can send your more personal information & secure information like bank or ATM details, chat with someone you don't want anyone to see without any risk.