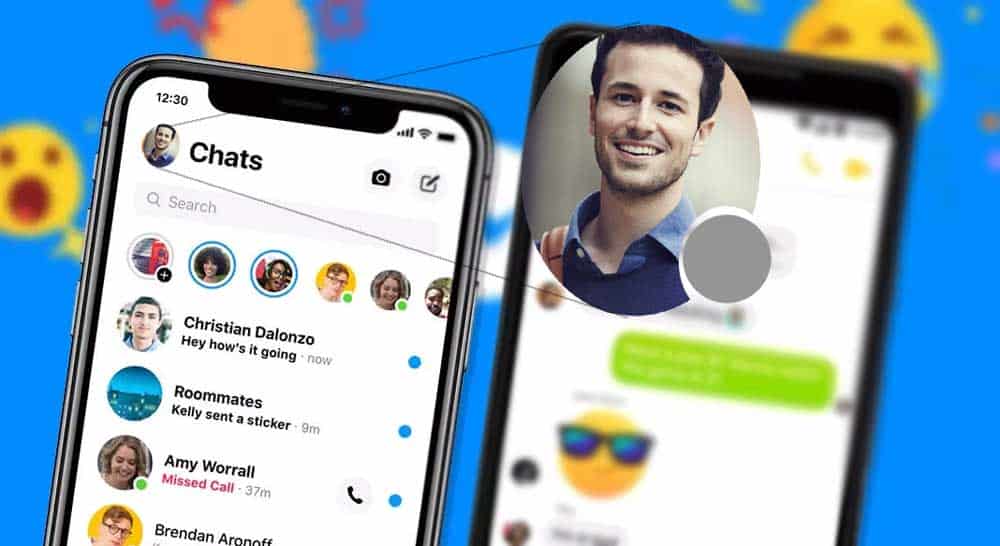 The Facebook Messenger provides an easy and instant messaging platform to connect and chat with people on your friend list. It is a very useful feature, and people use it regularly to connect with friends and loved ones. Just like any other messaging app, the Facebook messenger also shows you a list of Active friends whom you can chat with right away. But it is understandable that you would want to take a small break from chatting and focus on some other productive tasks for a while, as we all do from time to time.
So, if you prefer hiding your activity information from others, there is a quick way to do that by turning your activity status to Inactive. This quick guide will help you turn the active status off from both your computer and the smartphone. Let us begin.
How to Turn off Active Status on Facebook on Desktop
Now, there are two ways to access messenger on your Desktop. We will be explaining how to turn off active status on Facebook for both. Start executing the following instructions to change active status:
1. From facebook.com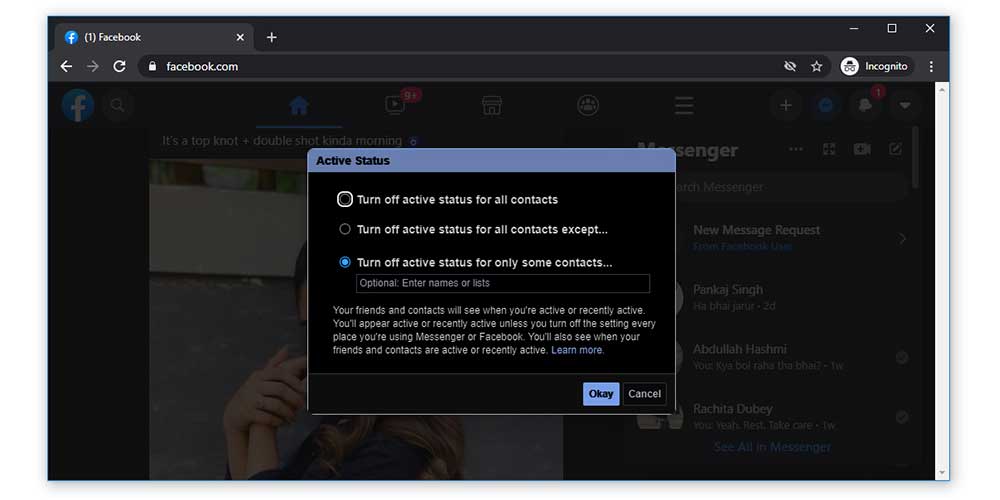 On your Windows PC or Mac, if you're logged into facebook.com, here's how you turn off messenger:
Go to your facebook home page, and select the Messenger icon available on the menu tray in the upper right-hand corner.
On the upper right corner of the sidebar menu, select the Options menu (three dots.)
From the Chat Settings menu that pops out, Select Turn off Active Status.
This will open up a box labelled Active Status. Here, select the first option. Turn off active status for all contacts.
Note: You can also turn this status off for specific contacts.
Once you've made the necessary changes, click okay and exit.
Depending on your selections, you will now appear inactive to the selected users. Don't forget to turn this back on once you're done.
2. From messenger.com
In case you logged in via messenger.com instead of the facebook website, it's a little different to turn off chat on facebook messenger. Here's how you do it:
Go to messenger.com and click on the Settings icon (gear-shaped button) on top.
Select Settings from the menu that drops down.
You should be able to see the Active Status option. Turn the toggle off for Show when you're active.
It is important to note here that you will still appear active unless you turn this setting off everywhere you use the facebook messenger. So, now let us do it for the mobile app.
How to Turn off Active Status on Facebook on Mobile device
Compared to desktop, turning off messenger is much easier to do on smartphones as you can do it on the go. Let's see how to do it:
1. For Mobile Apps
Open the Messenger app on your iOS or Android device and click on the Chats icon if you're not already on it.
Tap on your Profile Picture and under the personalization menu which opens up, click on Active Status.
Click on the Show when you're active toggle to turn this feature off.
Click on Turn Off on the confirmation dialogue box, and you're good to go.
2. For Mobile Browsers
Log into your facebook account, click on Messenger on your homepage.
Turn off the Show when you're active toggle.
Confirm and exit.
Conclusion
With the constant interruptions from messaging platforms, it gets harder to concentrate and work efficiently. It makes sense to turn such features off for periods of boosted productivity now and then. We hope this quick and simple guide helped you achieve this. Do let us know if you have any other Messenger related queries, drop a comment down below.