Few users have faced, screen rotation by 180,90 Degrees after installing custom ROM in their Android smartphone. This issue majorly occur due to improper phone software drivers or improper installation of ROM. 'Karbonn A26' again a poor work by Karbonn. Single phone with 2 mediatek version MTK6572 & MTK6577.
This screen rotation bug is found in Karbonn A26 few Samsung, Xperia, Xolo & Micromax devices. Android being an open platform has few bugs too. But, there are solutions too but requires Root Access as you need to mess up with your system. So let's start with this simple tutorial of How to Fix Screen Rotation in Android.
How to fix Screen Rotation bug on Android ROMs:
Step 1. Download any root file manager app like Root browser, ES file explorer from Google Play Store. I would recommended ES file explorer as it has better interface & its all in one.
Step 2. Open ES File Explorer, Press the Fast Access Menu button (top left), Press Tools, Scroll down & locate Root explorer, switch the toggle to yes.
Step 3. Click on the Root explorer; you will find a small popup box. Do as shown in below image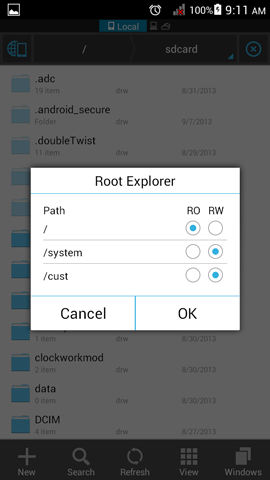 How to edit Build.prop
Step 1. Now you have enabled root browser relaunch ES File Explorer & Click on above tab showing sd card & Click on " / Device".
Step 2. Goto System folder & Open build.prop file as text.
Step 3. Search for line "ro.sf.hwrotation='value'" if you didn't find this line then copy this line at the end of the file.
Step 4. Now setting the value as per the rotation, if your screen is rotated by 180 Degrees i.e. upside down then enter 180 in place of value. if your screen is rotated by 90 Degrees i.e. right angle then enter 270.
Value = 360 – Rotation Angle.
Don't miss: What is Rooting, Custom recovery & Custom ROMS | Complete guide.
That's all ! This is the easiest method to get rid of screen rotation bug. Please take a moment & Google +1,share this post if this helped you. If you are facing rotation bug even after making this changes leave your device name & info in comment section. Have a good day !