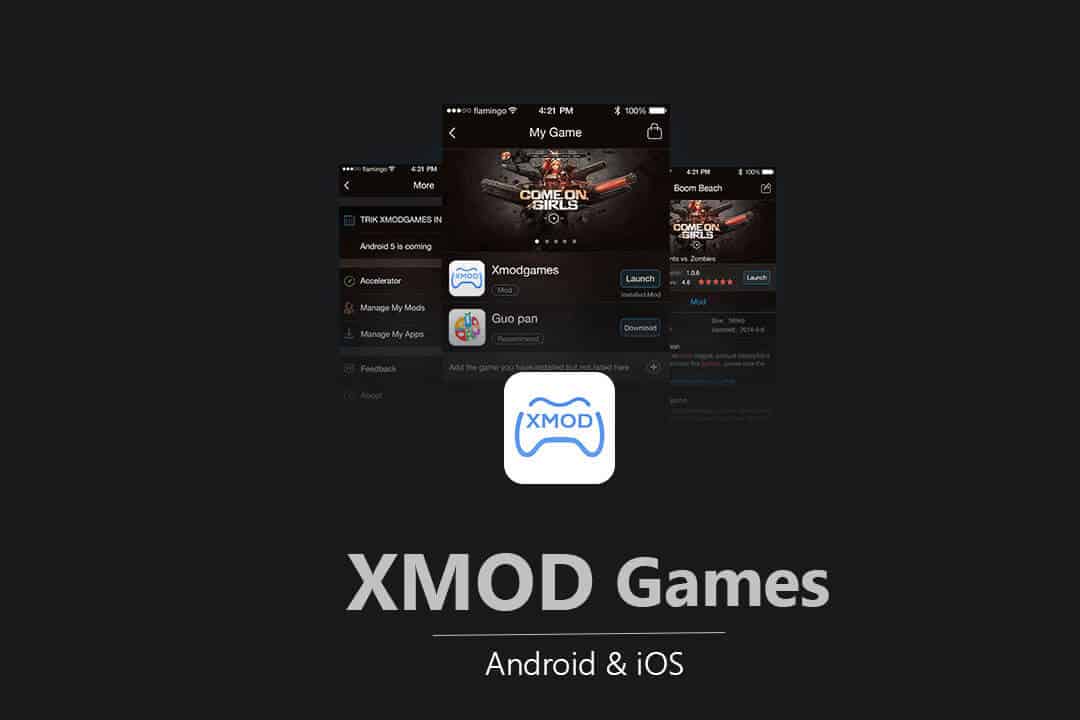 XMOD games is a super mobile game assistant tool with various mods for Jail broken idevices and Rooted Android device. This App comes with mods/accelerators for hot games. The App automatically detects all the installed games in your device & checks if there's any assistance available for that game. It is much easier to install mods and launch the game.
For COC lovers, it's an awesome tool with Auto Search, Keep Active, Sandbox Attack and more! I am using Android so I do this tutorial on Android. But this application is also available for iOS. You can do the same on your iDevice!
[toc]
XMOD Games App
Supported Games & Features:
Supported Games
Features
Clash of clans
Search Loot, Real Time Traps & Sandbox Attack
Clash Royale
Show Rival Elixir :With this feature, you can see real time elixir of rival, planning attack time more wisely and precisely.
Minecraft PE
TMI, Add Items, Add Mobs, Teleport & Backpack Management
Clash Of Kings
Auto Resource Collect
Agar.io
Random Skin
8 Ball Pool
Skip FREE Building
Subway Surfer
Multiplier Scores
Criminal Case
Unlimited coins
Other features
Gadgets to enhance social interactions in games
Build-in Screen Capture & Smooth HD Record
Forums and Chatroom to Discuss & Share Live Game Experience
Recommend Interesting Tools to Download.
Supported device:
XMOD Supported Android version (XMOD APK): Android 2.3 to Android Marshmallow
XMOD Supported iOS version: All the iOS versions with Jailbreak support.
Clash of Clans features (Android/iOS):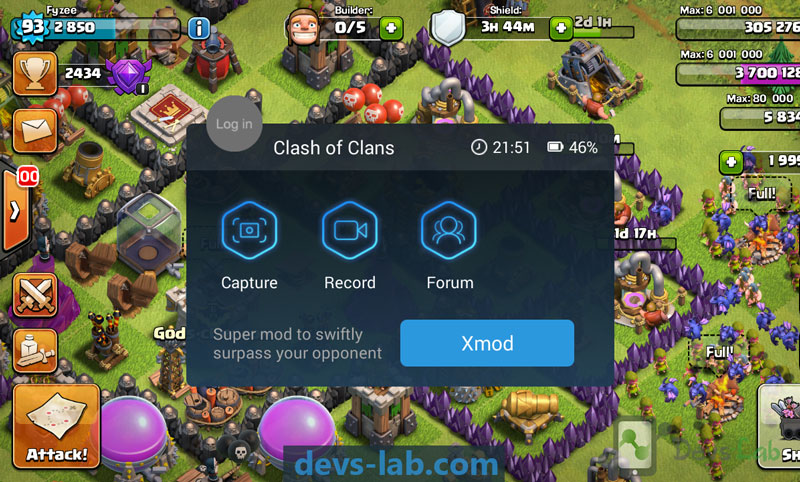 1. Help you search satisfied opponents: This tool can help you search your opponents automatically, you won't need to click Next anymore! There are 5 options for the searching: Gold, Elixir, Dark Elixir, Trophy and Maximum Town Hall. You can set the number of loot, Trophy or Town Hall to be whatever you want! The program will stop If it find an opponent that satisfy all the conditions. (XMODgames clash of clans Android)
2. Find villages with outside TH: For sniping Town Hall and boosting your trophies by using the Max Town Hall Distance from Edge feature. When you open this feature, where will be a scrollbar show up. The number on the scrollbar means the distance (tile) from the TH to the corner. I think you should choose a number from 1-4.
3. Help your village be always online (Keep Active): This feature can help your village remain online and cannot be disturbed by other players.
4. Allow you to sandbox attack other players for practicing (Sandbox Attack): This feature is super awesome! Help you simulate an attack whenever you visit or scout a village. Perfect for testing before doing an attack in Clan war! Do not waste even a star!
Choose certain troops for the enemy Clan Castle (max 35 troops).
Pick troops for your sandbox attack. You can pick all troops you want with unlimited number of them. From now, you don't need to train troops before doing the attack. Perfect for testing your attack strategies.
See traps in live matches: Now you can even see hidden traps and Teslas while you are doing a real attack! Awesome!
Also Read:  How to Play High Graphic Games in slow device
Download XMOD Games App (Android/iOS)
Android APK:
XMOD for iOS (Requires Jailbreak): Watch here.
v2.3.6 Changelog
Script platform to achieve 100% automation in games.
Android: Accelerator in Multi-Launch.
Android 7.0 supported.
iOS: Account System added.
2.3.5 other changes are not yet released.
How to Install XMODGames App
Step 1. Install the App as mentioned below.
Step 2. Launch the XMOD App & you'll see something similar to this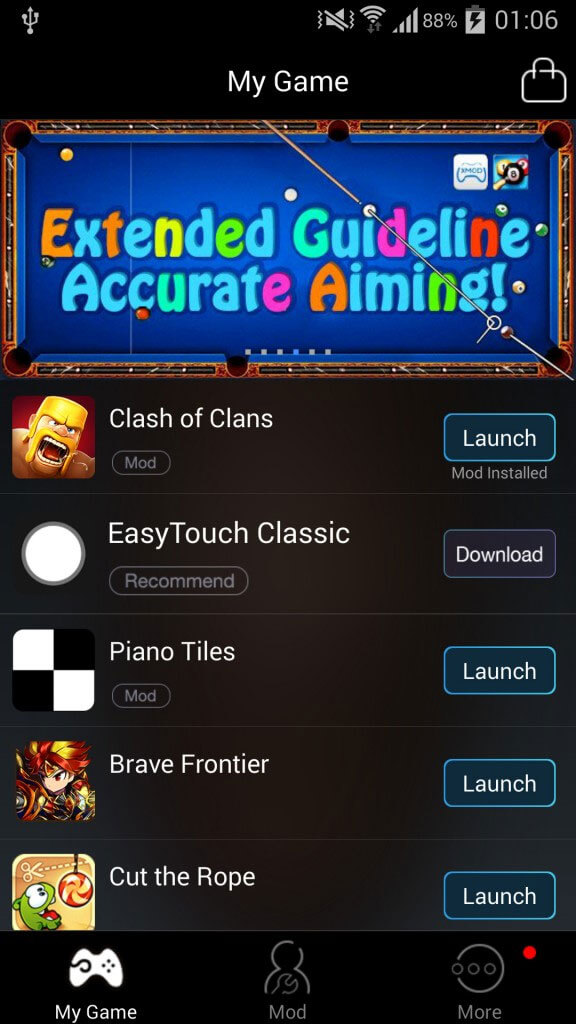 Step 3.  As you see, the application will show up the list of games which can be modded. Tap on the desired App. Lets tap on Clash of Clans menu to the next step. (Do not tap on the Launch button or the game will be launched).
Step 4. Then tap on the Install Mod button to install Xmod games for Clash of Clans. It will take a while, from 5-10 seconds.
Step 5. Now you can click Launch to start the game! You can see a small robot on your screen (at previous version, it is a X button).
Also Read: What is PUBG Game? Every zones, compact and concepts explained.
How to update Clash of Clans mod?
Sometimes, when the new version of game is out, Xmodgames will not work If you don't update it. Updating mod is very easy, just open the app, then go to the game menu, you will see the Update Mod button. Just tap on it:

FAQ's
1. XMOD APK startup & other issues
Error: After installing the latest COC Mod, COC can not be launched successfully:
Solution 1: Clean XMG data ->Restart XMG->Install the latest COC Mod.
Solution 2:
Uninstall COC  Xmodgames
Reboot device
Install the latest COC from Google Play.
Install Xmodgames APK
Open Xmodgames  Allow root access.
Install COC latest mod
Enjoy the game
2. Solution for Samsung devices that cannot run the app
3. WApp not detecting the installed games (no launch button)?
Firstly, make sure you have downloaded the game.
If you have downloaded the game, you still cannot detect and no "launch" button.
We recommend you download the game from US store, then open the game on xmod, and reinstall the mod again.
4. How to use the accelerator
Open Xmodgames and turn the accelerator "ON" in "More" page.
Start the game through Xmodgames.
Tap the floating window(Xbot) and you'll see the "Accelerator" button.
Tap "Accelerator" button and set the value.
Remember that the accelerator is not working on server-side games, COC, Boom Beach etc.
5. Xmodgames has stopped
Please try to clear data of Xmodgames in "applications" (settings > applications) and then reinstall.
6. Why I can't see the XBot when I start the mod.
For MIUI, Huawei, Huawei EMUI2.X users, please give permission of pop-up windows to Xmodgames first.

MIUI: Settings–>installed app–>Xmodgames–>Permission manager–>Display pop-up window–>Accept
Huawei: Settings–>All–>Notification manager–>Dropzones–>Xmodgames
Let us know if you know anything else about this awesome App. This App is an assistant tool not a hacking tool, which helps players pursue their goals better and provide players with a better game experience. Don't worry you won't get banned for using this tool.