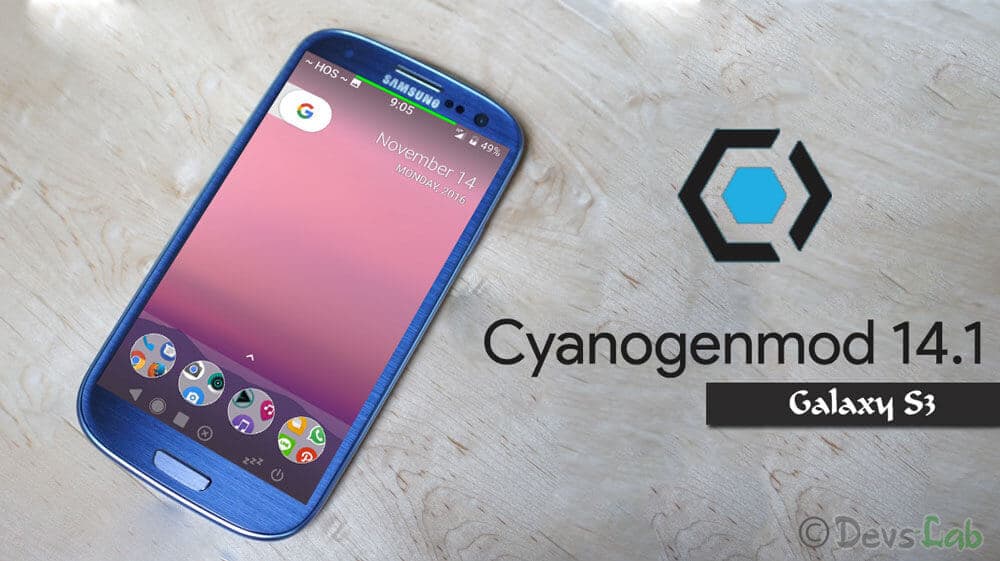 Samsung Galaxy S3 i9300 was a legendary device that was a complete package during those days. The device has the hardware that can run all the current Android versions without any problem. But the problem lies with the company. After a time period, manufacturers start focusing on new device & stop pushing any updates for their old device. This is very common with companies who release many devices in single year. We can't blame them as the device is quite old & it won't be having much users. But thanks to custom ROMs, you can still enjoy the Galaxy S3 with Android Nougat (7.1).
The ROM is completely Official but is quite painful to install. Once you're done with installation, you'll experience the smoothest ROM for Galaxy S3. You can use it as your daily driver without worrying about bugs. Make sure you read each step carefully because a single mistake and the ROM won't boot up. Let's head on to installing AICP 12.1 (Cyanogenmod 14) ROM for Samsung Galaxy S3.
AICP 12.1 (CM 14.1) in Galaxy S3 I9300
Features:
Display and animations:

System animations
LCD density changer
Clock style (position, date view, date format, color, font type and size, seconds)
Battery bar
Statusbar weather temperature
Notification drawer:

Weather info settings
CAF Task Manager
Force expanded notifications
Disable immersive mode messages
Recents panel:

Clear all button settings
Show/hide search bar in recent menu
Recents in fullscreen
Memory bar
Lock screen:

Show/hide music visualizer
Show/hide media cover art
Lock screen blur
Buttons:

Enable/disable navigation bar buttons
Left-handed mode
Buttons and layout settings
Adjust navigation bar dimensions
Misc:

Pie Control
Gesture Anywhere
App Circle Bar
Slim Recents
OmniSwitch

And all the other Android 7.1 features.
Prerequisites:
Root & Install Latest 3.0.2 TWRP Recovery in Samsung Galaxy S3 I9300. To install TWRP recovery directly, install ROM manager and grant root access to it. Search Galaxy S3 I9300 and install the latest TWRP recovery shown.
Check the battery percentage of the phone, it should be at least 40%.
This ROM is only for Galaxy S3 I9300. Please don't try this on any other smartphones.
Backup all your data: Contacts, Photos, Apps & other files. (Although you will not lose other files except contacts & Apps, but its better to be on the safer side)
Screenshots:
How to install Cyanogenmod 14 (AICP 12.1) ROM in Galaxy S3:
Step 1. Download all the files from the download section below and place it in your device's internal storage.
Step 2.
Turn off / Switch off your Galaxy S3 I9300
Press and hold Press Volume UP + Home Button + Power Key at the same time to boot into Recovery mode.
Step 3.
In TWRP Recovery, Goto Wipe > Select System, boot, dalvik & cache.
Swipe right to confirm wipe.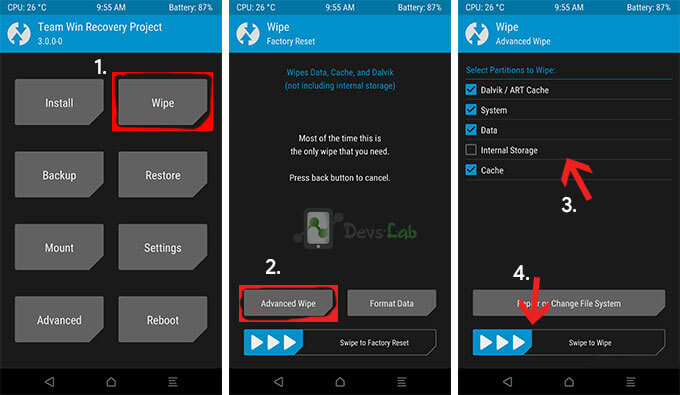 Step 4.
Return TWRP Home and click on Install.
Locate the Cyanogenmod 14 ROM file and flash it. Now boot the device in CM 14.
Step 5. After successful boot, boot back to TWRP recovery and goto Install and select AICP 14 ROM file and flash it. Now install Gapps package file
Step 6. Boot the AICP ROM and setup everything.
Step 7. Now again boot back to TWRP recovery and install Boeffla Kernel file.
Step 8. You have now successfully installed Cyanogenmod 14.1 based AICP 12.1 ROM
Download Cyanogenmod 14 (CM 14) for Samsung Galaxy S3 (I9300):
You are STRONGLY recommended to fully wipe your device before flashing, and if possible avoid restoring system apps and system data with Titanium Backup – these can cause stability issues that are very hard to debug. If you believe you know what you're doing – then fine, go ahead, but please don't complain if you experience strange behavior.