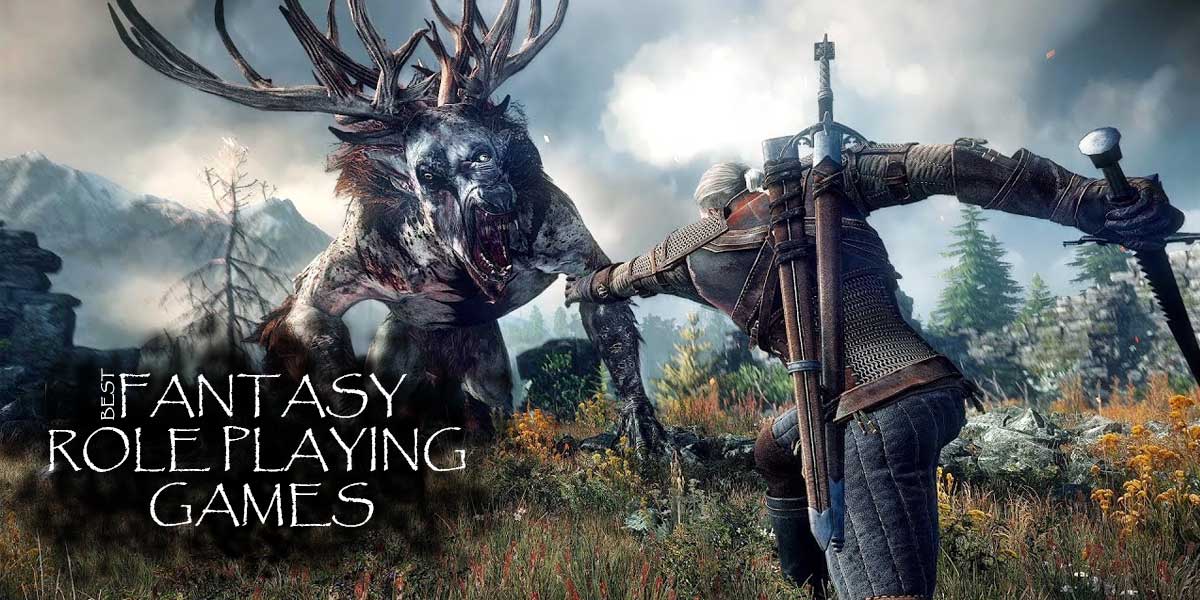 If you're looking to dive into the RPG world, we've catalogued the best fantasy RPGs to get you started. From niche narratives like Disco Elysium to world renown series like Witcher 3, this roundup contains some of the most adventurous and intimidating titles of all time.
Fantasy Role-Playing Games today are not just about the story and character progression. They have to include a massive open-world with endless exploration possibilities, some sort of combat and enough content to keep you hooked for dozens if not hundreds of hours. Apart from that, they offer extraordinary levels of interactivity to keep you immersed for hours on end and live out your dream fantasy life.
The hard part is that there are simply a lot of them and settling down on just ten is next to impossible. Nonetheless, we've tried our best to include the most popular titles that still stand up today.
10 Best Fantasy Role-Playing Games
The definition of RPGs has become extremely diverse, but the basic elements remain the same. These being a fictional world, a story that revolves around character progression and the decision making. Whenever the RPG genre combines with fantasy, we have these amazing fantasy role-playing games.
With that being said, here are the 10 best fantasy RPG games you should definitely try.
1. The Witcher 3
The Witcher 3 takes the franchise to a whole new level, which no one expected when they first witnessed Witcher 1 in 2007. A fantastic mix of brilliant visuals, fun adventures, difficult decisions and a truly massive open world; If this isn't the game that gets you hooked after a few minutes of gameplay, then I don't know what will.
Every quest is designed to delve deeper into the war-ravaged lands and will draw you more into the complex narrative that Witcher 3 is. Unlike several other RPG games, it doesn't rely on adding a lot of filler content to augment the plot, and when you're done with the main story line, just get the Hearts of Stone and Blood and Wine DLCs for even better and longer artistic tales.
Developer:
CD PROJEKT RED
2. Final Fantasy XIV
Square Enix's MMORPG Final Fantasy XIV is funnily a replacement for the original commercially failed release in 2010. The relaunched game titled "Final Fantasy XIV: A Realm Reborn" features improved gameplay, better server infrastructure and one of the most amazing worlds in the entire franchise.
The variety in the gameplay is better than many recent FF releases, so are some of the fights and bosses. The game has received three expansions since the official release, however, the Heavensward and Shadowbringers expansion packs bring on the best story lines we've seen in the entire FF series.
Like any other MMO, there is a certain level of grind to it, and the game may take some time to catch up. You can save a significant amount of time if you buy game currencies and items through a site like SSEGold.com.
3. Assassin's Creed Odyssey
Assassin's Creed Odyssey is the eleventh iteration of the RPG series by Ubisoft. It's also the first installment to feature romance with non-playable characters, dialogues and multiple endings. Although the game's set in ancient Greece, it looks anything but ancient: A grand-scale world with beautiful vibrant colors and picturesque scenes that'd leave you wanting to explore more.
Of course, Odyssey continues what the series is known for, combat, plenty of main and side quests and tons of hidden locations and secrets to untangle. Naval combat has been the baluster of Assassin's Creed, and it hasn't been better than what we have in Odyssey. From a series of throwing arrows or ramming into the enemy vessel to upgrading your ship, everything comes with much more detail.
You can check this link to download it for your PC, PlayStation or Xbox.
4. Baldur's Gate II
Baldur's Gate needs no introduction to the fantasy RPG fandom, the series has had a huge impact on the modern RPGs in terms of its gameplay and narrative. It's packed to the brim with hundreds of quests and countless hours of fighting wizards and demons in a Dungeons and Dragons inspired world. You can be a part of a dozen different stories, and every decision will play a role in deciding that.
Be a ranger, thief or be a godchild and demolish the world with your demons. The sheer number of quests and content in Baldur's Gate II is hard to top even for many modern day RPGs. The fact that the game's scope is still unparalleled 20 years after its release, it would be a mistake not to include it on our list.
5. Final Fantasy VII
With such a large fanbase and multiple landmark installments across the entire series, it's always a matter of debate of which version of the game ranks the highest. However, it's no surprise that Final Fantasy VII deserves a spot on this list given the huge commercial success and the massive impact it had on the entire video game industry and RPGs specifically.
The game's artistic visuals, use of full motion video, cinematic graphics were lauded to be revolutionary by critics. In addition to that, the memorable soundtrack, a humble turn-based combat system and the dramatic story laid the foundations for RPGs outside of Japan – to the mass-market around the world.
6. Disco Elysium
In Disco Elysium, you take the role of an amnestic detective in-charge of solving a murder mystery. Does that sound different to you than everything we discussed above? Because it is. There is no killing demons or hand combat, and all of the action takes place through skill checks and dialogue trees, however, it's not that straight-forward.
Disco Elysium judges your protagonist on the basis of his personality and skills that are upgraded as you progress the game. Different skills like Drama, Empathy, Logic and others will help you understand people and clues better. The game is based upon dice rolls thus giving strong resemblance to the original tabletop RPGs, where you play the character's role and embrace the outcome that awaits.
7. Pokémon
Some of you might be stupefied upon seeing the inclusion of Pokémon on this list. In fact, some people like to identify Pokémon as a genre of its own, but in the end, it does fall under the umbrella of fantasy RPG games. Notice we didn't pick a particular generation, as it's impossible, but the general consensus is that Generation 4 and 3 are the best ones of all time.
The first few generations seemed to be more about just collecting and levelling Pokémon, but the successors quickly caught up with the RPG stuff with breeding, turn-based battling and a large fantasy world to explore. Pokémon continues to offer a familiar experience no matter who you are, and nostalgic memories to all the teenagers and adults of today.
You can play Pokemon on GBA or play Pokemon GO on Android & iOS. You can also check our hacks for Pokemon GO Android & iOS if you don't like to move around and enjoy the game at one place.
8. Bloodborne
Inhabitants of the unsettling city of Yharnam are infected with a bloodborne plague, and your job is to fight these raged beings and find the cause of the disease. It's not going to be easy, combat is fast-paced and hard, and you'll find yourself mindlessly attacking, dodging and parrying in your Gothic clothes.
It's not just the fighting that's enticing, Yharnam is a dazzling blend of gloomy atmosphere and dark aesthetics that'll embrace you when you are not fighting with the horde of enemies. Bloodborne takes a lot of inspiration from Dark Souls, another action based role-playing game from the same company as a part of the Souls saga.
Bloodborne is available on PlayStation. You can download it from here.
9. World of Warcraft
World of Warcraft is the world's most popular MMORPG, and the reason it's still a big thing 15+ years after its release is the routine addition of expansions to the game. The most recent expansion – Shadowlands was released in November 2020 and which brings the level cap down to 60 and four new zones.
WoW is loaded with a large high-fantasy world, engaging cutscenes and an unprecedented number of quests that'll keep the players hooked for hundreds of hours. Not only that, you have tons of mini-games that never get dull, and leave you with plenty of content to spend time upon after you hit the level cap.
Check their Official Site for more info.
10. DIVINITY: ORIGINAL SIN 2
Divinity: Original Sin 2 is a critically-acclaimed fantasy RPG that was quickly designated as one of the best fantasy RPG games of all time. It features one of the highest levels of control and freedom you have with your character. You can play it solo, or with a friend in a co-op with each of you able to control your own characters.
The game takes the original top-down turn-based approach and imaginative lore of Divine Divinity from 2002, and adds beautiful visuals, sound and a complex combat mechanism to make it more immersive. The extensive freedom you have over the gameplay makes it one of its own among the best fantasy video games of today.
Developer:
Larian Studios
Conclusion
With the list of best fantasy games coming to a close, we would like to hear your thoughts about the same. As we already mentioned, it's impossible to include, let alone rank just 10 among the hundreds of awesome titles out there. Do you agree with our roundup? What's the best fantasy RPG game according to you?