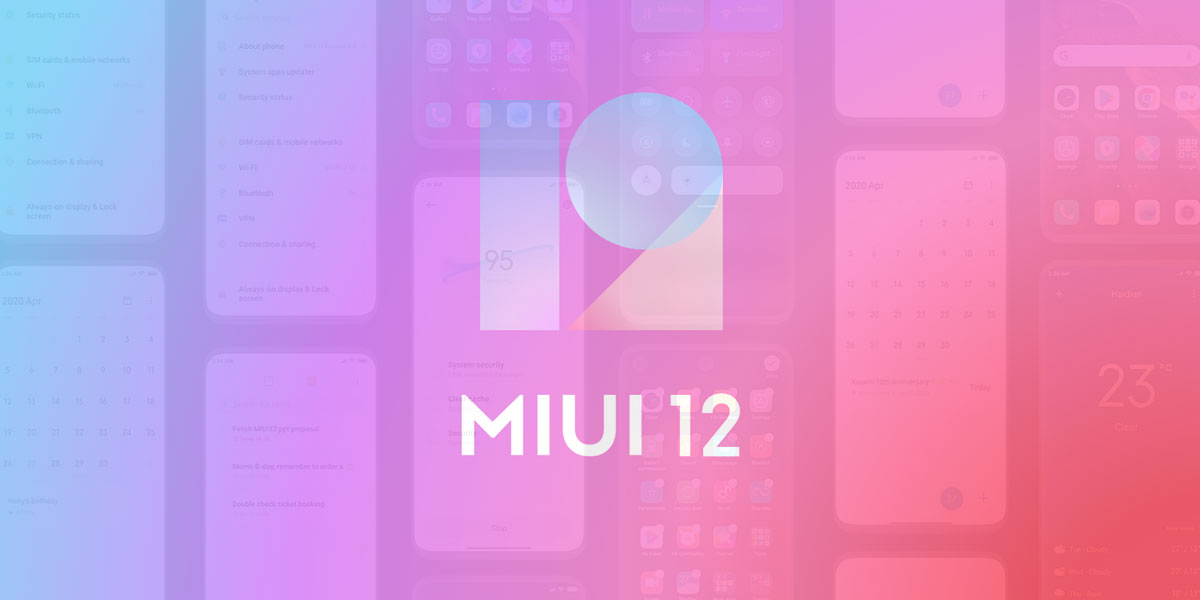 Xiaomi is one brand that needs no introduction. The Chinese tech giant has grown considerably over the last four years. However, Xiaomi is not only Xiaomi since they have now incubated many companies. Initially launched in Mainland China back in 2010, Xiaomi has become one of the world's top phone makers, giving fierce competition to Samsung and other MNCs.
As of 2022, Xiaomi is the 4th biggest smartphone maker in the world. It is India's top-selling smartphone brand and one of China's most prominent players in the smartphone market. And with the MIUI 12 update, Xiaomi has made a massive leap over its predecessor launcher. 
The company finally launched its MIUI 12 in June 2020 to every new Xiaomi smartphone model. Since it has created a big market, we should identify all MIUI 12 hidden features, tips, and tricks. Xiaomi is a software developing company. Hence, its mobiles are packed with some exceptional software and features that otherwise you have to install from a third-party play store application.
This article will talk about the Top 10 Xiaomi MIUI 12 hidden features, tips, and tricks you need to know. In addition, we will also be giving a brief description of Xiaomi's new MIUI 12 launcher.
Xiaomi MIUI 12
The MIUI 12 is a significant upgrade over its predecessor. The upgrade has rolled out to almost all the Xiaomi phones. The company has tweaked things at the Kernel level to offer a smooth and immersive experience. MIUI 12 is arguably Xiaomi 's best version to date.
This new MIUI comes equipped with enhanced security features for added privacy along with several visual upgrades. In addition, MIUI 12 comes with an optimized battery life that eliminates the prevailing problem of battery drainage.
Xiaomi has also added an app tray, upgraded the Game Turbo tool, and added the Video Toolbox feature. Game Turbo is ideal for your PUBG or CoD Mobile sessions, with performance-boosting and shortcuts to floating window apps that pop up on your screen every time you receive a notification.
MIUI 12: Compatible Phones List
The company declared that the latest MIUI 12 launcher would be released for almost 20 Xiaomi smartphones in the current market. The MIUI 12 ROM is based on Android 11.
Here is a list of Xiaomi smartphones that are compatible with the latest MIUI 12 update
Redmi K20 Pro
Redmi K20
Poco X2
Mi 10
Redmi Note 9
Redmi Note 9 Pro
Redmi Note 8
Redmi Note 8 Pro
Redmi Note 7
Redmi Note 7 Pro
Poco M2 Pro
Poco F1
Redmi Note 7S
Redmi 8
Redmi 8A
Redmi 7A
Redmi 6 Pro
Redmi Note 5
Redmi Note 5 Pro
Redmi Note 6 Pro
Here is a list of devices NOT COMPATIBLE with MIUI 12
Redmi Note 7
Redmi Note 7S
Redmi Note 8 series
How To Download MIUI 12 on Xiaomi Smartphones
If you possess any of the Xiaomi smartphone models mentioned above, you are eligible to upgrade to the latest MIUI 12 launcher. To download MIUI 12 on your Xiaomi Smartphone, follow the steps given.
Go To Settings
Select "Software Upgrade"
Tap on Download to download the latest version of the MIUI 12.
Top 10 Xiaomi Hidden Features, Tips and Tricks
Since it has created a big market, we should identify all hidden features, tips, and tricks. Xiaomi is a software developing company. Hence, its mobiles are packed with some exceptional software and features that otherwise you have to install from a third-party play store application. Here are some of the Top 10 Xiaomi hidden features, tips, and tricks
1. Ultra Battery Saver
With all smartphones, draining batteries is a significant concern. We have no option but to install third-party software for battery saving. Here is the tip to do it without going to the play store.
With Xiaomi MIUI 12, there is an in-built feature to adjust different battery modes. You can choose from Default, Marathon, and Sleep modes. Also, you can switch to the battery saver profile when the battery reaches a certain percentage or at a particular time.
You can switch to marathon mode when the battery reaches 15% or sleep profile between 10 PM and 6 AM. This is another great tip to boost your battery automatically. To go to ultra battery saver, go to
Settings > Battery > Enable Ultra Battery Saver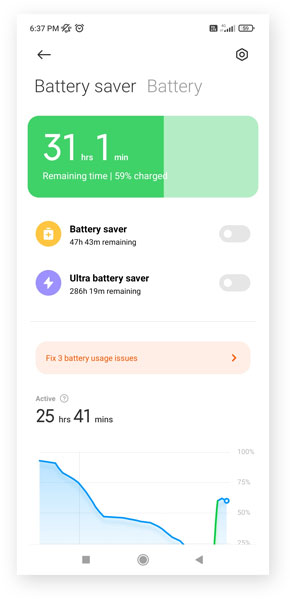 2. Universal Casting Tool
This is one of the best MIUI 12 feature. The Universal casting tool will allow you to cast anything from your phone onto a bigger display such as a TV or a computer using MiraCast. While this facility was previously available on all the earlier versions, the company claims it has made significant upgrades for this feature. To use the Universal Casting Tool, follow the given steps.
Open Settings
Open Connection & Sharing
Tap Cast
Enable the Cast Button. (Ensure that your Phone, PC, or TV is connected to the same Wifi)
Your phone will now search for devices to cast
Once the results appear, select the devices to cast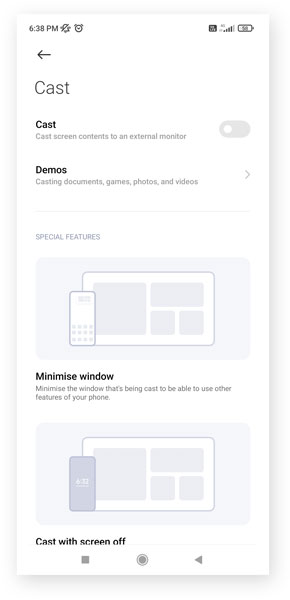 3. Personal Data Usage Notification
Similar to the MIUI 10, the MIUI 12 also has a feature that lets you track your data usage. The company's TUV Rheinland certification notifies you every time your data is being accessed after opening an app. This will help you track your data usage and avoid additional charges on your phone bill. To set up a data limit, follow the steps given.
Open Settings
Tap on Xiaomi Data Usage Icon
Select Mobile Data
Select Peak Data Limit to enter your monthly mobile data limit.
Adjust the Data Usage Warning Level slider to set the usage warning level. When the device reaches this level, you will see a usage warning.
Tap Usage cycle reset date to set the month's date where the data usage is reset to 0.
To restrict apps from using mobile data, follow the given steps.
On the Security app, tap Data usage.
Tap Restrict > Downloaded
Tap on the app which you don't wish to have consuming your battery
Tap the "Allow" button
4. Optical Character Recognition
The MIUI 12 Optical Character Recognition feature is now available that allows you to read text from images. This feature can be used on any ordinary photo or document.
In addition, this feature also allows you to translate the text on the image into a readable format. You don't need any third applications to run this feature, and simply exposing the photo to your camera will let the feature read the characters on the optical image.
5. Personalized Health App
With other smartphones introducing their unique health apps, Xiaomi has joined the list with their personalized health app. This health app can do everything like other health apps, such as recording steps, swimming, sleeping, walking, running, and more.
In addition, Xiaomi's personalized health app also includes features that let you track your sleep patterns and snoring. You also have the option to integrate this personalized health app data from your Mi Band, Fitbit, Google Fit, and other such devices with your phone.
6. Snap Mode And Camera Enhancements
With the MIUI 12, you can now access your camera without going through the hassle of unlocking your smartphone every time. With this feature, you'll never miss a moment with your Redmi camera.
With Snap Mode enabled, you can now take photos even when the screen is off. To use this feature, go to Camera > Settings > Enable Snap Mode. Now, open your camera and turn off your screen. Press and hold down the Volume Down Button, and the photo will be automatically captured. Ensure that you turn down the camera sound if you want to click a secret photo.
7. Built-In Scanner
Up until now, we have used several third-party applications to scan documents or a QR code. But the new MIUI 12 comes with a built-in scanner that lets you scan documents and QR codes quickly. All you need to do is set up your smartphone and tap on the Scanner option in the drag-down menu on your homepage.
8. Second Space
Second Space is one of the hidden features of MIUI 12. It is very useful if you have your kids around or if you don't want anyone to check your phones' documents. It allows you to set a different operating system which can be accessed by a separate password or finger print. In simple terms, you can set a normal password for your normal usage and a separate password to open a default operating system which will not have any of your data. To set a second space for your device,
Go to Settings > Special Features > Special features
Click on Turn on Second Space
Click on Continue and set a method to switch between the two spaces.
It can be either "Using a password" or "Using a shortcut". Select one option and you are good to go.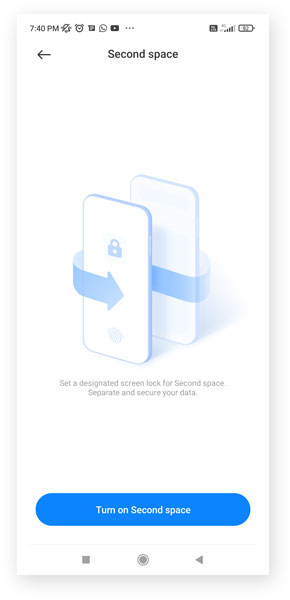 9. Video Toolbox
The video toolbox is yet another significant addition brought in by Xiaomi's MIUI 12 update. This video toolbox keeps to the left of your screen and comprises several video-centric tools that can be accessed easily. For example, when watching a movie or TV show on your phone, you can change the screen mode by a simple right swipe.
Meanwhile, this new feature allows you to capture screenshots or make notes while watching a floating video. At the same time, you can now play sound even when your screen is off and simultaneously browse the internet while watching a video. To enable the Video Toolbox option, navigate to Settings > Special features > Video Toolbox > Toggle the switch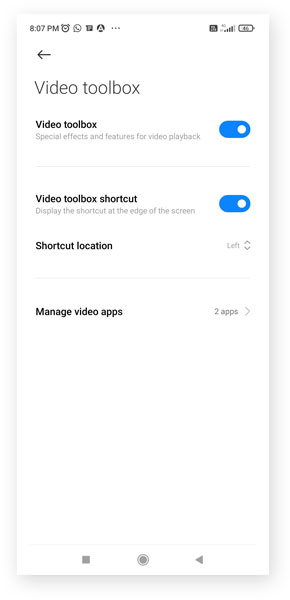 10. Calamity Warning
This is one of the most remarkable features brought in by the MIUI 12 feature. In addition to added security and protection, the app comes with an Earthquake Warning feature as well.
This feature will let you know about every alert about any upcoming earthquake. Upon alert, your phone will play a sound and offer helpful information immediately. Similarly, you can choose to send your immediate location to your emergency or closest contacts.
Conclusion
We hope our article successfully walked you through the different hidden features, tips, and tricks in Xiaomi MIUI 12. Xiaomi handset still has many powerful tips and features. We will continue to update you with all the latest in subsequent articles.
If you found these tips helpful, leave thanks in the comment box below and share them with your friends. Do let us know if you have any unique tricks or not mentioned in this post.