Since smartphones have evolved a lot all this years, dual sim phones are the new trend. As you have 2 phone numbers, you might have wished of using 2 WhatsApp accounts on your same smartphone. Different WhatsApp account, allows you to maintain anonymity from other WhatsApp contacts. Most people want their friends, Family and work, on different numbers. If it's not about 2 WhatsApp, you might have thought of hiding your last seen or blue ticks; While you could still see others last seen as well as blue ticks? Well, GBWhatsApp or you can WhatsApp plus is the solution of all!

GB WhatsApp is an Android application which allows the users to enjoy WhatsApp Plus features and install multiple WhatsApp on the same Android smartphone. Unfortunately, this version of WhatsApp is not available on Play store as its the same WhatsApp application but with added features which are unofficial. If you remember the legendary "WhatsApp Plus", GBWhatsApp has all the features of it, but with a different name.
So, what does GB WhatsApp provides and why you must download GBWhatsApp latest version? Let's checkout all the features and advantages.
GBWhatsapp (GBMods) – WhatsApp Plus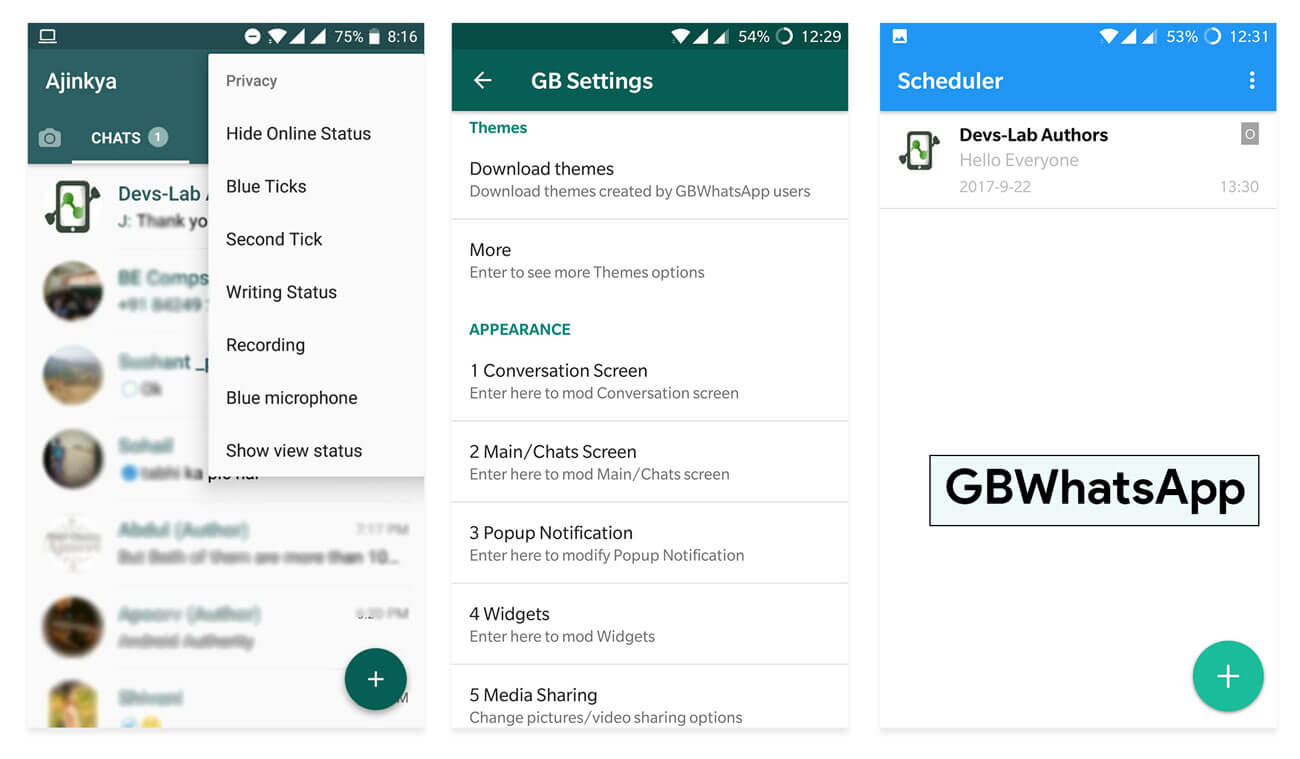 GBWhatsApp has some of the coolest features that you always wanted in the original WhatsApp. It allows you to hide last seen (while you can see others), hide blue ticks(while you can see others), disable status view (So that no one would know, you viewed their status), change themes, send images without any compression, hide second tick, hide typing status and stay "Always online". I guess this is enough to install GBWhatsapp. You can run both official Whatsapp & WhatsApp Plus together without facing any issue.
GB WhatsApp allows you to theme different components of the original WhatsApp. If you don't like the original Color of WhatsApp, you can change it, shows yours and sender's profile image in the chat. Change Color of Chat bubble depending on your chat wallpaper. Change the style of chat bubble, you can use the iOS, Hangouts, Papers, Twitter, Transparent, Materialized, Crayon Alt SP, rounded and lot more!
If this features aren't enough to convince you, there are lot more. You can even enable Expanded Notification in all the Android versions. There is a feature to "Always Stay Online" on WhatsApp. You can bring back the old Contacts tab, Hide contact's name & time while copying messages, disable Heads Up Notification in Android Lollipop. Also, you can disable voice calls so that you won't receive any voice calls from your friends. Not finding the right Gif? You can change the Gif Provider from the settings. You an select Tenor or Giphy for best Gifs.
If you use Applocker just to hide your WhatsApp, well you can uninstall it now. App lockers can tricked or forced stopped from settings and one can easily access your WhatsApp. GBWhatsApp comes with an inbuilt App locker which allows you to keep your desired password for your WhatsApp. Once cannot access your WhatsApp without the password as the locker is inbuilt with the App. If you try to stop the locker, WhatsApp won't start. Simple as that!
The best part about this application is you can send HD Photos and without any compression and it will be sent to your friends. You can select more than 30 images and videos, all at once.  You can also copy your friends status just by clicking on your friend's status. You can add your status as long as 256 words while the original WhatsApp only allows 139 words. You are allowed to use long group names and almost everything.
So basically GBWhatsapp is the "Godmode" of WhatsApp Plus. No more restrictions, just do it the way you like it! There's also a Godmode version of Instagram known as GBInstagram, do check it out.
Features of GBWhatsApp
| | |
| --- | --- |
| Software Name | GBWhatsApp |
| Last Updated | 7th April, 2018 |
| App version | 6.30 |
| Android Versions Required | 4.0+ |
| App size | 35.08 MB |
| Developer | GBMods |
| Feature | Modded version of WhatsApp |
This are some of the best features of GBWhatsapp that you must know before heading on to downloading the GBWhatsapp app.
Base Updated to 2.18.122
Ban proof
Supports calls
Hide your last seen
Privacy mods
Themes mods
Theme Server ( to download/apply themes )
Change ticks/bubbles Style Mod
(17) Ticks & (13) Bubbles Styles to choose
Counter statistics for groups
Media preview without loading
Show Online/last Seen in Main Screen
Send video with size 30 MB instead of 16MB
Send 90 images at once instead of 10
Change your status and add to 250 characters instead of 139 characters
Ability to press on links on chat screen without save sender number or group admin number
Ability to press in links on your friends' status
Ability to distinguish between normal messages and Broadcast messages
Hide the name and the date when copy more than one message
Ability to copy friends' status
Ability to change the app icon and notifications
Download GBWhatsApp 6.40 APK (Latest version)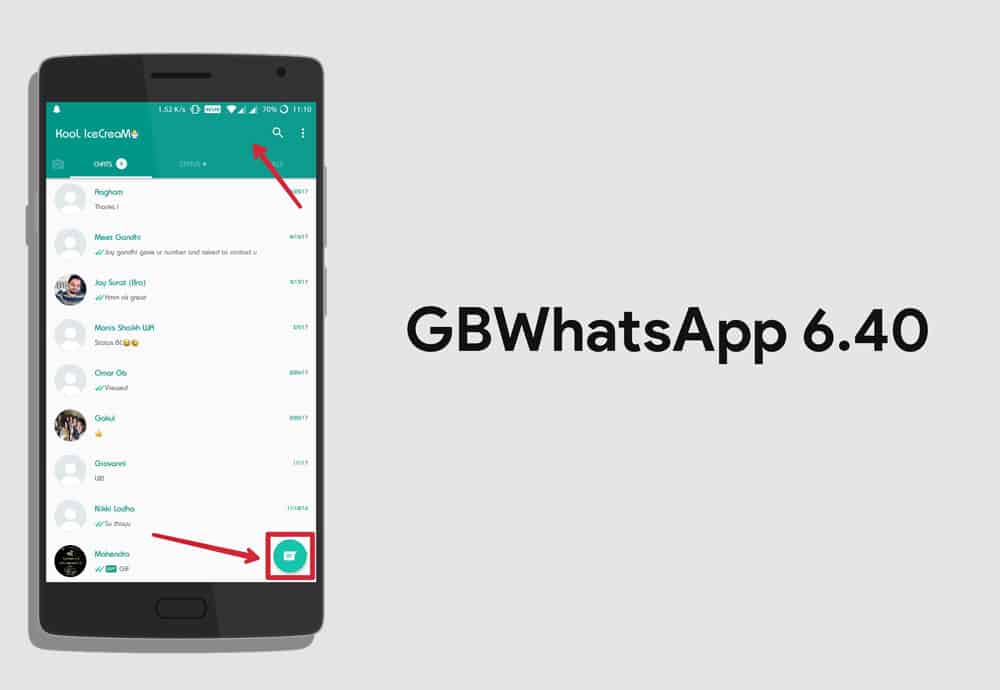 If you want to use only 1 WhatsApp account, you can click on the link which says "Download" from above. But, if you want to use multiple WhatsApp accounts, download all three packages. This apk files have different package names so that you can install all 3 Apps without any error like "Package already installed". Means, you can run 3 WhatsApp accounts without any extra apps like Parallel Space.

GBWhatsApp v6.40 Changelog:
Exclusively Improved – AutoReply (Added Specific/Except Contacts/Groups)
Added Stock Fab & Hide New Chat Icon from Header (Make it Look Like Stock) 😉
Enabled Locked Voice Recordings 😉
Base Updated to 2.18.122 (Latest PlayStore)
Option for Specific/Except Contacts/Groups in Auto-Reply
No Need to Restart When use Privacy except for Hide Last Seen
Locked Voice Recordings (Press and Swipe up/No need to hold for Recording)
Group Settings – Send Messages (Once Enabled only Admin can Send Messages in Group)
Stock Fab (Mod 2.7.9)
Added Option to Hide New Chat Icon from Header (Mod 2.1.11)
Option for Disable Revoked Message Notification
Option to Disable Auto-Reply when Hide Read
Option to Enable Video Icon in Conversation Header (Mod 1.1.16)
Custom Media Auto-Download in Custom Chats
Now You can Search by Name in Theme Server
Italian & Brazilian language
Contacts Name Color when Add Participants
Bubble Color
Privacy for Blue Microphone
GIF Background Color
Attach Icon not Showing in Broadcast chat
Action Bar Color, Icon Background color, Count color in Hidden Chats & Archived Chats
Many Other Fixes
Also Read: How to install HTC Blinkfeed in any Android (no root)
How to install GBWhatsApp on Android
STEP 1: Open your Normal WhatsApp and go to Settings > Chats> Backup Chats to create a local backup of all your current WhatsApp messages.
STEP 2: Turn off your Internet so that you don't receive any new message while creating a backup and uninstalling the Original WhatsApp
STEP 3: Uninstall the original WhatsApp from Settings > App > Installed Apps > WhatsApp > Uninstall it.
STEP 4: Download the latest GBWhatsApp Apk file from the above download section and transfer it in your device's storage.
STEP 5: You might get an unknown source warning while installing an App through APK. Just go to Settings > Security and toggle ON Unknown Source.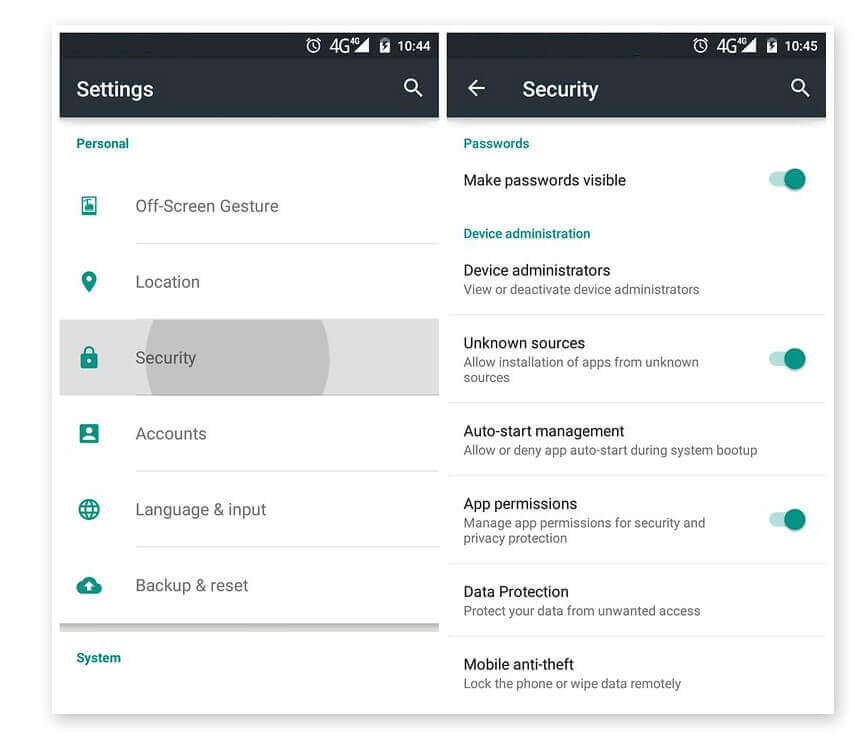 STEP 6: Once you have allowed unknown sources, install the WhatsApp Plus (GBWhatsApp) through the APK, this time you won't get any unknown warning.
STEP 7: Once the installation is completed, Open the App and click on Agree and Continue. (You can Restore all the backup images after verification of your Phone no.)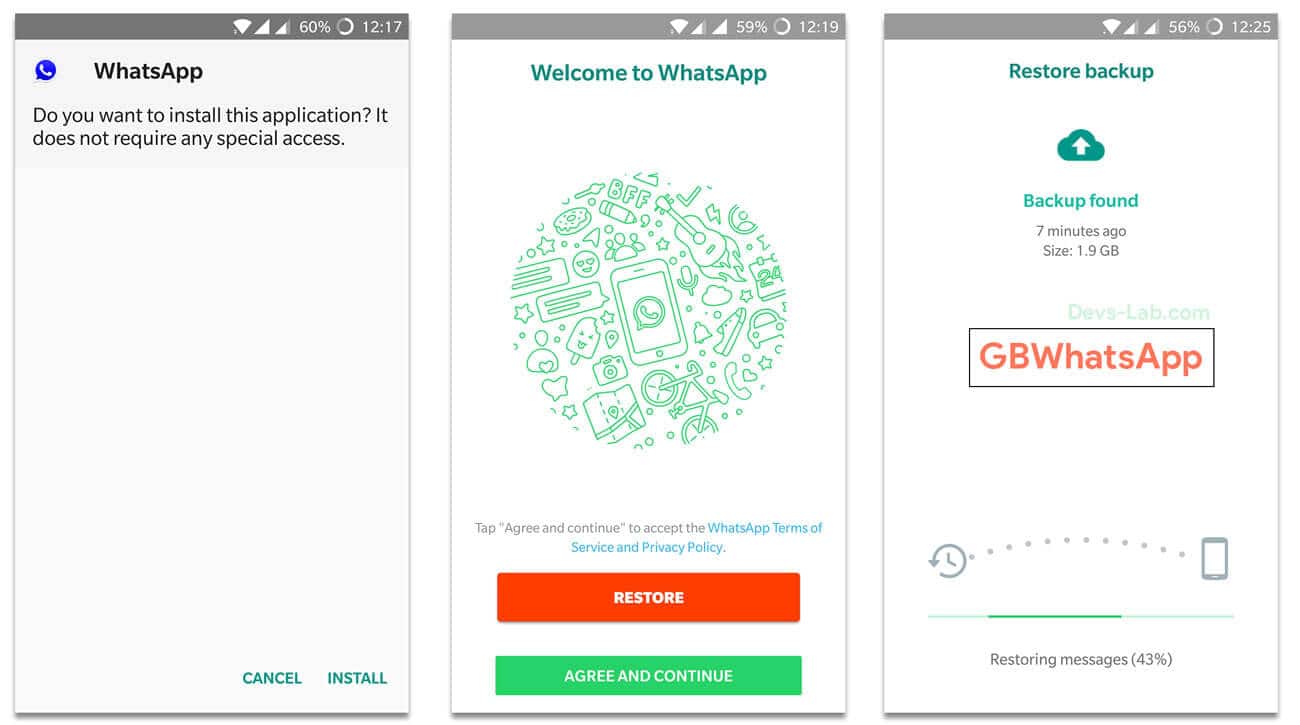 STEP 8: Enter your phone number with country code and then click on verify. Verify your phone number with an OTP code or call verification.
STEP 9: Enter your name and click on next and it will start initialization process.
STEP 10: After the Initialization process, you'll be prompted with "Backup found". Just click on Restore option to get all your previous messages.
STEP 11: That's it! You have successfully installed the GBWhatsApp on your phone.
While WhatsApp Plus had various issues with official WhatsApp, GBWhatsApp doesn't have any of the those issues. You won't face any ban, any crashes or package error. You can run GBWhatsApp and official WhatsApp at the same time. Both the apps have different package name.
GBWhatsApp also has a great theme store, you can download various themes for free! Also, majority of the WhatsApp features which are leaked in beta build, you can use those in GBWhatsApp after updates. Enjoy theming & messaging!